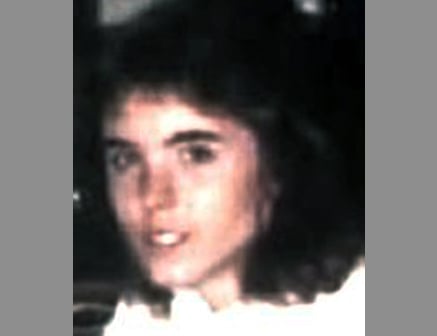 But Joanne Kniss of Omaha hasn't given up hope of learning what happened to her niece in Gothenburg, 25 years ago today (Tuesday).
Christi Jo Nichols, a 22-year-old mother of two and part-time bartender, vanished Dec. 11, 1987. She and her husband, Mark Nichols, ate supper at Pizza Hut with their infant daughter and son, took them to see Santa and then home to a baby sitter while the couple played pool at the bar where Christi Jo worked.
The Nebraska State Patrol investigated. The family hired a private detective. Investigators said over the years they became convinced she was slain. Townspeople speculated that her body was buried in the local railroad overpass or entombed in some other construction project or rural area.
Mark Nichols, then 26, and his family contended she ran away from a deteriorating marriage. They had been married four years.
Kniss said the family would like answers.
"It's been extremely hard,'' Kniss said Monday. "My heart goes out to people all over the country when I hear about somebody missing. The not knowing is very frustrating. You want the guilty to be brought to justice.''
The case captured national attention and was featured on the "Unsolved Mysteries'' TV program.
The State Patrol lists Nichols' case as one of about 250 unsolved homicides. The patrol's cold case unit includes her in a deck of playing cards featuring photographs of homicide victims. Decks were distributed to prisons and jails across the state — and are posted on the patrol's website — in hopes of producing tips or leads that might be a missing link in solving a case.
Christi Jo Nichols is the queen of hearts.
Kniss has devoted her life to keeping the search for the killer alive. She moved to Omaha from North Platte to work for the late private investigator Dennis Whelan, hired by the family. Extensive ground searches were conducted, but nothing was found.
Kniss now works part time at a warehouse but maintains documents on the case to help researchers and investigators. She also keeps track of family members.
Kniss said her niece's husband lives and works in Hastings. Mark Nichols remarried years ago and won a custody battle with Christi Jo's family for daughter Lindsey and son Preston. Kniss said Lindsey, now 27, lives in Georgia and Preston, now 26, works in Lexington.
Christi Jo's parents, who were divorced when she disappeared, live in Nebraska. Ken Williams, her father, has returned to Gothenburg from Colorado. Connie Stanley, her mother, lives in western Nebraska.
The family wanted Dawson County and state law enforcement officials to open a grand jury investigation of the case but were turned down for lack of evidence.
Kniss said there was circumstantial evidence, including blood spots found in the couple's bedroom and in a car trunk. Christi Jo's suitcase was discovered along Interstate 80 near Maxwell three months after her disappearance.
Mark Nichols told authorities that his wife was gone from their bed when he awoke after the night at the bar. He has denied any wrongdoing.