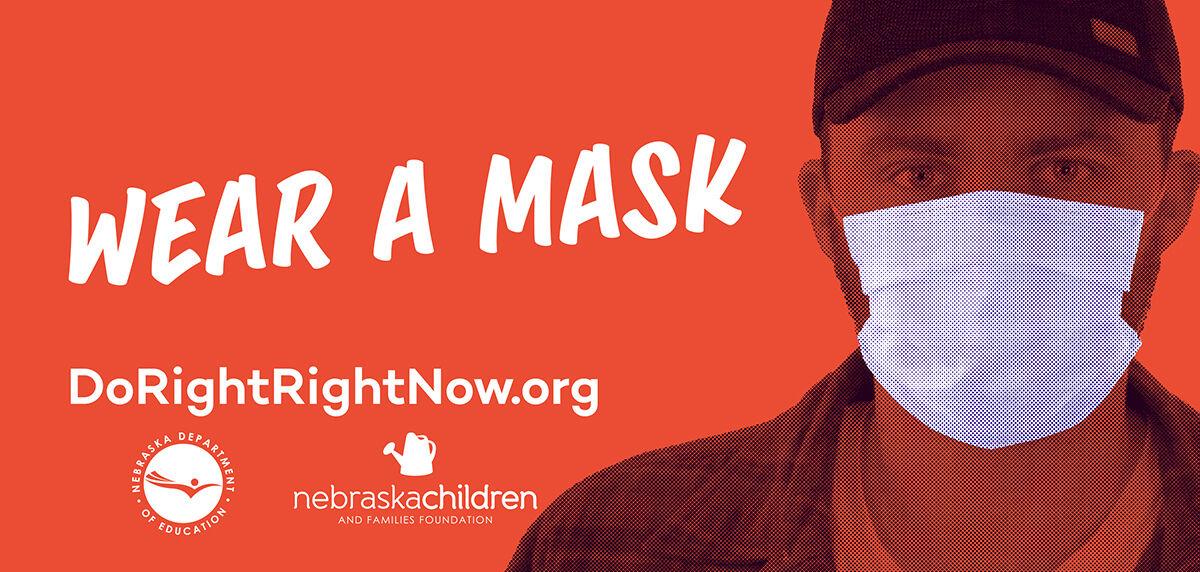 LINCOLN — A growing number of cities throughout Nebraska have been looking into passing their own mask mandates after Governor Pete Ricketts has not opted to pass one statewide.
During a briefing on Tuesday, the governor told those cities to check with their legal advisers to ensure they stay within the law when they think about passing mask mandates.
Ricketts questions if communities have the authority to enact mask orders under current state law.
However, during the briefing, Ricketts said the state will not interfere with cities that are acting within their legal rights to impose a mask mandate. He said he has not asked Attorney General Doug Peterson for an opinion on the issue.
Several communities across Nebraska are discussing a possible mask mandate, including Fairbury, Scottsbluff, Grand Island, Hastings and Ralston. Beatrice has already passed one.
The Kearney city council unanimously passed a temporary mandate this week which will extend to Feb. 23, 2021, the Kearney Hub reported. Violating the mandate carries a $25 fine.
It was announced on Friday that the Grand Island city council will also hold a special meeting on Monday to discuss a city wide mask policy. The City of Hastings will also decide on a mask policy on Monday.
"Our repeated requests to the Governor's office for a universal mask policy have been rejected with our most recent request rejected on Sunday, Nov. 8. We are now at a critical juncture. It is clear if we do not act locally and swiftly now, we will continue with rampant uncontrolled spread of COVID-19," Central District Health Department health director Teresa Anderson wrote.
Omaha and Lincoln have been able to pass their own mandates because they are organized under a home rule charter. The Lincoln-Lancaster County Health Department also has a special status under state law and does not need to seek state approval.
The governor repeated his stance on Tuesday, saying he does not think a statewide mask mandate is necessary and it would breed resistance.
The resistance Ricketts has often cited has been demonstrated in Kansas.
In July, Governor Laura Kelly issued an executive order requiring a mask to be worn in public by anyone over the age of five.
However, a state law passed in June stripped the governor of some of her emergency powers and allowed counties to opt out of the mandate and 80 of the state's 105 counties have done so.
Neighboring Iowa has also recently passed a mask mandate, when asked for his thoughts, Ricketts said, "masks are a tool, they are not the only tool."
In Wyoming, 12 counties now have health orders requiring residents to wear masks. Gov. Mark Gordon said people are being, "knuckleheads," about the virus and he is considering a statewide mandate, the Scottsbluff Star Herald reported.
There are a total of 36 states which now mandate face coverings in public.
When asked what it would take for a change of heart among those who do not wear masks, Rickett said "education and communication," will help.
To that end, the State of Nebraska launched a campaign to get Nebraskans to, "Do Right, Right Now," an effort to curb the spread of COVID-19.
"The objective of the campaign is to raise awareness of different ways Nebraskans can help protect themselves and others from the virus. The collective goal is to reduce and eventually eliminate the spread within communities, while shining a light on the impact this pandemic has on mental health," according to a press release for Do Right, Right Now.
"This positive campaign reinforces wearing a mask, washing hands, and giving appropriate space. Messaging will evolve over the 6 to 9-month campaign to encourage actions such as getting a flu shot, getting a COVID test if symptoms are present, and getting a vaccine once available," according to the release.
The campaign may hit some resistance, Omaha World-Herald reporter Martha Stoddard reported one caller said, "I would rather take a bullet to the head than wear a goddamn communist mask."
There has been a growing push from different organizations, including the Nebraska State Education Association, for a statewide mask mandate.
"As of Nov. 17, the positivity rate was 23.4 percent statewide compared to a 2.4 percent positivity rate when the pandemic began. In highly populated areas, the positivity rates climb even higher. Douglas County is at 36.3 percent, Buffalo County is at 44.9 percent, and Scottsbluff County is at 68.2 percent. These numbers are some of the highest in the nation," according to the Do Right, Right Now press release.
On a local level, Mayor John Fagot of Lexington said discussions about a mask mandate have been ongoing but a firm decision has not been reached yet. He said he has been in discussion with several different area mayors about the issue.
The primary problem comes down to the enforcement of a mask mandate and how effective it can be. Fagot said the decision around a mandate comes down to the questions of 'if' and 'how' it will work.
He said at the moment many people are already wearing a mask when going out and encourages people to do so while in public. However, there are people who do not wear masks in the same situation and are unlikely to be swayed by a formal, enforceable mandate, Fagot said.
As the situation around individual community mandates progresses, Fagot said the city will be monitoring their progress. He said there is a lot of travel between local communities in the area and those mayors may seek a uniform policy, if one emerges.
Jeremy Eschliman, the health director at Two Rivers Public Health Department said they support any city, business, non-profit, etc. enacting their own mask policies in the absence of a statewide mandate.
Gov. Ricketts has not allowed local health departments to create directed health measures which would include a mask mandate. Eschliman said it's the essence of the current environment that science has been politically weaponized.
The science is clear that masks do work, Eschliman said and without a statewide mandate, it has fallen to individuals, businesses and communities to take up the mask issue.
At the moment there is inequity regarding mask wearing throughout Two Rivers seven county region, with some businesses mandating them, while others do not. This leads to the policy not being as effective if it were to be mandated across the board.
Ricketts has long cited potential resistance to a statewide mandate, but Eschliman said they have seen businesses throughout the region institute their own mask policies.
The argument for personal rights has long been called out by those who oppose mask wearing, but Eschliman said masks can provide protection for individuals and those around them.
He said it will take all of us working together to get the better of this pandemic but if we cannot, it will lead to more virus related deaths.
Be the first to know
Get local news delivered to your inbox!