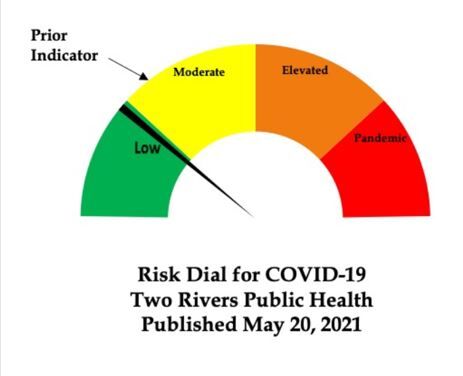 LEXINGTON — As a sign of continuing progress, the COVID-19 risk dial for the Two Rivers Public Health Department district was lowered into the 'low' level for the first time since the pandemic began in March 2020.
According to Two Rivers, weekly COVID-19 test positivity rates for all tests conducted fell below 1.5 percent for the first time since last year, less than four percent of tests conducted outside of residential facilities tested positive, a first since early July 2020.
In fact, Franklin, Gopser, Harlan and Kearney counties reports six or fewer cases in the past month.
Over the past week, May 14-20, there were 14 new cases reported, 11 in Buffalo County, two in Dawson County and one in Franklin County.
It was noted in Two Rivers weekly report, that one out of every eight persons in Dawson County tested positive for COVID-19 at some point in the last year.
No new COVID-19 tests were reported in long term care facilities in the district in the previous three weeks. Weekly testing has dropped by 30-50 percent across facilities and some have even concluded routine testing.
COVID-19 related hospital bed use has remained below 10 percent for over 12 weeks and ventilator use has been minimal for the last four weeks, according to Two Rivers.
As of May 17, 43.5 percent of the Two Rivers eligible population over 16 years old has been fully vaccinated. Less than one-fifth of those aged 16-29 are fully vaccinated and new vaccination rates in this age group have slowed dramatically.
Two Rivers as scheduled mass vaccination clinics at multiple sites across seven counties, those eligible for the vaccine are advised to contact their physician or refer to the vaccination clinic schedule at
Two Rivers said the downgrade from the 'moderate' to the 'low' level is due to expanded vaccination coverage, decreasing COVID-19 case and positivity rates, testing utilization and ICU and bed utilization in the district over the last four weeks.
To date, Two Rivers has reported 10,605 total cases, 10,339 of which are no longer symptomatic and 120 deaths.
COVID-19 related hospitalizations across the state continue to fall. At the start of the month, numbers were in the hundreds, as of Monday, there were only 73 active hospitalizations across the state. Hospitalizations have dropped by 29 percent over the last 14 days.
Cases across Nebraska are down by 58 percent over the last two weeks.
According to the New York Times COVID-19 tracker, "the country is averaging about 30,000 cases a day, the fewest in about 11 months. Deaths are at their lowest levels since last summer. No state is seeing a major increase in new cases, and many have seen declines of 40 percent or more in the last two weeks."