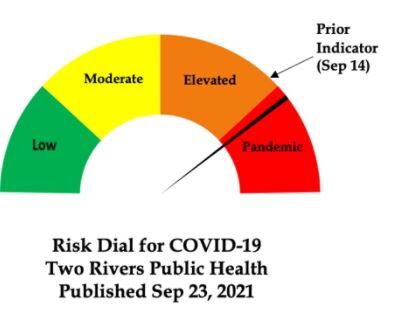 LEXINGTON — As the Two Rivers Public Health Department's COVID-19 risk dial has returned to the 'pandemic' level, weekly case counts in Lexington are four times higher than the previous month.
For the first time since December 2020, the COVID-19 risk dial for the seven county region has returned to the red 'pandemic' level.
There were signs of hope during the late summer, in fact during the week of June 11, 2021, Two Rivers reported no new COVID-19 cases. The risk dial at that time dropped into the green 'low' level.
Governor Pete Ricketts ended the COVID-19 State of Emergency, started on March 13, 2020, on June 28, 2021. Test Nebraska was concluded at the end of July and the Nebraska Department of Health and Human Services ended its COVID-19 dashboard on June 30.
However, the hope the corner had been turned was dashed as a spike in cases began this summer. Infectious COVID-19 variants began spreading throughout the state and country, infecting those who were unvaccinated and causing some break through cases even in those who were vaccinated.
Gov. Ricketts announced on Monday, Sept. 20 the Nebraska COVID-19 dashboard would return now that the state's hospital capacity is going above 10 percent. He also declared a hospital staffing emergency a month ago.
According to Two Rivers, 316 new COVID-19 cases were recorded between Sept. 15-21, over 20 percent of tests conducted outside of long term care facilities were positive.
During this month, long term care testing of staff and residents returned over 45 positive results in the district.
It was noted weekly COVID-19 case counts in both Lexington and Holdrege are over four times that recorded just a month prior. Almost a quarter of the total COVID-19 cases recorded in Kearney this year were recorded just this month.
COVID-19 hospitalizations account for 20 percent of medical and surgical bed occupancy, only a quarter of staffed beds are available in the district.
ICU availability has fallen even further, only six of the 28 staffed beds are available.  ICU bed availability has dropped by a third due to staffing shortages, according to Two Rivers.
Hospitals in the City of Kearney and Phelps County report near-capacity occupancy and bed availability has dropped across the entire district. There are five COVID-19 patients currently on ventilator support.
Testing, contact tracing and case investigations continue to be constrained by personnel and organizational shortages, Two Rivers stated.
As of Sept. 21, 44 percent of the district's total population and almost 56 percent of the adult population have been fully vaccinated.
As of Sept. 20, 44.7 percent and 42.9 percent of Dawson and Gosper counties total populations, respectively, have been fully vaccinated.
"In light of rising incidence rates connected to the newer delta variant, Two Rivers strongly urges all unvaccinated vaccine-eligible residents to avail of the COVID vaccination through their healthcare provider, pharmacy or Two Rivers. For a schedule of vaccination clinics, see www.trphd.org," according to Two Rivers.
All persons aged 12 and over are eligible for the vaccine. Two Rivers has scheduled mobile vaccination clinics at over 15 sites across seven counties to distribute vaccines and to focus on areas of potential shortfall.
Since January, 92 percent of people infected with COVID-19 have been unvaccinated, along with 94 percent of hospitalized COVID-19 patients and 95 percent of Nebraskan's who have died from it, Two Rivers reported.
For these reasons, the risk dial is raised this week and enters 'pandemic' designation. The raised dial level reflects the continuing increase in cases, dramatically constrained Medical/Surgical bed availability and ICU utilization rates, reduced testing availability, insufficient contact tracing and rising COVID hospitalizations in the district.
According to the new Nebraska DHHS COVID-19 dashboard, over the past 14 days, there has been 618 cases per 100,000 people in Dawson County and 596 cases per 100,000 in Gosper County.
The dashboard indicates there are currently 435 active hospitalizations across the state, a 16 percent increase from the past two weeks.
As of Sept. 21, 66 percent of the state has been fully vaccinated, while 5.4 percent are partially vaccinated.
There have been 261,080 total cases in Nebraska and 2,382 deaths.
"The country is averaging more than 2,000 newly reported deaths a day, the most since late February, even as hospitalizations and new cases start to decline," according to the New York Times, "The pace of vaccination has been steady recently at around 760,000 doses a day. About two-thirds of American adults are fully vaccinated, though rates vary widely from state to state."