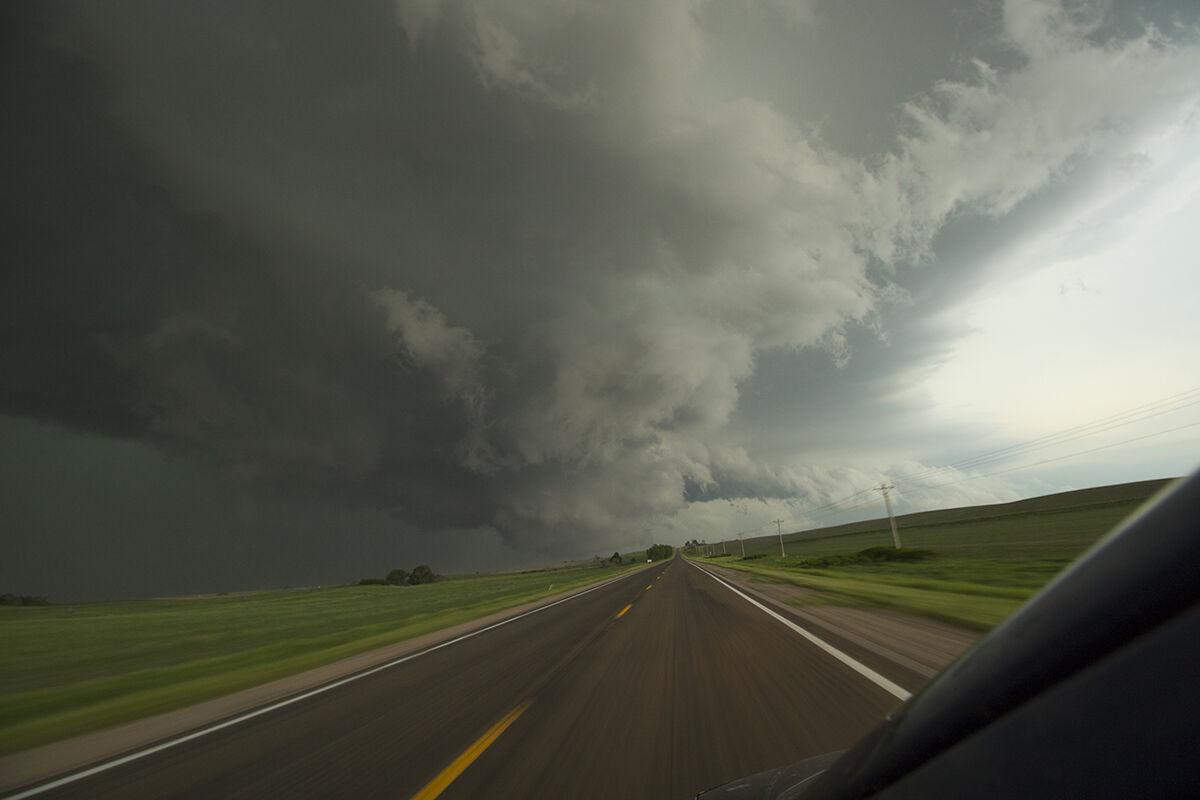 2020 has been a godforsaken year in many ways for nearly everyone, the COVID-19 pandemic has been putting the screws on since the spring. Even the weather was different, from a record setting 2019 storm season, to an eerily quiet 2020 tornado and severe weather drought.
Despite the quiet season, I was still able to go two for two and photograph a tornado, albeit a brief one, and got some of my favorite shots I have taken so far as a storm chaser.
During the 2019 season I was able to see my first tornado as a storm chaser, it was a surreal moment which I still can't fully describe. As 2020 approached I wondered if I would be able to see one again and the worst part of my doubts made me want to think the last time was a fluke.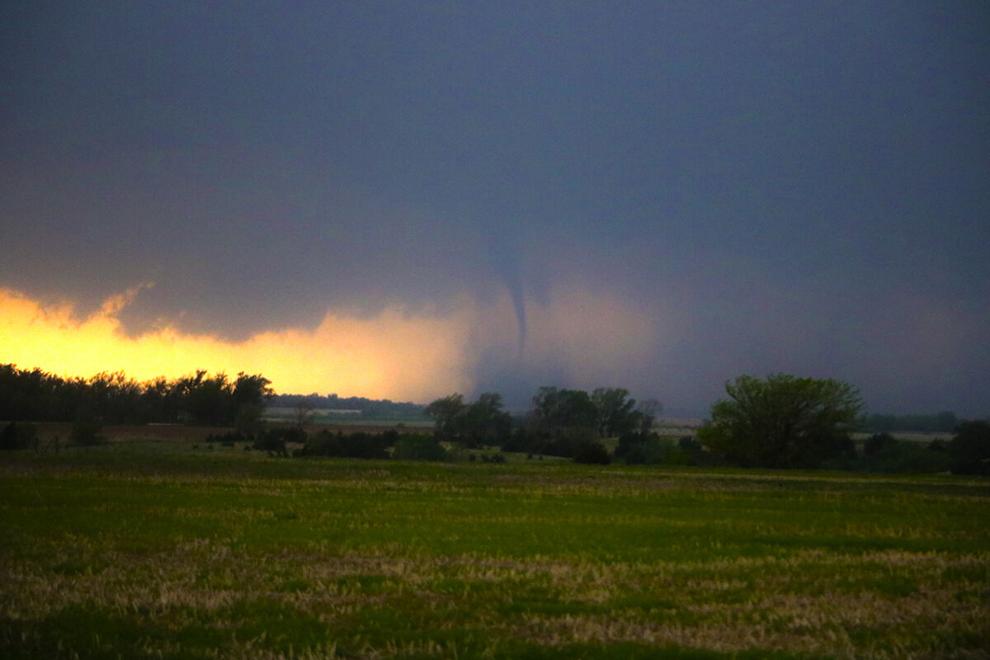 Normally, I start off the year weather-wise by attending a spotter training class hosted by the National Weather Service Hastings. Unfortunately just as the date for Dawson County's spotter training was approaching, COVID-19 hit and the class was canceled, along it seems with every other event in the state.
Luckily, NWS Hastings hosted an online spotter training course later in the spring and I was able to get certified once again as a weather spotter, this time watching the skies in Buffalo County where I moved to.
My first chase of the year came early and I nearly completely missed the set up.
The day before March 19,2020, it became clear conditions were setting up for a possible cold core funnel/tornado chase. A warm front was set to lift out of Kansas as a low pressure system was ejecting out of the Rockies. The southern state line looked to be the focus for storm initiation.
Cold core funnels/tornadoes form via a complicated process, but if the right conditions are met, low topped storms can form and produce weak tornadoes or funnels in parameters which at first glance shouldn't support a tornado.
March is also extremely early for tornadoes, as the traditional height of twister season in Nebraska is May and June.
Despite the uncertainties I was itching to chase and test out some new equipment I had purchased just for chasing. Unfortunately for me this chase would result in several snags and was poor dress rehearsal. 
March 19 opened with dense fog in the morning and a low hanging deck of stratus clouds which would not clear out. The timing was also going to be tricky, just as the warm front was set to rise out of the south a cold front following the low pressure system was set to being freezing temperatures and even snow.
Despite the complications, storms did indeed begin to form along the state line, I left Lexington around 1 p.m. and set Holdrege as the target to cut the storms off. However, there was an issue, the low hanging stratus clouds never cleared out and my visibility was poor to say the least. The only thing I had to go on was the radar.
Storms were also elevated, meaning they were drawing on air higher in the atmosphere, not a good sign if you are looking for tornadoes.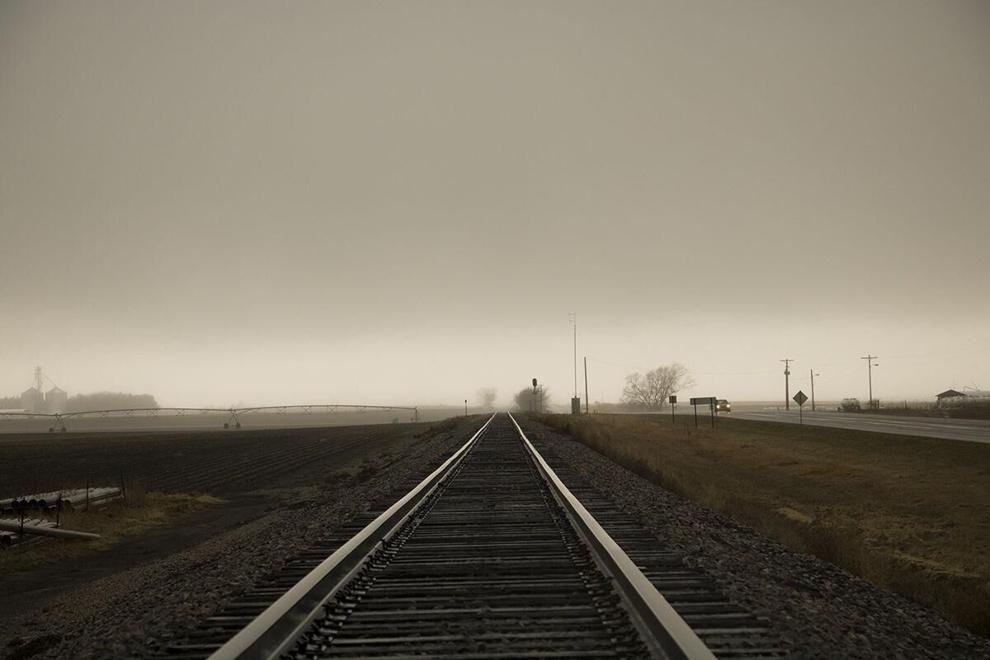 One storm looked like it was gaining strength and I drove over to Funk to get a view of the base. There was not much to see with the low hanging clouds, but I could start to make out the heavier core of rain as it approached. I jogged east to try and stay dry.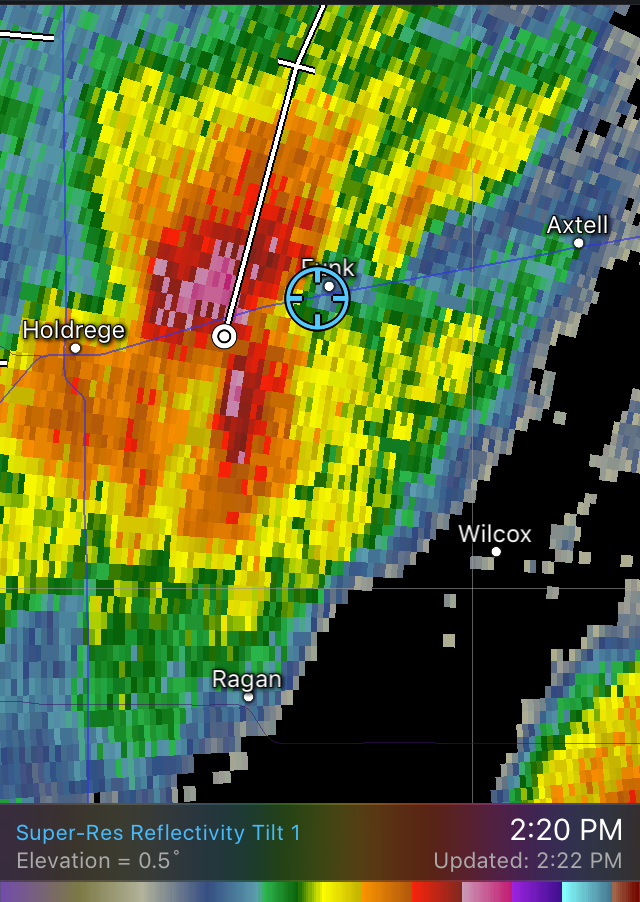 By this point a storm near Hildreth looked to be taking on mini-supercell characteristics and I thought about abandoning my target to catch up with it. Yet no sooner that I made the decision, my first storm picked up a severe weather warning and was headed for Kearney. I doubled back and drove north to keep up with the cell.
Approaching Kearney I could finally make out the hail core and I decided to stop just short of the Platte River to wait for the storm. In retrospect, had the storm been more violent, this would not have been a good position, with few ways out of the area.
Hail the size of dimes began to fall in my area and before I could move, I was completely involved in the hail core, barely able to hear myself think over the sound of the hail hitting my car. I decided to move and not stick it out where I was.
The sensation of driving on a road covered by hailstones is uncanny, imagine driving on a road which was covered by marbles. Later after the chase I saw at least three vehicles, including a semi which had slid off the road due to the hail.
After making my way north of Kearney, I finally decided to call the chase off. There were no signs of rotation and my visibility never improved. The pictures I had were poor and the chase was a complete bust by my standards, yet I didn't feel too bad with spring on the way with more storms to chase.
I wouldn't storm chase for another 66 days.
April in south central Nebraska was dead quiet in terms of severe weather. Usually around the end of the month the pattern becomes more active, but not this year.
What I didn't know at the time was 2020 was shaping up to be the year of a tornado drought. After several large tornadoes tore across the Midwest and Dixie Alley in the early spring, the pattern just seemed flounder.
But I wouldn't know this for some time, and by May I was nearly going crazy, just waiting for a pattern to set up for severe weather. It got so bad I took to photographing non-severe storms in the area.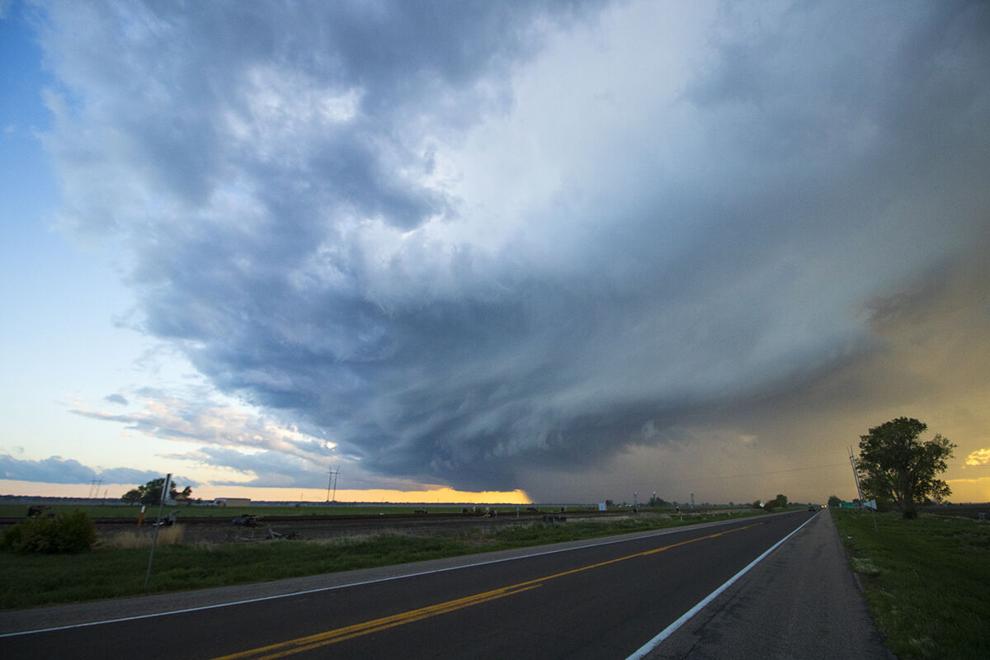 On May 16, 2020 a small cell drove south near Elm Creek and featured some interesting structure. Afterwards and more storms rolled through, I was treated to a full double rainbow in Odessa.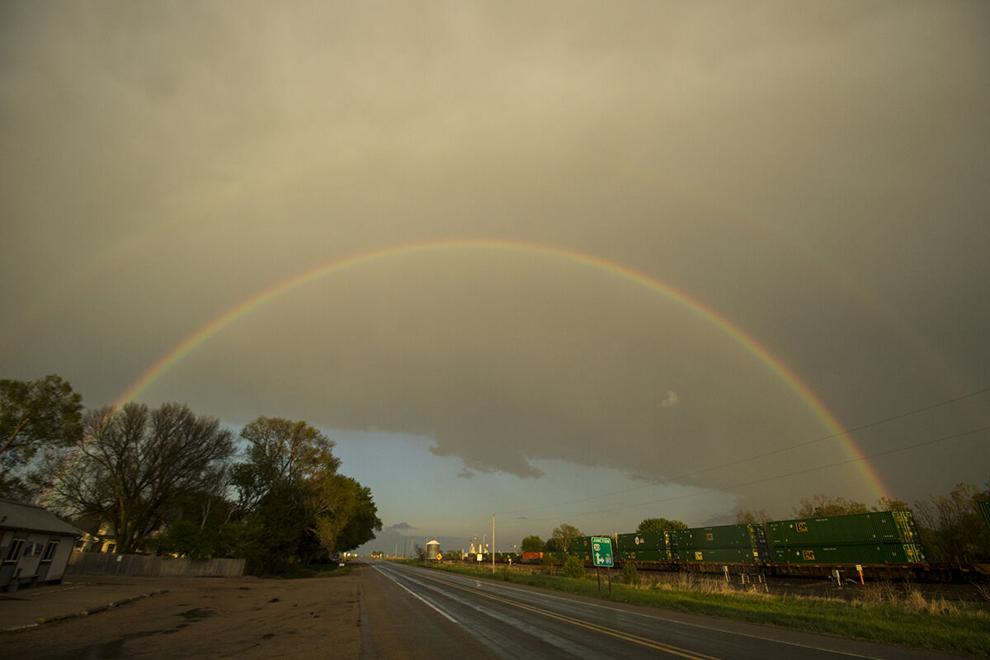 As May rolled on, usually the height of severe weather season, I still hadn't had a single chase in Nebraska. It wasn't until May 23 I would get my next chance and it wouldn't be in Nebraska.
As I had only been chasing for two seasons, my legs weren't as long as most storm chasers, who are willing to drive 6+ hours to storms several states away. I had decided to stick locally during my first few years but wondered when I would feel confident enough to leave Nebraska for a storm.
Having gone two months without a formal chase and severe weather opportunities were setting up in eastern Colorado, I made the decision to chase out of state for the first time.
To be honest, the set up was far from perfect, in fact it was likely I was going to bust again. I had spent the week prior hemming and hawing over targets, northern Nebraska, central Kansas, eastern Colorado, none were a sure bet.
Finally Saturday, May 23 arrived and I decided to hedge my bets and go for the middle option, targeting Sterling, Colo., as my start. A dryline was set in a north-south direction from Wyoming into Colorado and storms were expected to fire.
There was one major concern, the strength of the cap.
The, "cap," as it is known is a stable layer of warm air, warmer than the air below it, above the ground. It is the reason why thunderstorms always seem to break out in the late afternoon. It plays a crucial role in storm development, if the cap is too strong, storms might not develop at all, if it is too weak, the lone supercell you hope to chase might turn into a nasty line of storms.
I gambled that the cap would break enough for storms to form near Sterling. Late in the afternoon I finally rolled into town and began to watch as a patch of cumulus was forming and looked like it would organize.
I drove east to keep up with the complex , but outside of Haxtun, Colo., my fears came true. The cap was too strong and the possible storm I was watching withered and died right before my eyes.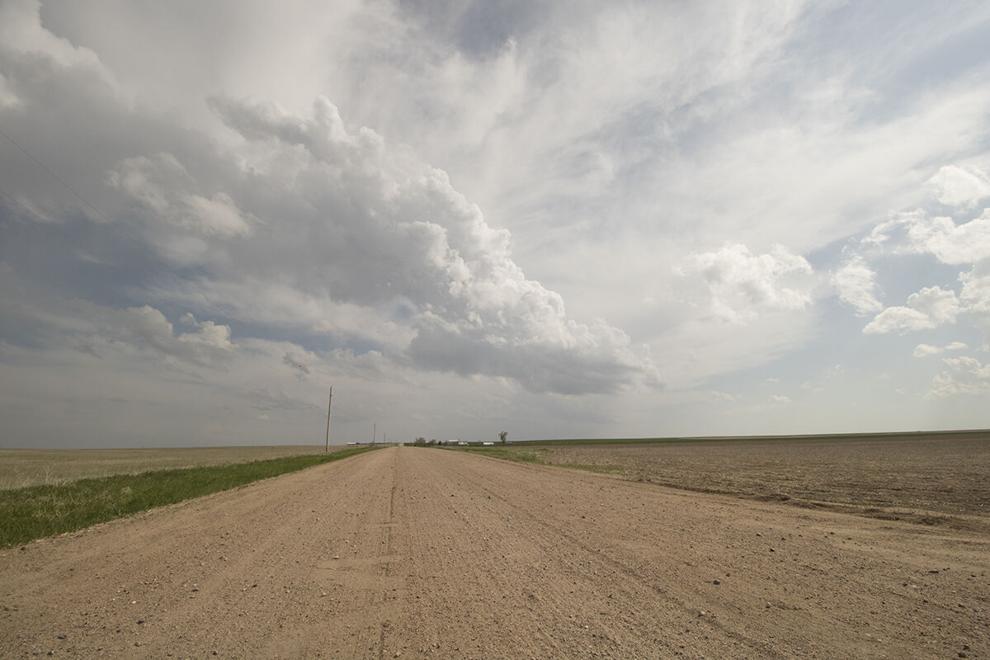 Concerned I had driven three hours into eastern Colorado for nothing, I checked the radar and looked south, seeing some decent sides thunderheads starting to go up. The issue was the storms were 100 miles to my south, a good two hour drive.
I decided I wasn't going to go home empty handed and began the drive south. I eventually had to turn east again and ended up crossing into Kansas, three states in one day.
By this point the lead storm was starting to die out but the second one was still showing off some supercell characteristics. I had all but given up on tornado chances, but I wanted to see what the storm would do.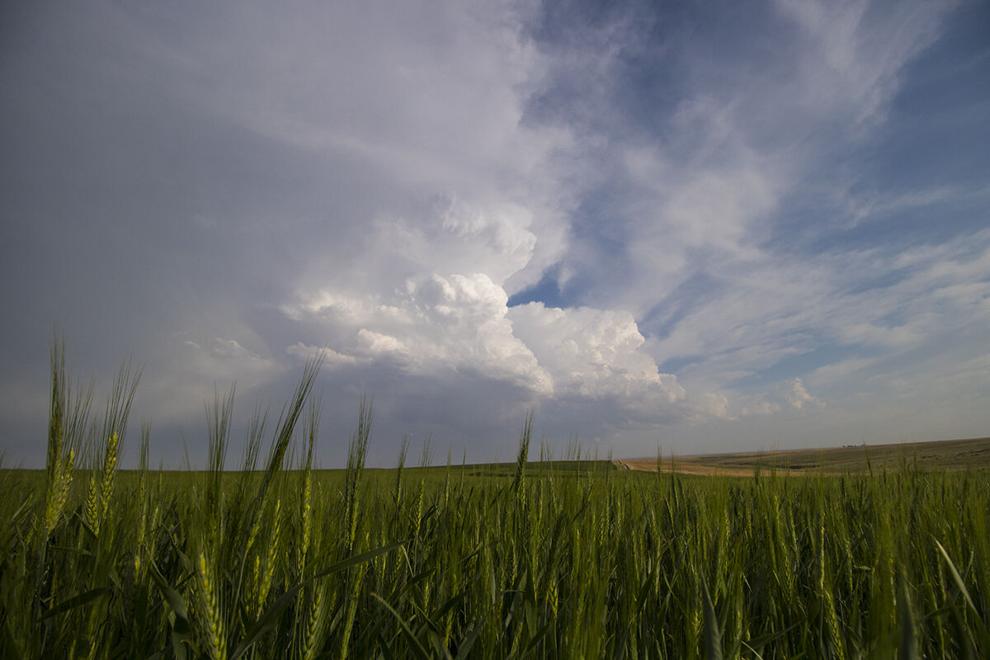 Near St. Francis, Kan., I finally got my eyes on the base of the storm and it was in low precipitation supercell mode. 
An, "LP," supercell is a true rotating thunderstorm, but are on the weaker side, compared to their classic and high precipitation peers. They contain light precipitation, which is well separated from the updraft of the storm, giving it something of a, "barber pole," appearance.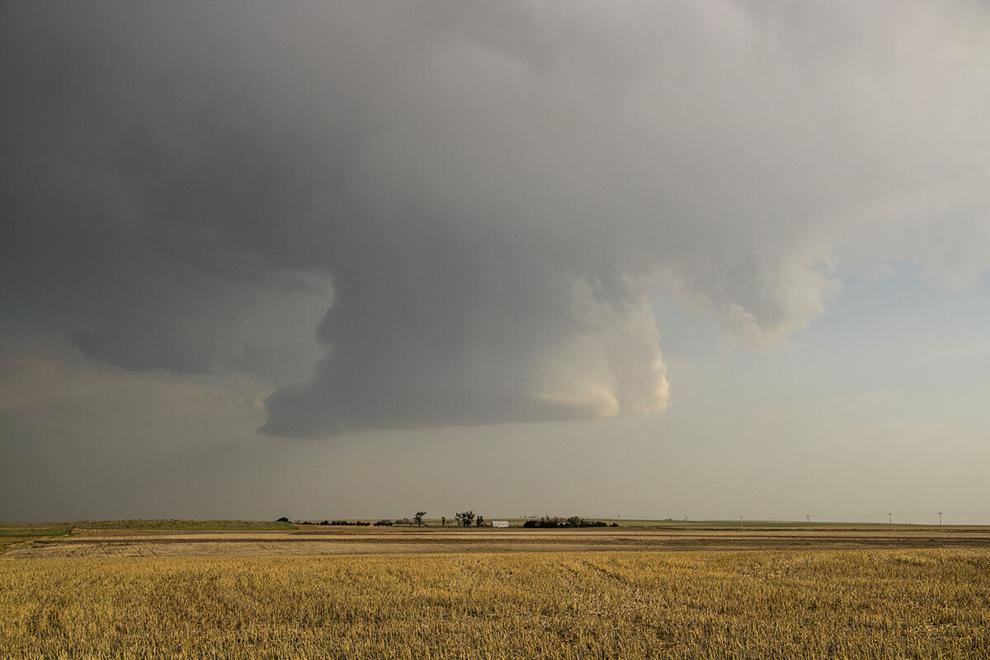 This storm too was beginning to weaken, but it was the first true LP supercell I had witnessed so I felt it was worth the effort. The storm had one last parting piece, as the updraft died, the outflow from the storm began to pick up, a strong gust of wind violently jerked my car to the left.
I was aware certain weather phenomena are driven by the outflow of a storm and I began to look all around me. Sure enough, I began to see columns of dirt getting kicked up and rotating close to the ground. They were gustnadoes.
Gustnadoes are small, short-lived vortexes which are driving by the downdraft and outflow of a storm. They can often fool storm chasers into thinking they are tornadoes, but in reality they have more in common with a dust devil than they do a tornado. The tell for gustnadoes is they are not connected to a storm's base, like a true tornado is.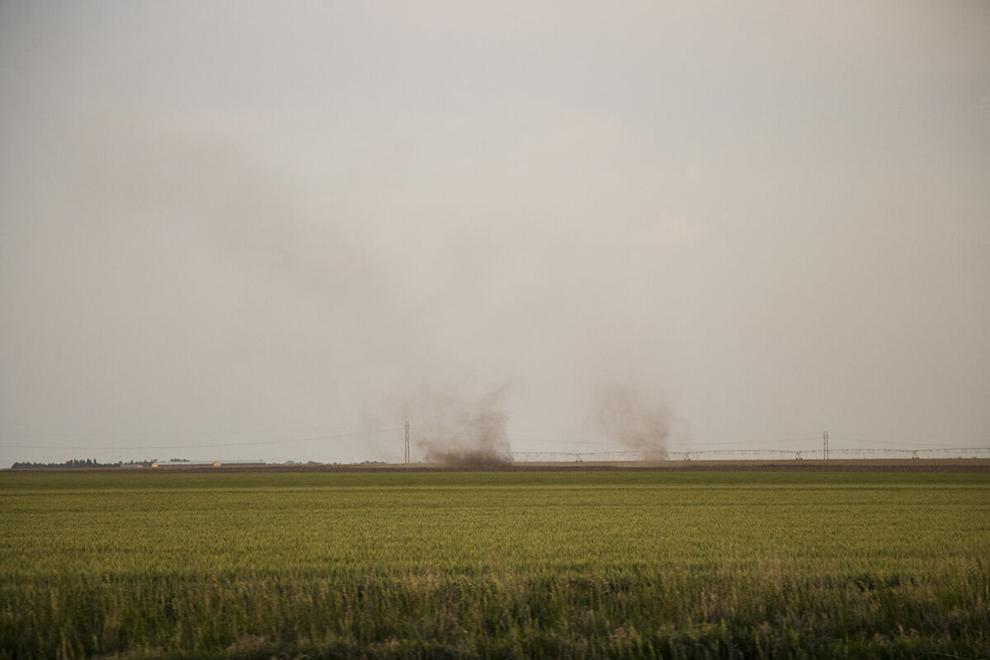 After watching several spin off to the north, I finally called it quits as there were no storms left in the area. I called the chase my "Tri-State Bust," in terms of seeing a tornado, but I was able to see a dying LP supercell and my first sighting of gustnadoes, so all the trouble felt worth it.
June would start off poorly, but I would get redemption soon after.
The weather pattern seemed to indicate severe weather would be possible on June 6, but I struggled to pinpoint a chase target. I had thought at first northern Nebraska would be the location to try for, but then the morning of June 6, the models pushed the whole set up into South Dakota.
There was reason to doubt this step-up as well and I didn't feel like driving five hours into the Dakotas for an iffy set up like this one. I wanted to settle on something in Nebraska but nothing seemed to jump out at me.
A loved one told me she had never seen me so indecisive on a target just before a chase. I had already mentally prepped to go chasing and finally settled on North Platte, where the models indicated some isolated storms could form moving north to south.
In all honesty, I should have just given up on chasing that day, but I had set my mind to it and made the uneventful drive out to North Platte. Parking a few miles north of town I waited in the heat and watched as a small complex of storms began to form and head my way.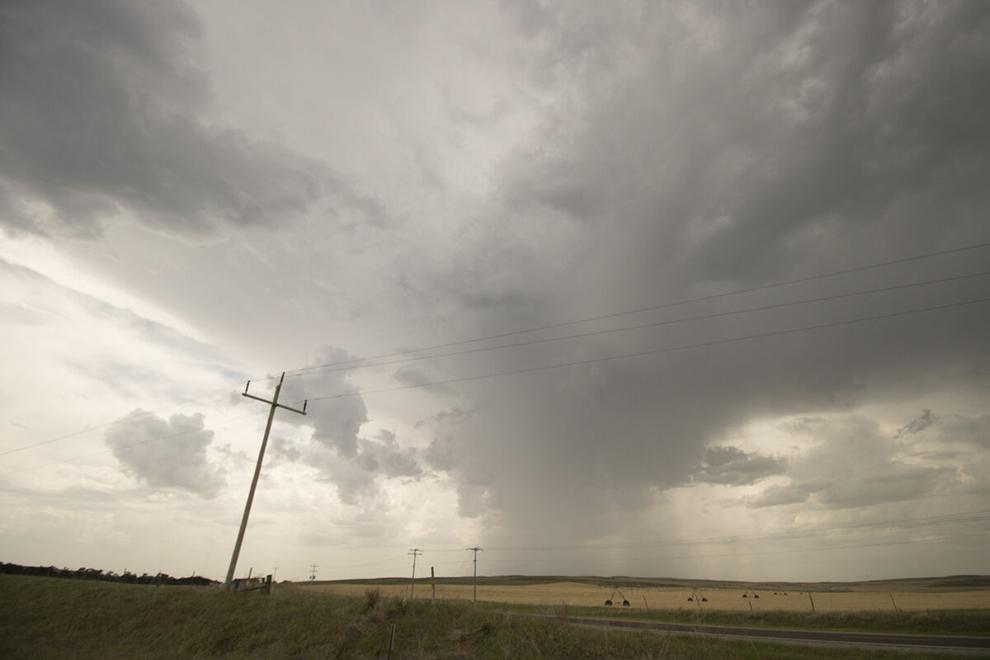 As it turns out, one of these cells would be the only severe warned thunderstorm of the day in the whole state and I had made the right call as to where it would form. I watched as the cell moved to my west, showing off some decent structure.
I wish I had felt better about the successful forecast, but despite being severe, there wasn't much else interesting about the storm and they were beginning to weaken as they moved off further north. A little depressed and disappointed I decided not to go further north and called the chase.
Just two days later, I would have my best chase of the year.
Severe weather was looking more likely the closer June 8 approached. An approaching cold front was stalled across north central Nebraska, and several days of hot weather, with a humid south wind, had primed the atmosphere.
Some storm chasers were looking to target Broken Bow as a staging area, but I had my own personal, superstitious doubts. Twice in two years I had gotten suckered further north toward Broken Bow as a target, but the real show was always further south.
I made the decision to hold in Lexington and in hindsight, I think I made the right decision.
By 5 p.m. a patch of cumulus clouds were building along a north-south line in the Gothenburg, Brady area. The tension was building for me as I waited for any hint of storm initiation and when around 5:30 p.m. a small patch of showers appeared, I charged out the door. I couldn't wait any longer and I hoped this was the right target.
The first cell passed over Brady and approached Arnold, quickly building and earning a severe thunderstorm warning. The issue was I was a little too far behind to catch up with it, but by the time I reached Gothenburg another cell was strengthening and I was much closer to this one. 
I got on Highway 47, heading north, to keep up with the second cell. The first cell near Arnold had picked up a tornado warning and I was worried I was going to miss the show. Luckily for me this second storm wasn't going to disappoint.
I began to see a lowering in the cloud base on the second storm, I wondered if this was the start of a wall cloud and if this storm was becoming a supercell. Things were starting to take shape.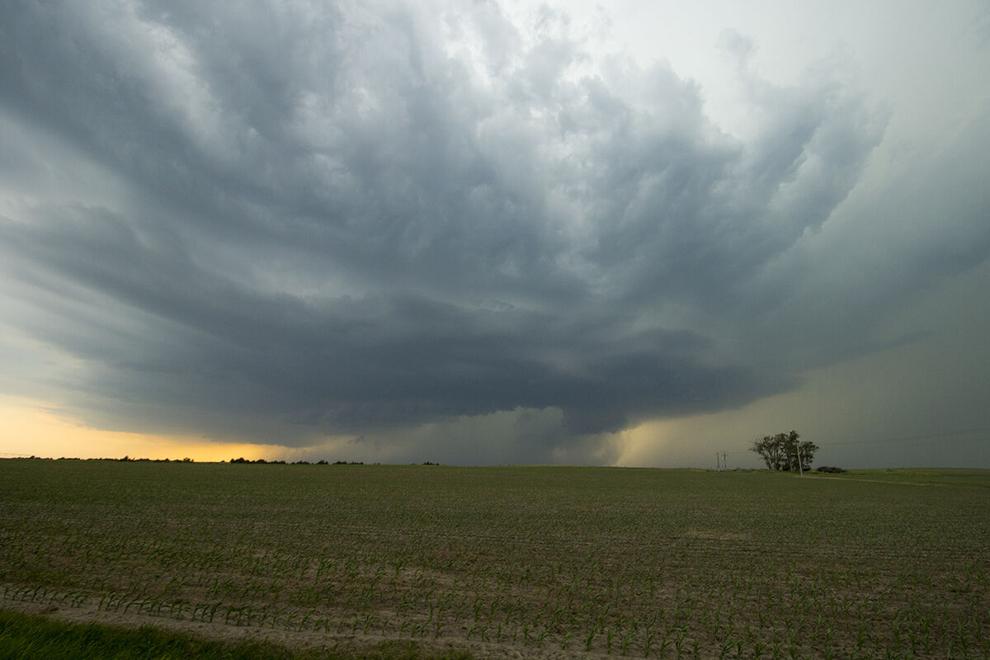 I proceeded further west closer to the storm and kept watching the storm. The wall cloud was becoming more defined and the rear flank downdraft began to cut a hole in the cloud, creating the characteristic hook shape supercells are known for.
Eventually a bowl lowering formed on the northern side of this RFD/horseshoe/hook feature.
By this point several things had occurred which made me think the storm was close to producing a tornado. There had been sudden increases in the low level inflow winds and they were blasting me in the back as I looked west. There had also been several bolts of positively charged lighting, these are far more powerful than negatively charged and can denote tornado formation.
With a fully defined wall cloud at the north of the hook shaped cloud feature, I began to see a suspicious cloud of dust along the ground being lifted up. The brown dust stood in decent contrast to the dark sky behind it.
I hesitated to get too excited out in the field, but I thought this might be a weak tornado. It didn't last long and the storm continued to move north.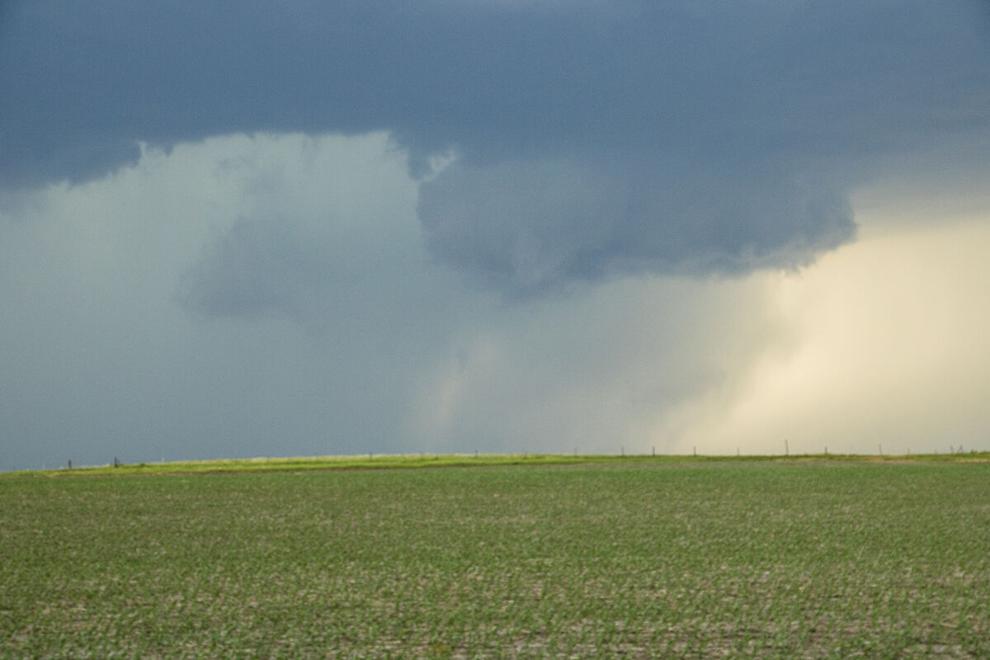 Later I would submit my photo to the National Weather Service in North Platte and after comparing the radar data at the time against my photo, confirmed my sighting of a weak and brief EF-U tornado. An EF-U is an unidentified tornado, because it was not surveyed by the NWS due to lack of damage.
While it wasn't picturesque and quite brief and transient, I had witnessed my third tornado as a storm chaser and this one was a true needle in the haystack.
I drove north to keep up with the storm, the previous structure was starting to fall apart and I worried the storm might be gusting out, but this was a cyclical supercell and was merely reforming itself. I made the decision to get closer, closer than I have ever been to a tornado-producing storm.
In the past I had given tornado producing supercells a wide berth, but given the lack of rain and decent roads, I decided to close within under a mile of the storm's base.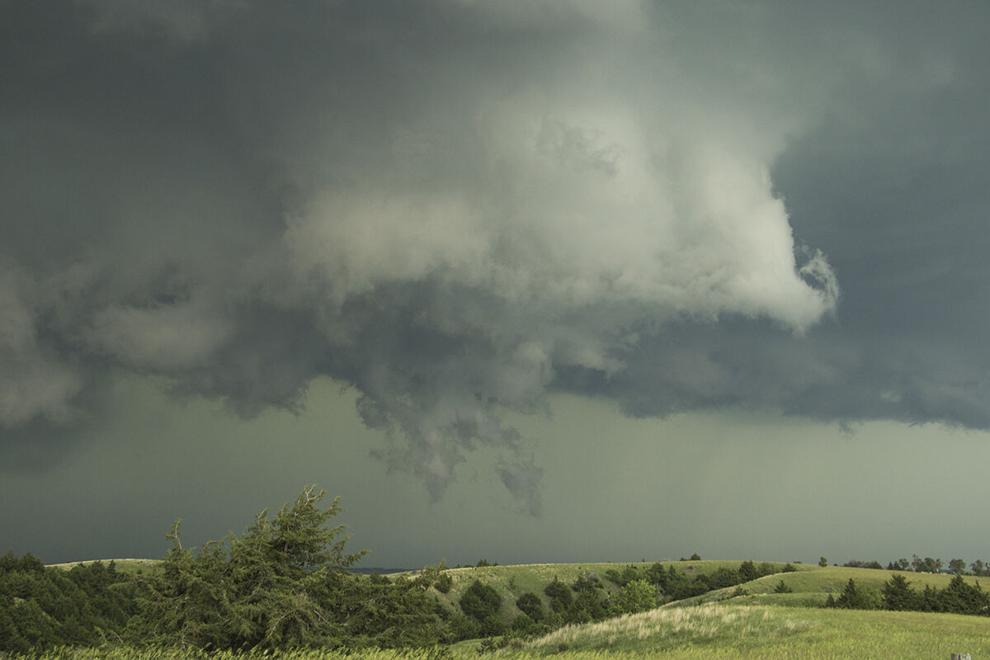 Being out in the open and seeing the rapid turning of the clouds at such close range was stunning. Scud clouds hung ominously low to the ground and a primeval part of my brain was screaming at me to get away.
The storm continued north and I attempted to, the rural roads of Custer County wound me around for a bit before I was able to find Highway 47 again and use the pavement to close the distance.
 It was during this charge north I got one of the best storm chasing shots in my life. A new wall cloud was starting to form and I wanted to get a picture of it, but I didn't want to pull over and stop and lose ground on the storm.
Ignoring common sense, I took my camera in my left and wound the strap around my arm to avoid losing it and held it out the driver side window and hit the button.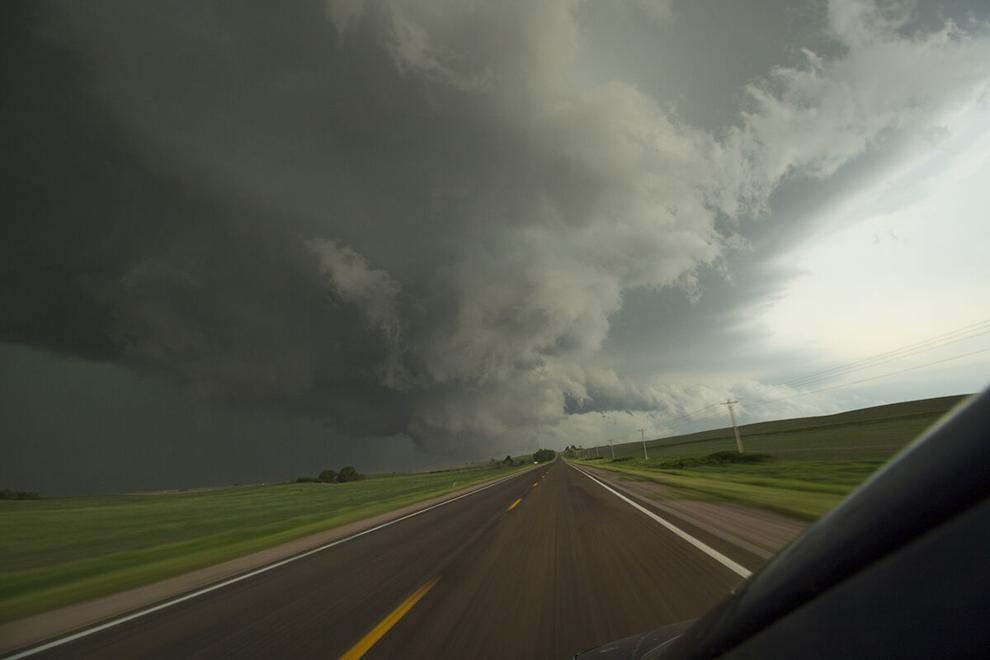 What I captured will likely be one of my most favorite storm chasing photos I will take in this life, it says everything about the craft that I cannot.
As I approached the intersection of Highway 47 and Highway 40 I had a decision to keep going north or to head east toward Callaway, as it turns out, the storm made the decision for me. I looked ahead and saw dust being violently blow across the road, left to right.
After this several things happened at once.
My car was hit by a blast of wind so strong, I had to fight with the wheel to keep straight. I instantly realized this was winds of the rear flank downdraft, RFD. The RFD region of the storm can be dangerous with winds over 100 mph and can cause their own damage.
If I was close enough to the storm to be hit by winds of the RFD, then I was close.
As this was happening my phone flashed an unfamiliar notification over my radar app. The message told me I was inside a tornado warning area and I should seek underground shelter immediately.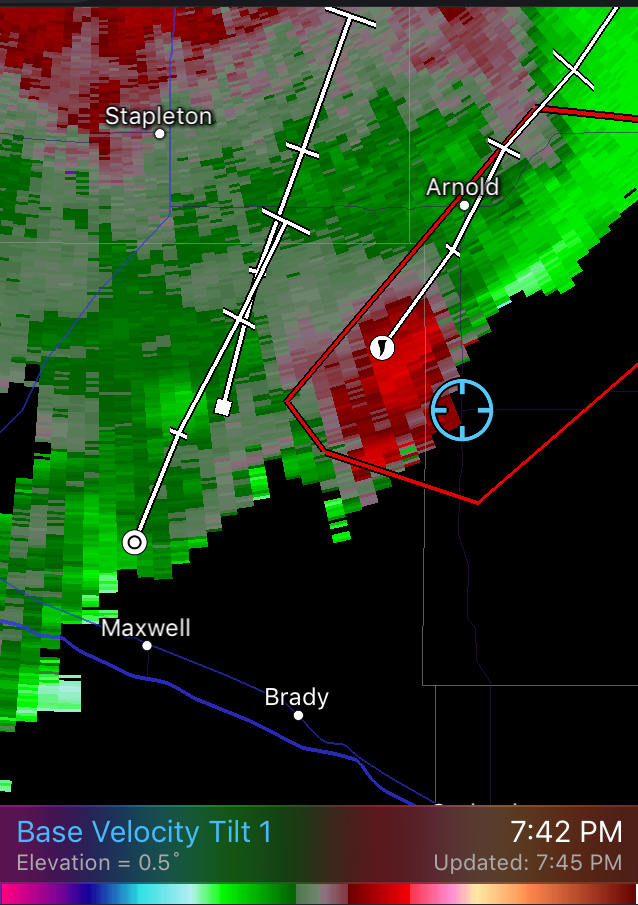 I understood why as I looked at the radar, NWS North Platte had renewed the tornado warning for the storm I was following and I was just on the edge of it. Driving further north would take me deeper into the warning area. Needless to say I made the decision to turn east.
As I got further away from the storm, the immense structure of the supercell became apparent. The storm loomed over the area like something out of science fiction. The area behind the gust front was nearly black with precipitation.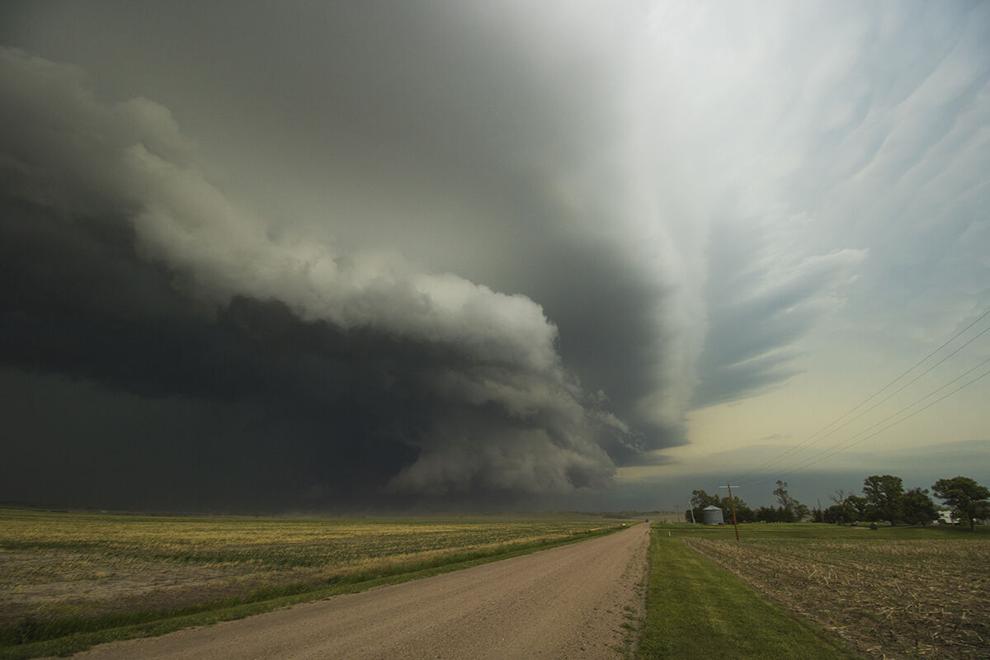 A couple miles outside Callaway I pulled over to get more video of the storm. The RFD gust front was charging ahead and kicking up dust. Another chaser pulled over near me and pointed out what looked to be a funnel cloud deeper in the storm, I tried to get video of it, but it was difficult to make out as the storm progressed.
After I arrived in Callaway I headed north to get more video, but the roads were not cooperating with me. I pulled over and watch the storm move away. There were tornado warnings near Broken Bow, but between the fading light and lack of good roads, I decided to call the chase.
In all I had seen a tornado, amazing storm structure and an RFD blast had made this arguably my best chase of the whole year. My next chase would be much more of a surprise.
I had spent most of the day of June 20 at home with a sick loved one and hadn't paid any attention to the weather. Later in the evening I was told there were some storms forming off the northwest.
I checked the radar and there was a tornado-warned supercell over Custer County and it looked to enter Dawson and Buffalo County.
With little preparation I threw the camera bag in the car and set out to cut off the storm near Eddyville. While I headed north the tornado warning was allowed to expire but the storm maintained a severe warning and I could make out supercell features so it was still worth chasing.
I made my way into Eddyville and found a raised spot of Drive 439 where I could watch the storm. The base was only a couple miles out and occasionally backlit by the sun. It was a stunning sight and in the rolling green hills of the Wood River valley outside of town, it made me appreciate the phrase, "God's country."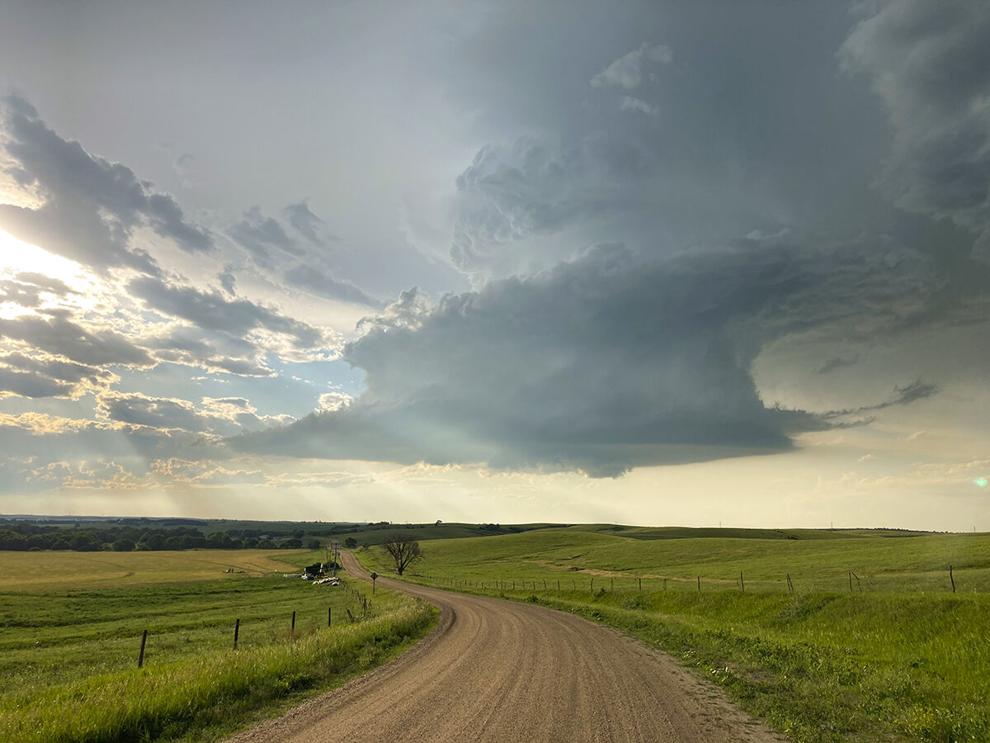 This may have been one of the most photogenic days I have ever been out storm chasing. Between the storm structure, how I positioned, the location of the sun and the surrounding countryside, it was an example of why I adore storm chasing in Nebraska.
The storm cycled several times, a wall cloud forming, an RFD cutting a hole in it, causing it to bow out, rinse and repeat. The storm didn't look capable of a tornado, so I allowed it to close in quite close to my position.
As it moved out to the east, I was treated to the sight of the RFD wrapping around the updraft of the storm. I had never been in a position to see a storm from this angle before and it was awe inspiring.
I headed back down to Highway 40 to keep up with the storm, the supercell seemed to cooperate and glided down to the southeast, flanking the road.
As I approached Miller once again, a hook at the end of the storm, the action area, was closing in on my location. Had there been a tornado, or the threat of one, I likely would not have stayed on the course I was, but given the storm was weakening, I felt comfortable letting this feature close in.
I got back to Highway 30 and watch as the cell took on a low precipitation state and was clearly dissipating, but it wasn't over yet.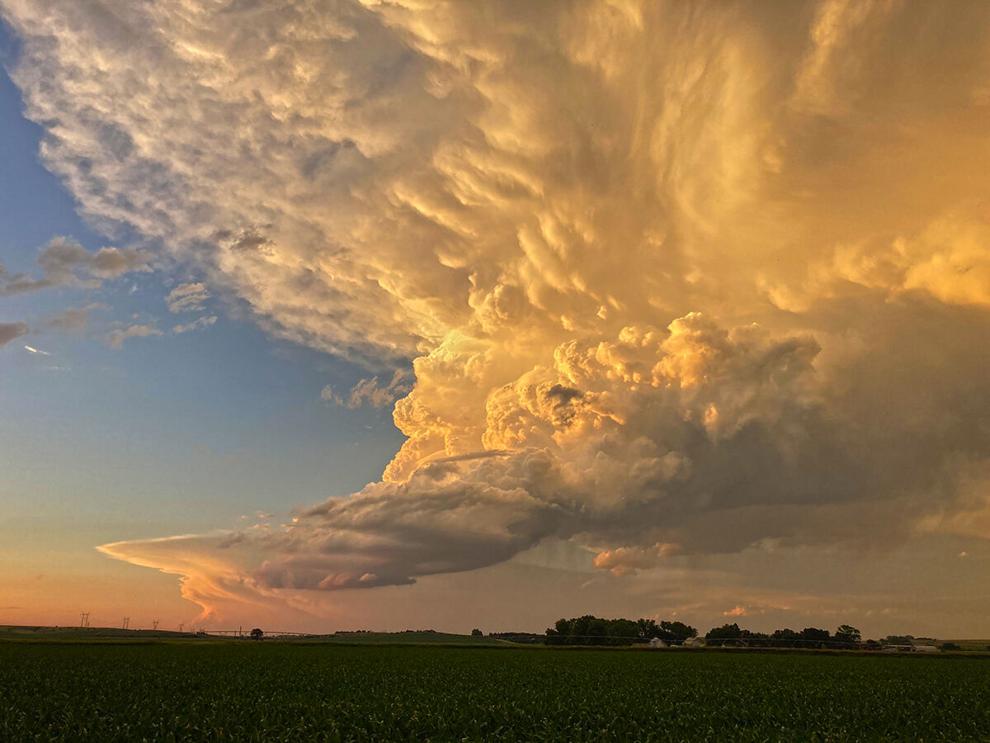 Near Odessa, as the sun began to set, the dying supercell was lit up with different hues of yellow, gold and purple, another stunning sight.
While June 8 was the best chase of the year, June 20 was the most photogenic.
While I wouldn't see any more supercells in my 2020 season, just 10 days later I was treated to an almost relaxing severe thunderstorm chase.
June 30 had been sweltering hot, with temperatures climbing into the 90s and the dewpoint was in the 60s. A nearly stationary cold front over Nebraska was demarked by an unmoving line of clouds I had kept track of during the day.
By early evening, a thunderstorm had developed near Lexington and began moving northeast. Doing a little jogging around on the county roads I kept up with this storm as it began to grow in size.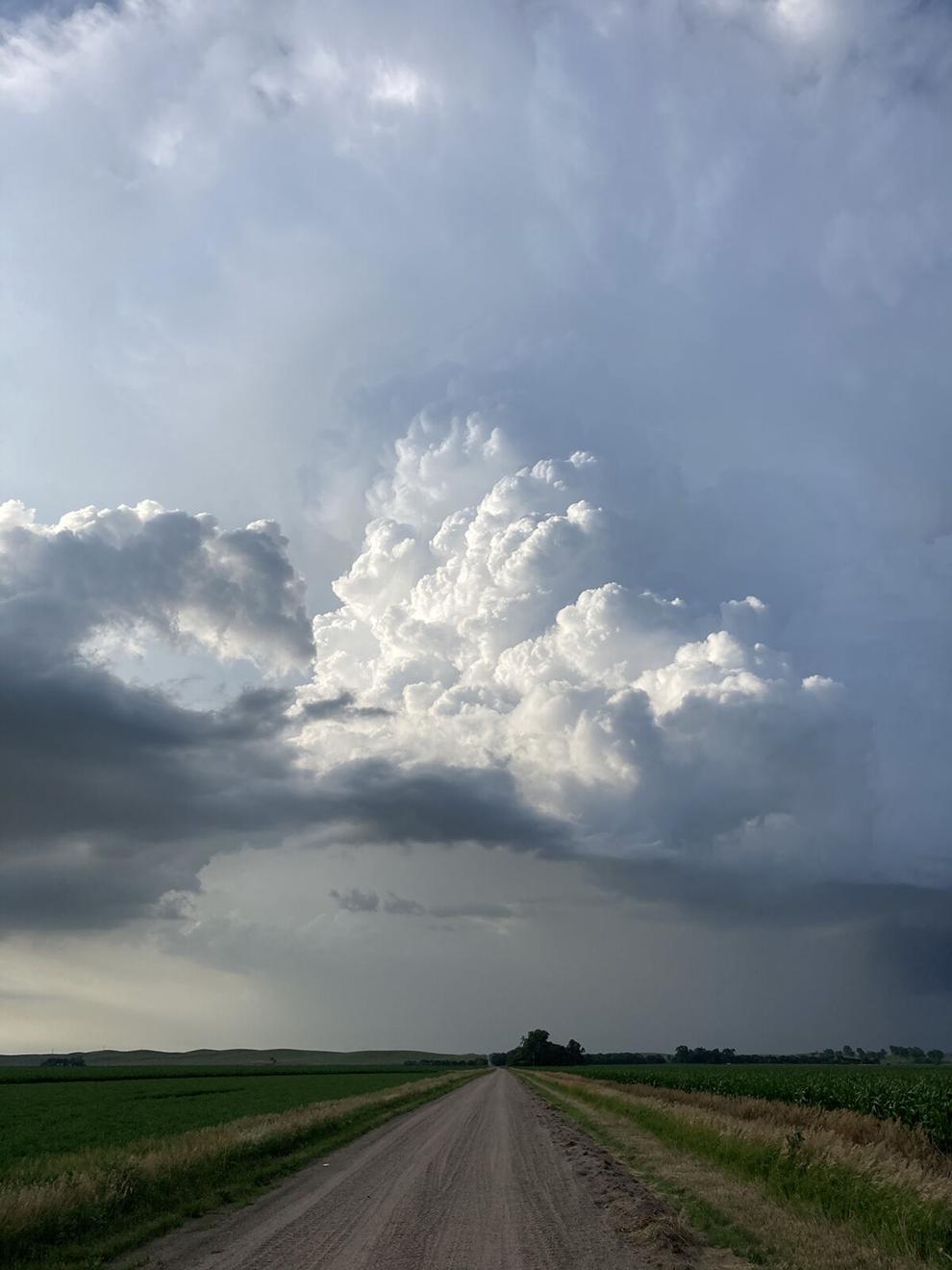 I finally found a Road 444, paved roads are a godsend when storm chasing, and headed north but stopped a couple times to get more photos of the storm as a rainbow appeared. By this point the storm had picked up a severe weather warning and was dropping inch sized hail in the Sumner area.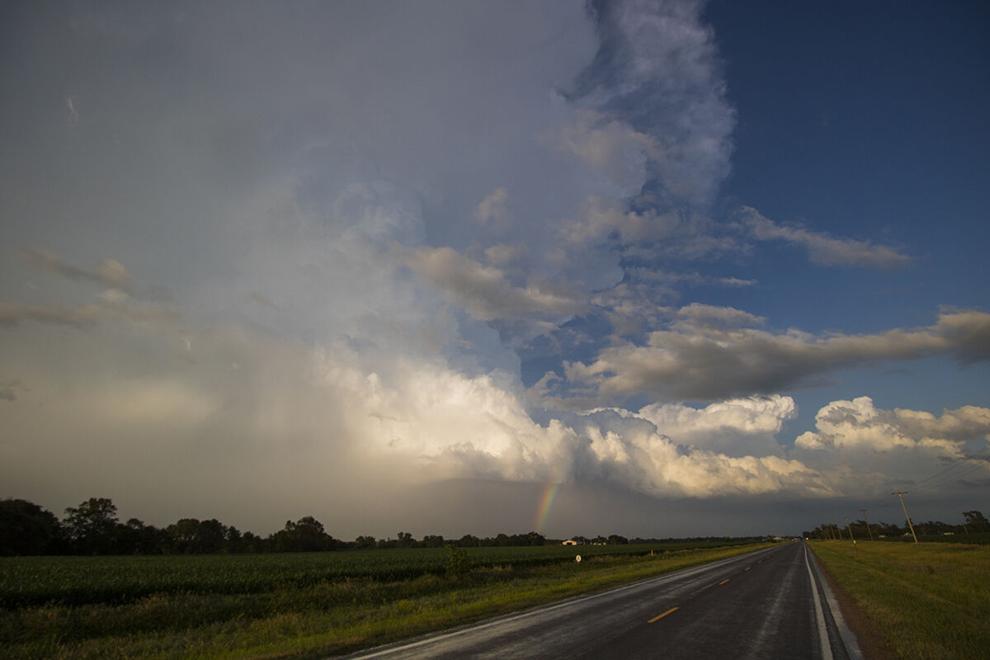 I turned east on Highway 40, which has become one of my favorite roads during the 2020 season, and shadowed the storms as they moved away. I chose to not press so close because I actually couldn't get all of the storm structure in even my wide angle lenses' frame.
I turned north once I reached Miller and found a hill to sit on and let the storms move further away so I could fit more in frame. By this point my storm was showing signs it was weakening.
I headed further east on Highway 40 and found a great spot to turn off and watch. As my cell weakened, a new storm was developing over Hall County and was beginning to dominate the sky, but while I was waiting for the sun to go down, I had a view of my dying storm to the north and a growing one to the northeast.
I held position here snapping various shots near a corn field which was being irrigated. I wanted to wait until the sun was going down, because the light from the setting sun can create some amazing views and colors in the clouds.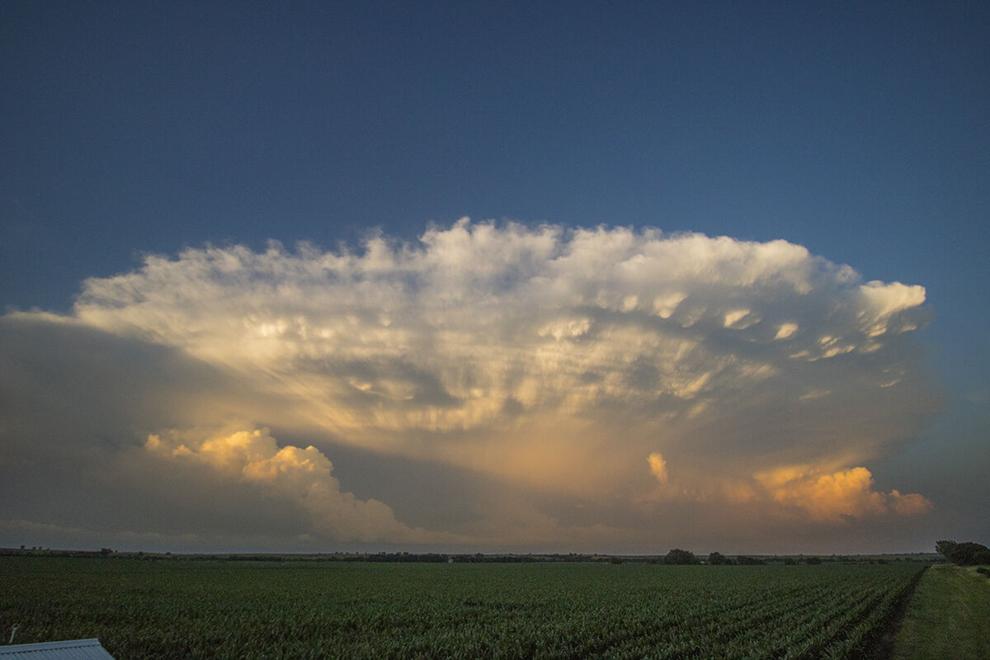 Just as I thought, the setting sun set the western horizon on fire before dulling to a glow. I finally made my way home due to the fading light. It had been a simple and enjoyable local chase.
I wouldn't formally chase again in 2020, but had several opportunities in July to photograph three different squall lines approaching my home on different occasions early in the month.
The last gasp of storm season came on August 4, when a thunderstorm complex approached Lexington and I was able to get a panoramic view of a shelf cloud looking dark and ominous as it approached the community.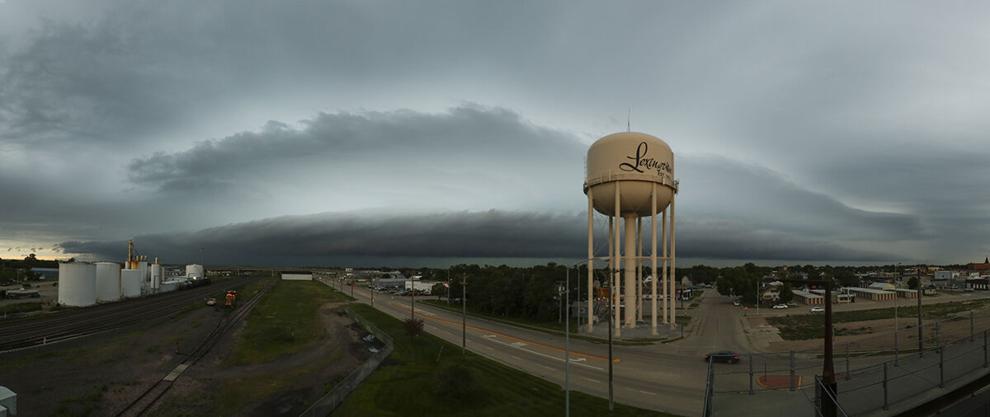 2020 would turn out to be a drought year for tornadoes and severe weather, so I count myself fortunate I was able to witness at least one tornado. I was also treated to some of the best chases I have experienced so far.
My forecasting abilities are also developing, I am still an amateur, but I learn something new each time I go out. 
Needless to say, I am already gearing up for the 2021 storm season.