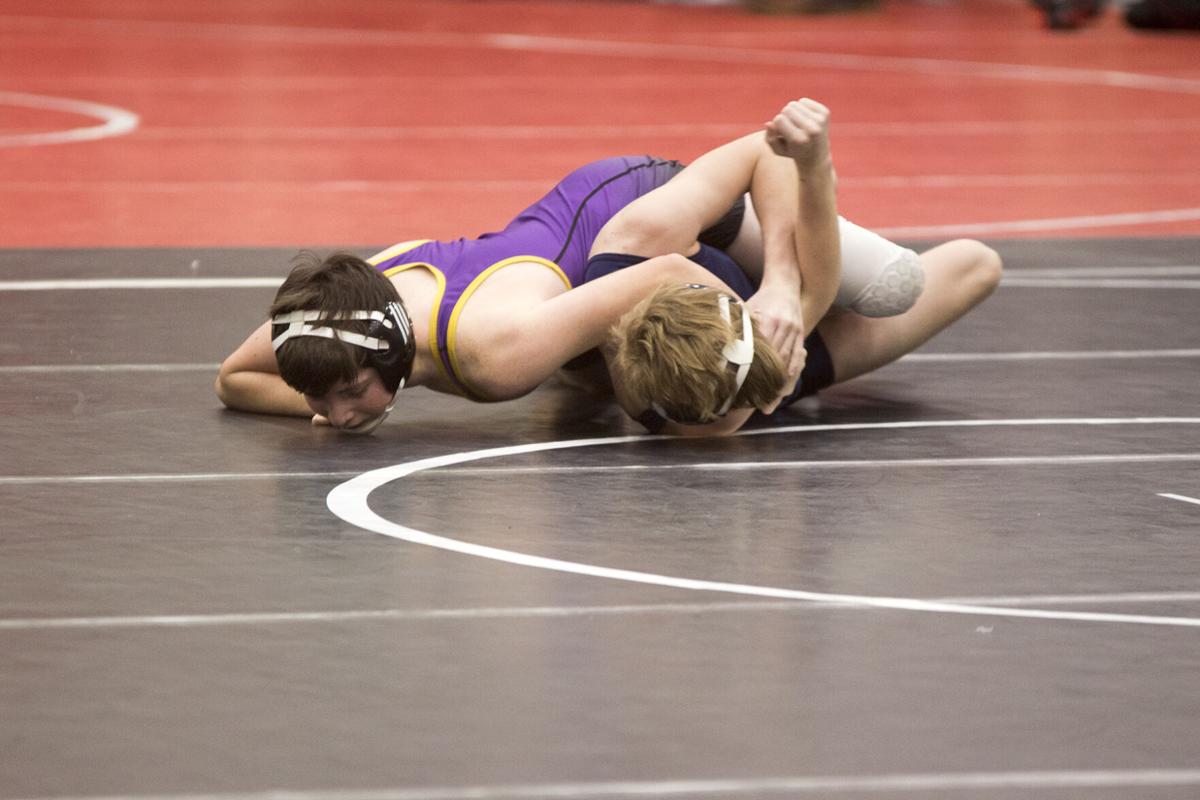 AMHERST - Three Lexington area schools attended the Amherst Wrestling Invite on Saturday, Jan. 9 and the results are ready. Of the 17 teams at the event, the Overton Eagles took 17th place, having entered just three wrestlers, with 7.5 points, while the Hi-Line Bulls wrestlers took 13th as a team with 39 points. Leading area schools at the Amherst Invite, the Sumner-Eddyville-Miller Mustangs took 9th place with a team total of 48.5 points.
Placeholding wrestlers for area schools were few at the Amherst invite, with S-E-M taking the lead.
First up, in the top four, S-E-M freshman Clark Padrnos took second place in the 113 lb. bracket. Padrnos began his day with a 10-9 decision win over Southwest's Mitchel Stritt and a win by fall over Zane Druery of Anselmo-Merna, pinning him in 5:04. With the two wins, Padrnos went to the championship match where he fell to Alex Spotanski of Shelton by 5-2 decision, taking 113 lb. runner-up at the invite.
Ethan Atkins, the 126 lb. Mustang sophomore took fourth place in his bracket. He received a bye in the first round and fell to Jordan Mosel of Plainview by fall in 1:35 to move to the consolation side of the bracket. Atkins received a bye in his first consolation match before snagging a quick win by fall over Kaden Reeves of Arcadia/Loup City, pinning him in 16 seconds. Atkins then met with Nelieg-Oakdale's Griffin Claussen, defeating him by technical fall, 16-1, qualifying for the 3rd place match with Ian Hughes of Amherst. Hughes took the win by fall in 57 seconds and Atkins took fourth place in the 126 lb. bracket.
The 285 lb. S-E-M junior Brendon Hall took fourth place in the heavyweight bracket with a win by fall over Hi-Line's Carson Reiners in the first round, pinning him in 3:18, before taking a loss by fall to Bryson Shoemaker of Southwest in 1:49. Hall moved to the Consolation bracket where he met with Luke Heil of Arcadia/Loup City, claiming a quick win by fall in 23 seconds and qualifying for the 3rd place match. Hall then met Liam Heil and took a loss by fall in 1:38, claiming fourth place in the 285 lb. bracket.
Hi-Line freshman Aiden Shutts took fourth place in the 113 lb. bracket after going 3-2 on Saturday. Shutts took a first round loss to Kale Taubenheim of Amherst by fall, 1:09, won his first consolation round by fall in 1:21 over Karson Klumpe of Cambridge and defeated his next opponent, Anselmo-Merna's Zane Druery, by 6-4 decision to qualify for the third place match. Shutts rematched Taubenheim and was pinned in 54 seconds, taking fourth place in the 113 lb. bracket.
Hi-Line's second and final medalist in the top four at the Amherst invite was Syrus Snow in the 220 lb. bracket, taking second place. Snow claimed a first round win over Jerrod Land of Fullerton by 3-0 decision before meeting Julien Grindle of Cambridge where he took a win by fall, 5:31, qualifying for the championship match. Southwest's Clayton Hardy took the win in the championship by fall, pinning Snow in 3:02. Snow received the medal as runner-up in the Amherst Invite 220 lb. bracket.