GIBBON — Mike Montgomery looked forward to eating fresh vegetables from his garden, but that won't happen now.
Last week's Wood River flood filled the basement of his house with water for a second time since March and swamped his garden. "I picked a few radishes, but that was it," he said Sunday.
He and his wife, Judy, have lived a half-block south of the river for 52 years. When asked if they'd ever seen anything like the 2019 floods, they replied in unison, "Never."
"We had water in the street or come up to the walk, but never in the yard or by the house," Judy said.
Gibbon Fire Chief Rick Brown said the Wood River began rising around 4 a.m. Wednesday and was flooding by 6:30 a.m. The crest of 16.8 feet was lower than the 17.7 feet predicted and the March peak of 17.3 feet.
"It was the whole northeast side again, probably 30 to 35 houses," Brown said, and several businesses. "... But it was wider this time. There were places that flooded this time that were dry in March."
He believes the number of homes affected could be near 75 once damages are fully assessed for flooding that crossed Highway 30 and the Union Pacific Railroad tracks. Brown said an added problem in southeast Gibbon was that a sanitary sewer backed up into the storm sewer, causing a mix of the two water sources in some basements.
He doesn't know if the 2,000 sandbags filled and distributed Tuesday helped divert floodwaters, but he said they might have slowed the flow.
Still another problem for the Gibbon area was the Platte River crest arrived before the Wood River flooding in town had receded. Brown said high Platte flows caused some nervous times for residents of a cul-de-sac near Interstate 80.
Wood River floodwaters receded by Friday morning. "That's when we could finally open up all the roads we had closed and Highway 30," Brown said.
Recovery activities — pumping water from basements and removing carpet, furniture and wet drywall — started with the aid of volunteers from the Gibbon area, Kearney and other towns, including several church groups.
Brown said those major post-flood tasks are finished, but fans and dehumidifiers still are needed.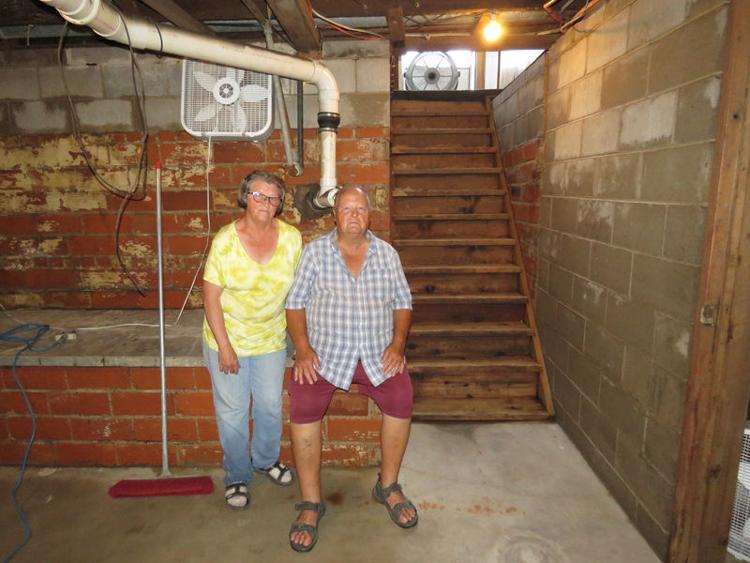 Basement filled again
Mike Montgomery said there were 7 ½ feet of water in their basement in March that stopped a bit below the 8-foot ceiling. The higher water last week climbed the basement stairs to within inches of the main floor.
The basement is unfinished, but he said they had "52 years of things" stored there before the March flood, including heirloom Christmas decorations and mementos from their grown sons' growing up years.
The furnace, water heater and sump pump had to be replaced. "It (the second flood) took everything again," Judy said, although they hadn't put any personal items in the basement again.
"We were just confident that we were back in business," Mike said, shaking his head.
He recalled that in March, he was putting his snowblower in the garage after clearing his driveway and sidewalls when Judy told him they were getting flooded.
The water — runoff into the overflowing Wood River from heavy rain that couldn't seep into still-frozen ground — started rising fast. It was knee deep in the yard by the time they left with their son, Jeff, to go to his south Gibbon house.
Because last week's flood, also due to heavy rains upstream, was slower, they had time to put some sandbags around their house. New window wells and window seals since March prevented them from being a point of entry last week, but floodwaters still found their way in through cracks in the basement's brick walls.
After the March flood, experts disagreed about whether the basement walls were bowing. Mike said they can't see any difference now, but it's something they will have checked.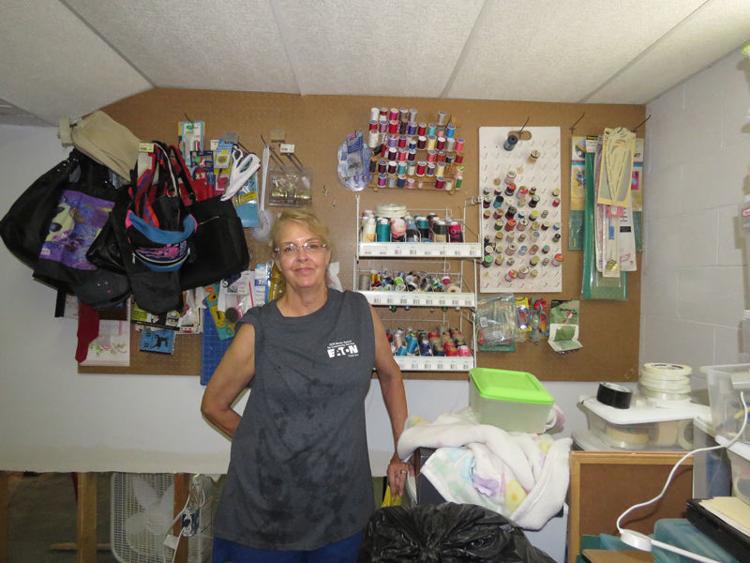 Sewing business affected
Glenn and Nancy Kollars' house two doors to the north was sealed, but groundwater seeped up from the basement floor and pooled several inches high.
"I run a sewing business and now it's at a standstill again," Nancy said.
Many items are stacked on tables and there are holes cut from the floor to above the height of the water in drywall that separates the sewing, craft and laundry rooms, and spare bedroom.
The Kollars have lived in their house for 40 years and never saw floods like the two the past four months. There have been renovations to the original house that included lifting it to install a new basement.
Now the family will install new drywall, paint, doors and molding — again. Nancy said the insurance company required replacement of some basement carpet after the March flood, but they won't do that again.
Many of her sewing business items still were in storage because the Kollars have been too busy since March to move them back to the basement.
The well-stocked shop in the garage had floodwater around 16 inches deep. Glenn was checking on equipment losses Sunday afternoon that could include an oxygen tank in its case and a new Skill saw still in its box.
"I said after the March flood, 'One more thing and I'm done. We're selling and we're out,'" Nancy said about thoughts of moving. "Now, we probably won't."
One reason is not knowing the value of a house that has survived two floods. "Who would have thought it would flood again in four months," Nancy said.
First-time flood
On a farm on the west edge of Gibbon, Don and Linda Keiper had basement flooding for the first time last week, despite living only a couple hundred yards from the Wood River.
Linda said the flooding was from groundwater, not river water. "I went downstairs to lie down for awhile and in the northwest corner room, the water was just coming up," she continued, estimating that it eventually reached a depth of 4 inches throughout the basement.
"Then a band of angels came out and moved the furniture and pumped the water out and cut up the carpet on Friday," Linda said. A second band of angels removed water-soaked drywall Sunday afternoon.
She said they never would consider moving from their 40-year-old house as long as they're farming.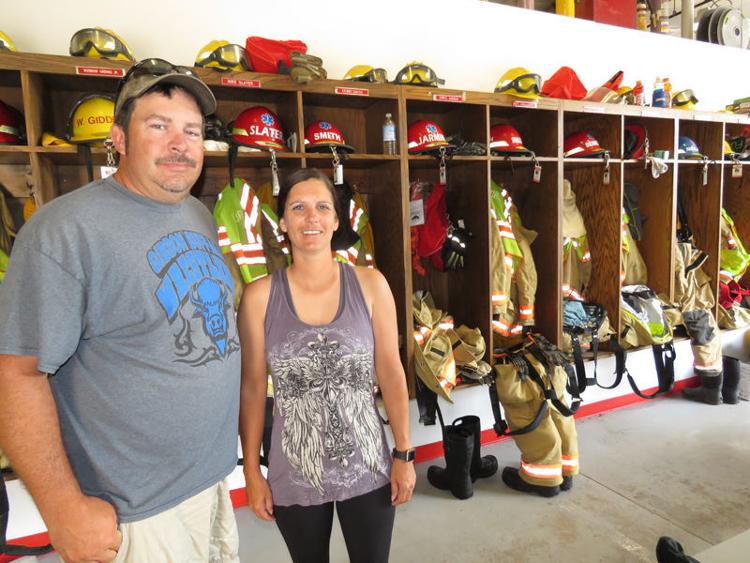 Many responsibilities
Chief Brown and his wife, Stephanie, also a volunteer firefighter, saw flood problems hit close to home.
The same was true for other firefighters who spent days during both floods in emergency, rescue and firefighting modes.
Stephanie said basement walls at the home of her parents, Don and Rhonda Ash, collapsed during the first flood. Last week, her dad left basement windows open to avoid another collapse. The 9 feet of water that came in was beyond the 7-foot-high ceiling and flowed up the basement steps.
For now, the Ashes are staying in a camper behind the Browns' house.
Rick said Stephanie has been "my backbone behind the scene who keeps me sane."
He saluted Gibbon Public Schools officials, particularly Superintendent Vern Fisher, for understanding why he's had to spend so much time away from his job as school maintenance, grounds and transportation supervisor.
"My (fire department) members are just awesome," Rick said. "I can't say enough good stuff about them."
When asked how Gibbon residents are holding up, he replied, "It's overwhelming for the whole town. Gibbon is like every other small town. We pull together."