AMHERST — Adam Klingelhoefer wrestled with his 2½-year-old son, Jace, on the floor of his Amherst home earlier this week.
During the playtime wrestling, Adam, 35, reached for Jace with both arms before Jace ran away and scurried up the couch. Adam then snatched Jace and flew the tot through the air before gently setting him down on the living room floor. As Jace giggled, Adam playfully put him into a wrestling hold.
Adam, a former Amherst High School wrestler, enjoys playing with his son and teaching him about the longtime Amherst tradition. Not so long ago Adam didn't have the strength to hold Jace in his arms let alone wrestle.
Last August Adam contracted the West Nile virus, which is spread by mosquitoes carrying the disease. Adam also had contracted the neuroinvasive form of the virus, which caused viral meningitis and encephalitis.
Health complications
Sign up for Kearney Hub daily news updates
Want to read more local content like this? Subscribe to the Kearney Hub's daily headlines newsletter.
Otherwise a healthy 34-year-old man, Adam first felt weak and had developed a "blood-red" rash that traveled up his legs to his torso, said his then-girlfriend and now wife, Liz. Later in the day, he said, he couldn't stand, "everything started spinning" and he vomited for the next 90 minutes. The next day he was hot and delirious.
He fell so ill that Good Samaritan Hospital moved Adam to the ICU, sedated him and hooked him to a ventilator. All the while, doctors were trying to find the cause of his symptoms.
Adam then was life-flighted later that week to the University of Nebraska Medical Center in Omaha and remained there for several days.
There, Adam's family learned that he had encephalitis, which causes brain swelling and an inability to walk. Doctors also diagnosed him with viral meningitis, which causes neck and spinal cord swelling. The infection caused Klingelhoefer to suffer severely painful headaches.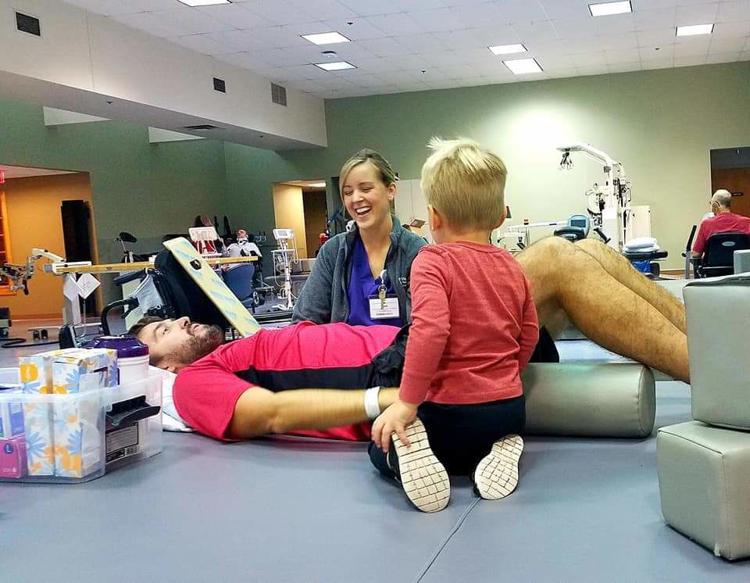 Finally, Good Sam doctors received results from an earlier blood draw they had done. They communicated with the UNMC team that Adam had contracted the West Nile virus.
Adam was lucky to have survived. Liz said, that according to Adam's doctors, he would have died had he been older than 50.
Adam then spent up to two weeks rehabilitating at Madonna Rehabilitation Hospital in Lincoln. There, Adam learned to swallow and speak again because the ventilator sat on his esophagus. He also had to work to relearn motion on the left side of his body.
Following his discharge in September, the Hub spoke with Adam and Liz at their home in Amherst about his journey. At that time he still was participating in occupational and physical therapy. He still could not lift his arms straight from his chest, he walked with assistance from Liz and he wasn't allowed to drive. Mentally, Adam was sometimes foggy and oncoming traffic on the interstate bothered him. He often would get debilitating headaches and would lose energy when carrying on long conversations.
But Adam was hopeful about his recovery. He said his goals were to eventually hunt, hike and hold his son again.
His journey to meet those goals, however, would be longer than expected.
An 'undocumented case'
Though Adam improved healthwise, his mobility gradually declined. Shortly after Adam and Liz's first interview with the Hub, Adam no longer could walk.
"I lost all my strength in my gait and center area," Adam said.
His right leg especially was weak, which was unusual because his left arm was the weakest at first.
Doctors in Kearney suggested that Adam and Liz again pack their bags for Omaha.
So Adam checked back into UNMC on Oct. 1 where he went through a series of tests.
All the neurologists on staff were taking part in a West Nile Panel at the time, according to Liz. The doctors tried to learn what caused the virus to reappear in what Liz called an "undocumented case."
Adam said, "Most of the time they say you get it and then you have seven to 10 days of symptoms and then you just get better after that. You don't usually get better and then go backward and get better again."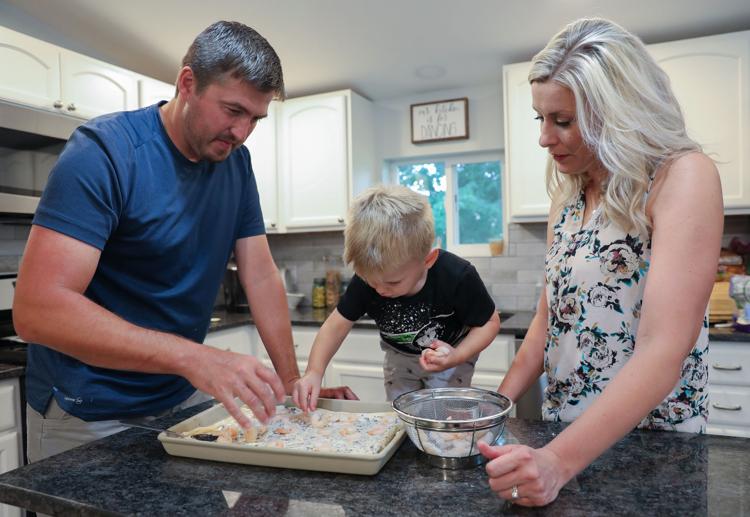 Liz said doctors were trying to figure whether Adam had been bit by a new mosquito with the West Nile virus or whether his old infection had reappeared. Adam said the main neurologist told him it was the latter.
The neurologist told Adam that the virus likely went dormant in one of his organs and then reappeared because Adam's body had not yet made antibodies. It can take up to 90 days for your body to create the antibodies, Adam said.
The virus had resettled in his lower lumbar spine. The first time it settled in his neck and brain.
The hospital stay was difficult for Adam.
He struggled to swallow food and pills. He had lost 40 pounds because it was difficult to eat.
"I think when I went back to UNMC, I might have been getting like 8 grams of protein and I don't know what else, and they wanted me at 90 grams of protein and 3,000 calories, and I was barely getting 1,000 calories," he said.
His diet of Ensure made him nauseous.
Also, because Adam was conscious during this hospital stay, he said he was frustrated not immediately knowing the answers to his ailment.
"It was just, you know, (your) mind comes back and you start losing function and stuff," he said. "And you're like, 'Oh, whoa. This isn't good.'
Adam's second recovery
To fight West Nile a second time, Adam underwent five days of IVIg (intravenous immune globulin) treatments at UNMC. The antibodies administered intravenously helped boost Adam's immune system.
He then went back to Madonna for 5½ weeks where he underwent occupational, physical and speech therapies. There, his headaches soon subsided, but were replaced by muscle spasms in his entire body, which worried him.
"They should just take people's phones away when they're in the hospital and in places like that, because you start Googling stuff and it's like, 'I'm pretty sure I have rabies.' It's like you can come up with every single possibility," Adam said with a laugh.
Adam's grueling therapy began at 8 a.m. and finished between 3-3:30 p.m.
During these sessions, Adam strengthened his left arm, right leg, hips and throat. But he was wheelchair bound during his first 4½-weeks at Madonna.
"It was probably only a week before I got discharged ... I could actually walk the length of the rehab room," Adam said. "That was all with the walker."
Adam and Liz's families visited Adam often during weeknights at the hospital in Lincoln, while Liz was working as a lawyer at Jacobsen Orr Lindstrom & Holbrook, P.C., L.L.O. in Kearney. Liz and Jace visited on the weekends.
"Madonna was good, but it could get really lonely. You know, they work you hard all day and then you have your downtime," Liz said.
But Adam was positive and kind to his nurses, Liz said. The nurses, in turn, nominated Adam for Madonna's Spirit Award.
Going home
One week before last Thanksgiving, Adam walked — assisted with his walker — into his Amherst home.
He continued therapy four to five days a week in Kearney, and three weeks later he was able to walk on his own.
Adam said he wanted to go back to work on Jan. 1 as a salesman at Briggs Inc. in Grand Island, but his doctor objected. Liz said Adam's doctor wanted him to rest and regain energy.
Adam was cleared to work part time in February and in March he began working full time. He continues occupational therapy to regain muscle in his left arm and shoulder. He can hold his son again and can lift him in the air, but just not quite above his head. Adam said his hands also shake when he's tired.
Liz said the doctors won't say whether the shaking and weakness will be permanent until two years from now.
Their side-by-side journey through Adam's recovery prompted them to wed on June 8 after a quick eight-week engagement. The couple had dated 10½ years.
"I remember the first time somebody said the "d" word (death), and I was just like, you know, not even like wanting to accept it," Liz said. "And I remember we (Liz and her sister) went to the grocery store at King's Super or something in Omaha, and I just remember thinking, 'I don't want to go grocery shopping by myself the rest of my life,' and like crying in the grocery store."
Liz said that at the end of the day of wedding preparations, Adam started shaking because of exhaustion, not because of nerves.
"Literally, I was holding his hands and I go, 'Are you nervous?' He goes, 'No. I just have the shakes,'" Liz said through bursts of laughter.
Unafraid to live their lives, the couple married at the location where they believe Adam contracted the virus — a campground along the South Loup River in northwestern Buffalo County. Though Two Rivers Public Health officials said it is difficult to pinpoint where someone catches the virus.
Liz said her mom handed water and bug spray to their guests.
To protect themselves today, Liz and Adam apply bug spray to themselves and their son, they sprayed their yard and Liz empties water from her birdbath every morning.
"We take precautions, but you can't be so fearful that you don't live your life," Liz said.
Adam also is less likely to contract West Nile again.
"They say you're not supposed to or the chances, like even if you do get it again that your symptoms won't be as bad because you already have the antibodies in your system," Adam said.
One year after spending his days in a hospital and wheelchair, Adam plans to put his muscles to the test while hiking and hunting for elk this fall in the Rocky Mountains in Colorado.