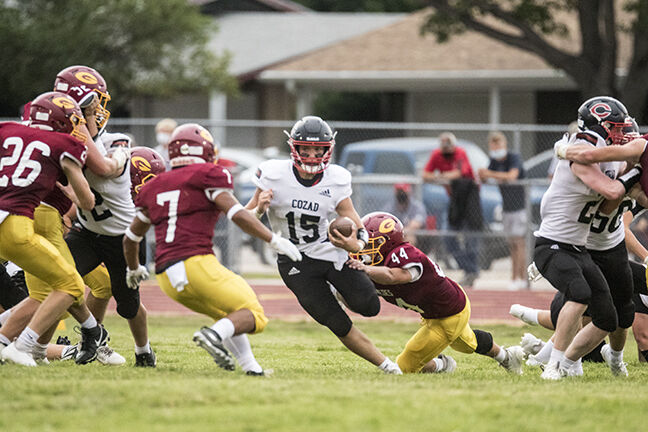 GOTHENBURG - For the first time since 2014, the Haymakers have snatched a win against their neighboring rivals, the Gothenburg Swedes. Not just a win... but a big one on Gothenburg's ground, 35-7.
Cozad held Gothenburg scoreless until the night was almost over while the Haymakers pushed in touchdown after touchdown.
The 'Makers 107 passing yards and 233 rushing yards for a game total of 340 for a total of five touchdowns.
Nolan Wetovick helmed the win with eight completions on 10 attempts for 107 yeards and one touchdown.
Scoring touchdowns for the Haymakers against the Swedes were Jacob Weatherly with two, Wetovick with two and Jacob Engel with one. Sophomore Jaden Cervantes went 1-2 on PAT attempts while Weatherly and Wetovick each earned two conversion points.
Cozad will be at home on Friday, Sept. 4 when they host the Wood River/Shelton Silverbacks at 7 p.m. The Silverbacks will be licking their wounds from a 65-6 loss to Kearney Catholic when they take the field with the Cozad boys.
Be the first to know
Get local news delivered to your inbox!