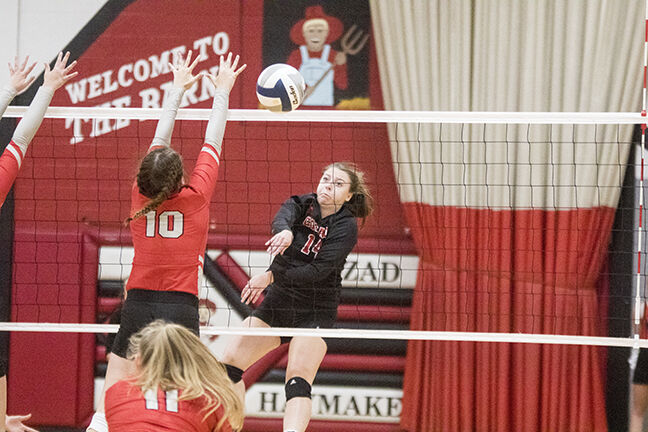 COZAD – The Cozad Haymakers Volleyball squad has earned their first win at their home tournament.  After a 0-2 loss to Centura and another 0-2 loss to Sidney, the Cozad lady 'Makers traded sets with the Valentine Badgers and walked away with a 2-1 win, the first of the season.
Cozad ran up a large lead to take a big first set win, 25-13, before the Badgers responded in-kind with a win of their own in the second set, 13-25.  The lady Haymakers put away their first match win of the season after winning the third set, 25-11.
"It feels good.  We really needed to get the win to gain confidence," Cozad head coach Darrel Francescato said after the win.  "We've played a really tough schedule.  The first five game we played have all been really good teams.  So, to show the girls that they've been working hard and that it's going to pay off, we just needed that win."
Cozad traveled to Arapahoe in Tuesday, Sept. 15 to try to expand on the win in a triangular.  The lady Haymakers fell to Alma, 0-2, before taking a loss to Arapahoe, 1-2.
The Cozad volleyball squad will travel to Ogallala for a triangular for their next pair of games.  The games in Ogallala are set to begin at 5 p.m. on Tuesday, Sept. 22.
Be the first to know
Get local news delivered to your inbox!