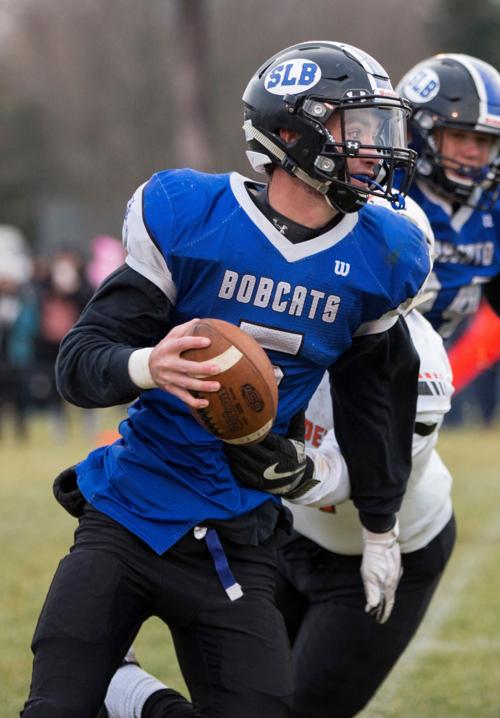 KEARNEY — South Loup's Jack Rush is one of six Kearney Hub Territory 8-man football players who were selected to play in the Sertoma 8-man All-Star Game Saturday in Hastings.
Rush will be joined by his teammate Blake Schwarz, Elm Creek's Austin Geis, Overton's Drake Davenport, Arapahoe's Jacob Pruitt and Amherst's Holden Eckhout.
Rush said he is thankful to have been selected and he is ready to play one last time before he starts his college career at the University of Nebraska at Kearney this fall.
"It's an honor to be able to play in this game. These are the best 8-man players in the state, so to say that you're one of them is a pretty great feeling," Rush said. "High school football is something special, so it's nice to be playing it one more time."
Rush had a phenomenal fall campaign.
He led the Bobcats to an 12-1 record and berth in Class D1 championship game against East Butler. He completed 57 percent of his passes for 1,674 yards and 24 touchdowns. He also ran the ball 224 times for 1,817 yards and a staggering 43 touchdowns.
"For Jack, he fits the scheme that we are going to run," Burwell coach Luke Gideon said. "He is good with his legs and he can throw the football extremely well."
Gideon, who helped coach in Sertoma All-Star Game in 2011, said it will be fun to get to know a lot of the kids he spent the four years coaching against.
"Getting to know them, the players, is cool," Gideon said. "It's pretty cool to see them with their helmets off."
As for Rush, he will compete with his friend and teammate, and fellow Hub Territory 8-man first team linebacker, Schwarz.
Schwarz finished the season with 92 tackles — good enough for fourth on the team.
"We've played together since the fourth grade. It's crazy to think we'll never step on a field together again," Rush said. "We've made a lot of memories but we've got one more game together and we're going all out."