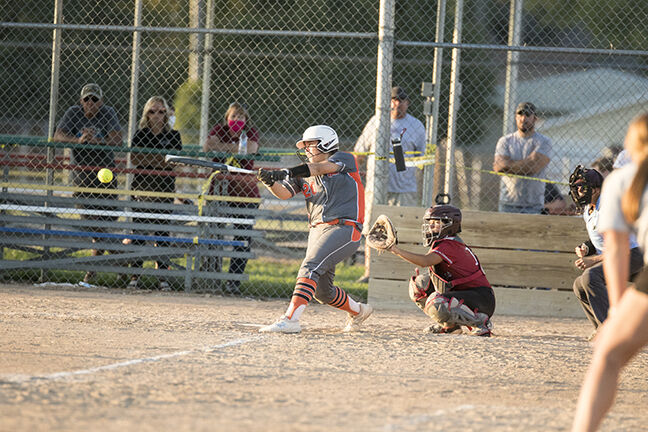 Tight fielding and powerful bats earn 12-4 win for Lexington Minutemaids
GOTHENBURG – Lexington's softball girls boarded the bus for the short trip to Gothenburg on Thursday, Sept. 3 for a game with the Swedes. While the game started looking like it would be a grueling battle, the Minutemaids shut down the Gothenburg advances and drove the score to a 12-4 win after five innings.
The Minutemaids went scoreless in the top of the first inning and allowed three runs in the Swedes' turn at-bat. Unwilling to be outdone, Lexington countered with three runs of their own in the top of the second to tie it up, 3-3.
With each subsequent at-bat, the 'Maids put more runs on the board, scoring two runs in the top of the third, five runs in the top of the fourth and two runs in the top of the fifth, all while shutting down the Swedes offensive attempts.
In the bottom of the fifth, Lexington looked to take a 12-3 win but a line drive to center field was caught under the fence, preventing the 'Maids from fielding the base hit. Gothenburg's coach urged his batter to keep running and officials ruled the Swedes' fourth run valid. The Minutemaids caught two fly balls and caught a runner at first for a one-two-three close to the game and taking a 12-4 over Gothenburg.
Lexington head coach Katie Ruwe talked about the things the Minutemaids did right after the game, starting with sophomore pitcher, Amaya Stewart.
"Amaya and I set a goal before the game that she would walk no more than one batter in the game," Ruwe explained. "She achieved that goal. She walked one person. That's a big goal because if you can prevent those free passes, they can't hit them in to score."
Stewart, indeed, walked a single Gothenburg batter as well as recording 44 strikes in 70 pitches for three strikeouts, facing 24 batters.
When asked what else the Lexington girls did right, coach Ruwe's answer was simple.
"They did everything we asked," Ruwe replied. "We've been telling them what they're capable of. Stringing hits together, base hits were on, thinking ahead, just doing instead of hesitating. Defense was spot on. We were talking and communicating. This is what can happen when you put all the pieces together."
Lexington softball will return to their home field for the next game when they host Holdrege. The 'Maids will test their skills against the Dusters at the Optimist Sports Complex on Tuesday, Sept. 8 at 6:30 p.m.
Be the first to know
Get local news delivered to your inbox!