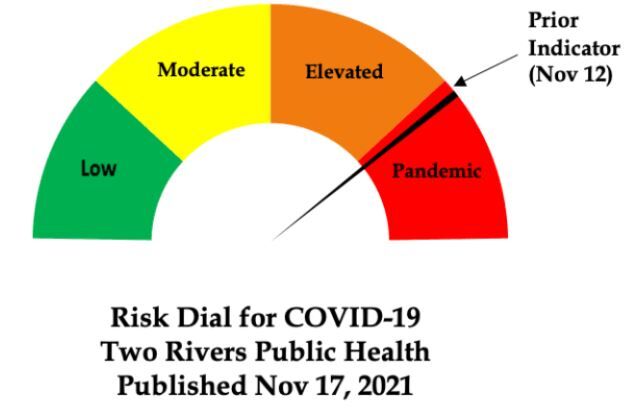 LEXINGTON — Nebraska's COVID-19 case rate as a proportion of the population is twice the national average, according to Two Rivers Public Health Department.
There were 384 new cases of COVID-19 reported in the district between Nov. 10-16, this is over a 25 percent increase from the weekly average recorded in both September and October.
Testing access has increased in Buffalo County, resulting in a steady lowering of the positivity rate, unlike in Dawson, Phelps and Gosper counties, where between a quarter and third of all tests conducted outside of long term care facilities were positive in the last week.
"Higher positivity rates among counties with lower access to testing points to a persistent number of undetected cases," according to Two Rivers.
According to the Nebraska COVID-19 dashboard, the case rate over the past two weeks in Dawson County has been 454 per 100,000 or 108 cases and 496 per 100,000 in Gosper County or 10 cases.
The statewide case rate average is 561 per 100,000.
A public COVID-19 testing site is open in Kearney at the Buffalo County Fairgrounds. Testing results will be available the same day and are offered Mondays and Wednesdays, from 9:30 a.m. - 12:30 p.m. A registration is required for testing, register at www.trphd.org for scheduling.
Only one out of 28 ICU beds is currently available across the district and almost 40 percent of those are occupied by COVID-19 patients. Also, less than 25 percent of the medical and surgical in-patient beds are currently available.
Staffing shortages continue to impede efforts to expand bed availability, both in Two Rivers district and across Nebraska.
As of Nov. 5, 47 percent of the Two Rivers total population and almost 59 percent of the adult population has been fully vaccinated, compared to the almost 57 percent of the entire state population.
As of Nov. 16, Dawson County continues to have the highest percentage of its population fully vaccinated at 49.3 percent, Gosper County is at 45.4 percent.
Two Rivers strongly urges all unvaccinated vaccine-eligible residents to avail of the COVID vaccination through their healthcare provider, pharmacy or TRPHD. For schedule of vaccination clinics, see www.trphd.org.
For these reasons, the risk dial is increased slightly from last week in the 'pandemic' zone. The increased dial reading reflects weekly case incidence, drop in ICU availability and the higher hospitalization rates across the counties, according to Two Rivers.
According to the Nebraska Department of Health and Human Services, there are 461 active COVID-19 hospitalizations across the state. This is now higher than the last peak in hospitalizations, which occurred on Sept. 20, when 448 people were hospitalized.
The last time there were this many hospitalizations was Jan. 13, 2021, after the state was coming off the dramatic spike in Nov. 2020.
According to DHHS, there were 6,993 variants of concern identified among Nebraska residents, an increase of 589 from the prior week. Of those, 5,048 were the Delta variant.
As of Nov. 18, 69.5 percent of the state's population over the age of 12 has been fully vaccinated and 6.6 percent are partially vaccinated.
To date, there have been 301,436 total positive case and 2,603 deaths in Nebraska, according to DHHS.
Looking nationally, "Average daily case reports have increased more than 20 percent over the past two weeks as outbreaks continue to worsen in the Upper Midwest," according to the New York Times, "The country is still averaging far fewer cases a day than it did during the worst of the summer surge. Though hospitalizations and deaths have started to increase in parts of the Midwest, they are not rising nationally."
"Nearly three out of five Americans are fully vaccinated. The country is administering about 1.5 million new doses a day, a number that grew after booster shots and vaccines for younger children were authorized," according to the New York Times.