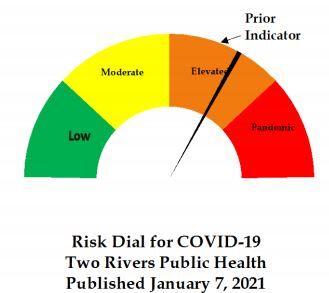 LEXINGTON — While 58 new COVID-19 cases were reported in the Two Rivers Public Health Department district, the risk dial was also increased deeper into the 'elevated' level, representing lost progress.
The new cases on Thursday included 26 in Buffalo County, 14 in Dawson County, 13 in Phelps County, two in Franklin County and one each in Gopser, Harlan and Kearney counties.
Currently, there are 288 active virus cases in Dawson County and 31 in Gosper County, according to Two Rivers.
An additional death was also reported on Thursday, a Dawson County female in her 70s. Deaths across the district have now reached 101.
In a weekly report, Two Rivers stated weekly COVID-19 positivity rates have risen across the district and lower overall levels of testing have seemed to compound this trend.
"Although testing availability is steady across the district, reduced uptake of public and private testing over the past two weeks is cause for concern. COVID outbreaks in residential facilities seem to have subsided for now," Two Rivers stated.
Two Rivers also pushed the risk dial deeper back into the 'elevated' level for several reasons.
Two Rivers contact tracing have reported positive cases across multiple age groups which might be linked to family clusters in the past two weeks and might be a sign smaller outbreaks due to holiday travel, Two Rivers is closely monitoring cases.
Overall, tests for the district are about 50 percent the number two months previous, but weekly positivity rates have increased across the district, including both residential facilities, as well as among the general population, Two Rivers stated.
"Although testing availability remains steady across the district, uptake of TestNebraska and private testing services is considerably lower than earlier. Weekly testing numbers for TestNebraska as well as private facilities are 23 percent and 28 percent of their 4-week average," according to Two Rivers.
Occupancy remains steady across hospitals in the Two Rivers district. Currently, around 40 percent of ICU beds and about 50 percent of all medical and surgical beds across the district are available; COVID19 accounts for less than a 20 percent of patients occupying these.
To date, Two Rivers has reported a total of 8,900 cases, 7,407 of which are no longer symptomatic.
Hospitalizations across the state, which the directed health measures have been tied to, have decreased into the high 400s, with 491 active hospitalizations as of Friday morning. Hospitalizations have to drop below 400 to trigger the 'green' level of directed health measures, which will further relax restrictions.
Nebraska has reported a total of 173,591 cases, 117,589 recoveries and 1,811 deaths.