COUNCIL BLUFFS — Council Bluffs' first confirmed case of the novel coronavirus is a restaurant worker, officials said Monday.
Pottawattamie County Planning Director Matt Wyant said an employee at Panera Bread in Council Bluffs has been tested as a "presumptive positive" for the disease, also known as COVID-19. The county is waiting on a full positive confirmation from the federal Centers for Disease Control and Prevention.
Bluffs officials learned of the case on Saturday.
A Panera spokeswoman confirmed that an employee had been sent home because the person exhibited symptoms of the coronavirus disease.
However, neither Panera nor Pottawattamie County officials have said what days the employee may have worked while ill.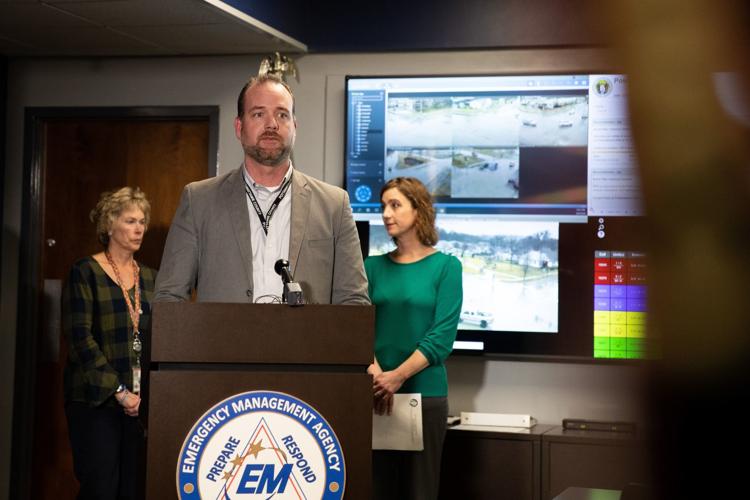 Wyant said customers of the Panera Bread, which is at the Metro Crossing shopping center, do not need to self-quarantine at this time.
Panera Bread in Council Bluffs closed over the weekend and remained closed Monday for a deep cleaning, Wyant said.
"Out of an abundance of caution," Panera closed for the deep clean, said Wyant, who oversees public health for the county. "Which I compliment them on."
The Bluffs woman had traveled to California. She is between the ages of 41 and 60 and has underlying health issues, he said.
The woman was tested at the Nebraska Medical Center and is now self-quarantined at home. Wyant said her condition is considered to be stable.
The Pottawattamie County Health Department and the Iowa Department of Health are working to track down the woman's contacts.
Photos: Nebraska serves as quarantine site for coronavirus