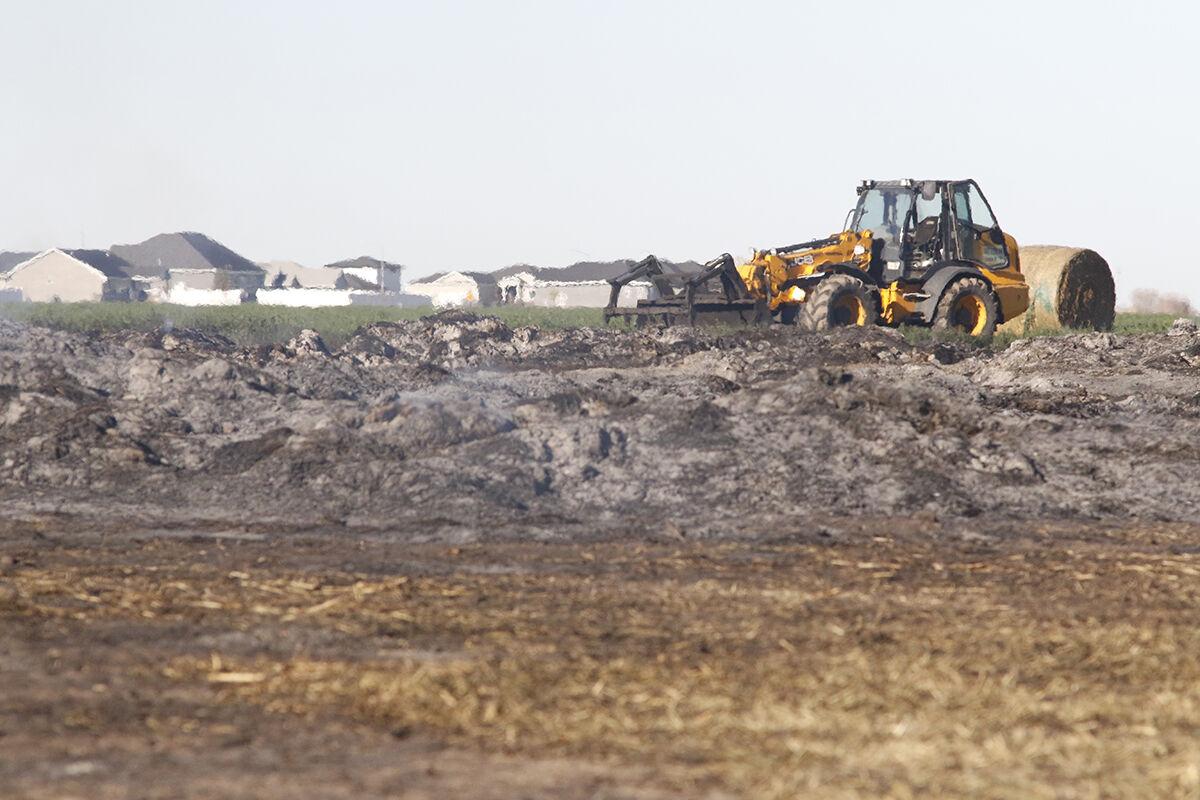 LEXINGTON — Over 100 hay bales burned north of Lexington during Sunday evening after embers from a smoldering hay bale, pushed by the strong wind, landed on a hay pile.
At 7 p.m., on Sunday, Oct. 11, the Lexington Volunteer Fire Department was dispatched to a property on Highway 21, north of Lexington for the report of a hay pile on fire, according to Fire Chief Dahlas Holbein.
Immediately after arriving on scene, Holbein said Cozad Fire and Rescue and the Overton Volunteer Fire Department were called for mutual aid due to the weather conditions and size of the fire.
An advancing cold front on Sunday caused sustained winds of 20 mph during the evening; the National Weather Service in Hastings reported a wind gust at 53 mph in the Lexington area.
Eventually 35 Lexington firefighters, and 20 firefighters with Overton and Cozad arrived on scene with multiple fire engines, tankers and pumpers, Holbein said.
Support also came from the community as well.
Holbein said water tanks were brought in by Country Partners Cooperative and the Dawson County Fairgrounds. Shotkoski Hay Company provided a loader and telehandler to separate bales and Mitch Denker provided a tractor and disk to till the ground and help prevent the fire from spreading.
The fire had been caused when a smoldering bale had been removed from the larger pile to separate it from the rest, but Holbein said embers from this bale were still carried by the wind to the larger pile, causing the fire.
In all, two separate fires eventually were burning, one in a pile of around 100 bales, the other around 50 bales. The fire also spread to a tree line, which threatened a nearby house.
Holbein said their priority was protecting two different homes in the area and preventing any more fires starting. Embers were landing to the south as the north wind pushed them towards town.
At one point an apartment complex was put on notice for evacuation by the Lexington Police Department, Holbein said.
Roughly four hours later, the fires had been contained and Holbein said they arrived back at the fire hall around 11:30 p.m. Damage had been regulated to the hay piles and the tree lines, there were no injuries associated with the fire.
Get local news delivered to your inbox!
Subscribe to our Daily Headlines newsletter.