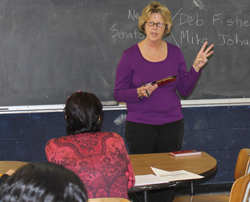 LEXINGTON – Once a week on Thursday evenings about 14 Lexington residents gather at St. Ann's Parish Center to study American history and civics.
Most of the adult students are from Mexico or Guatemala, and speak amongst themselves in Spanish but when their teacher, on this occasion, Kellie Draper with St. Mary's Immigration Program, asks them questions on material, their answers often come out in fluent English.
The class is offered to residents looking to take the U.S. Citizenship test by Parish Center staff, and after weeks of classes, students are less quiet and more talkative now that they are more familiar with the course.
Weeks ago, the class resembled more of a lecture environment, with Draper going over the history of the first explorers and colonization of America via Christopher Columbus and the early colonists at Jamestown.
As the class progressed, students were immersed in the course material as Draper quizzed them on American civics as she stood at the front of classroom asking them questions from red flash cards.
"Who are the U.S. Senators from Nebraska?"
"What are two ways Americans can participate in democracy?"
These were a few of the many of questions students were asked, and quickly answered in English.
After the flashcards, Draper focuses on the history of America from the 13 colonies onward, focusing on the land purchases and wars that led colonists to acquire more land and ultimately grow their borders.
The class focuses on the four wars in the 1800's that led to more land acquisition, the War of 1812, the Mexican-American War, the Civil War and the Spanish-American War.
As more history is covered, nuggets of American culture emerge, like: the Star Spangled Banner was written during the War of 1812, the land now known as Texas was won after the Mexican-American War and Memorial Day was started after the Civil War to honor the soldiers.
Draper said the class lasts for eight weeks, costs $25 to enroll and usually is available for the first 20 people who sign-up.
A new session of the class will be offered starting April 18, and a morning session is planned to accommodate those who work in the evening, Draper said.
After taking the class, students apply to take the citizenship interview and test, a process that can take anywhere from four to six months, before tests are given, Draper said.
Although some longtime residents over the age of 50 are exempt from the English language requirement of the test, usually the citizenship test includes four parts: oral questions and answers, writing test, reading test and civics test, she said.