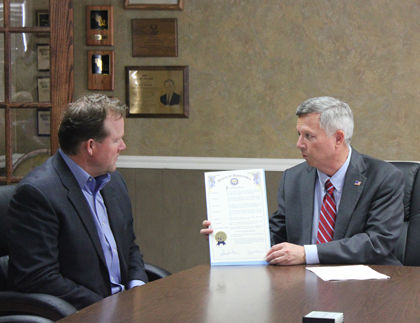 Nebraska Governor Dave Heineman visited Orthman Manufacturing in Lexington Tuesday as part of the 2014 Salute to Manufacturing Tour.
"We're trying to let young people know the manufacturing jobs of today are different then they were 25 years ago. Whether they are looking at a two-year or four year degree, there are opportunities in manufacturing in the area you should look at," Heineman said.
Heineman commended Orthman for growing and hiring, which allows young people to stay in Nebraska. "There is no better place to live and raise a family then rural Nebraska," he said.
Orthman Manufacturing president John McCoy thanked Heineman for his leadership and said Orthman has benefited from the Nebraska Advantage Program, new market tax credits and the Intern Nebraska program.
"Nebraska exports to more than 170 countries, selling manufactured goods and services totaling more than $7 billion dollars," Heineman said in a statement. "Manufacturers employ nearly 10 percent of Nebraska's workforce with an average salary of $55,000. Manufacturing careers are important to Nebraska's economy as we continue to make Nebraska an even better place in the future to live, to work and to raise a family."
Nebraska Manufacturing Month events started at Lincoln Industries in Lincoln. The next stop was Deshler Public Schools where the Governor ate lunch with kindergarten through third graders, gave remarks at a Nebraska Manufacturing Month school assembly for fourth through twelfth grade students, and toured the school's welding facility. After the event in Lexington, the day's tour wrapped-up at an event in Norfolk at the NuCor Corporation. In addition to today's events, earlier this month, Gov. Heineman attended manufacturing events in Columbus and Snyder. Lt. Gov. John Nelson attended an event in Omaha with the Omaha Chamber of Commerce Tuesday.
During the Salute to Manufacturing Tour, Heineman highlighted the state's Intern Nebraska, or InternNE, program which was a part of the Governor's Talent and Innovation Initiative that aims to advance business innovation and strengthen workforce recruitment efforts in Nebraska. Over the last three years, more than 400 companies have participated in the program.
"The Intern Nebraska program has been excellent when it comes to matching employers searching for quality employees with students seeking excellent work experiences, and we're looking forward to those participating companies filling out the remaining internships and having even more companies becoming involved in hiring quality interns," Heineman said.
The InternNE program began on June 1, 2011. Initially, 79 businesses applied for Intern Nebraska funding with 45 businesses fairly quickly approved to participate in the program. On InternNE.com, students can search for a paid internship, and businesses can post internship openings. According to the National Association of Colleges and Employers, more than 50 percent of interns are offered and accept full-time employment.
Students seeking a paid internship are invited to register on the site and then apply directly for available internships. Other useful resources, including resume writing and tips for interviewing are available on the website.