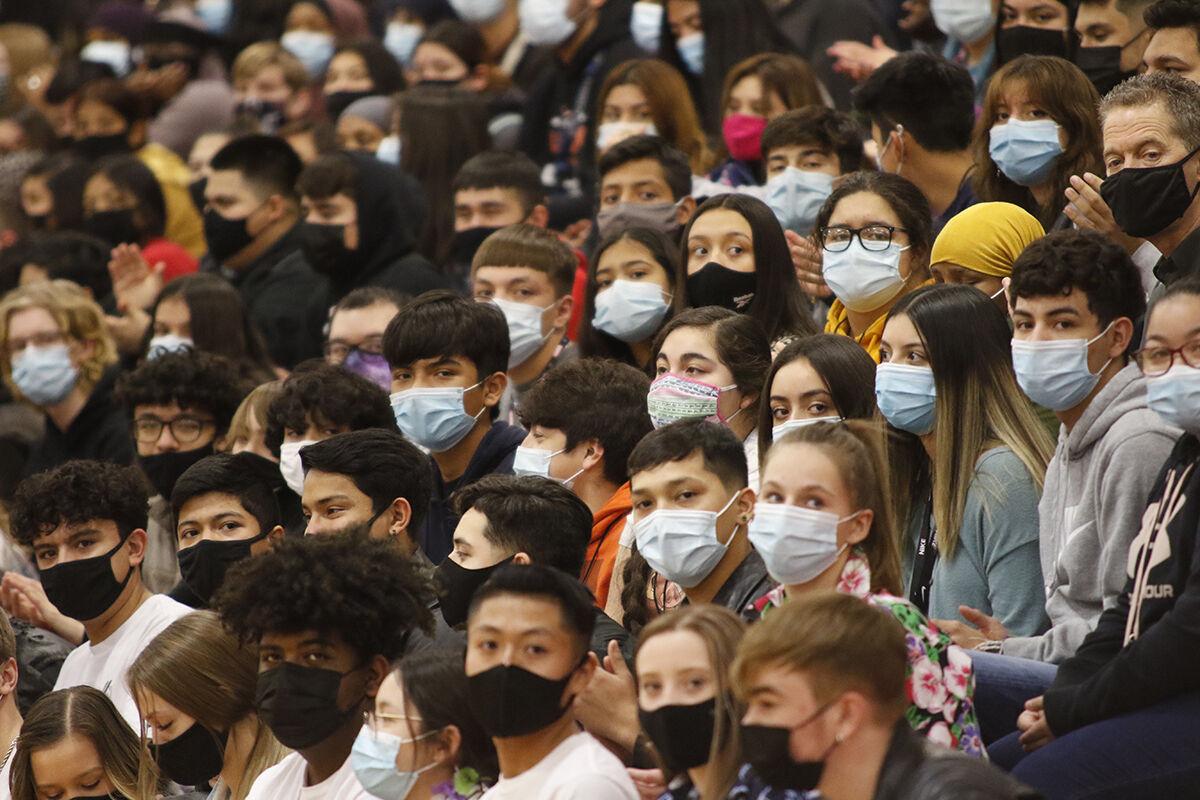 LEXINGTON — The Lexington school board approved a two option COVID-19 plan for the return of students this fall.
The plan include an "Unelevated Risk" and "Elevated Risk," categories; Superintendent John Hakonson said this gives the school options depending upon the local risk of COVID-19.
Under the "Unelevated Risk" option, masks would be optional for student, staff and visitors. When riding on a district vehicle, masks would be required for all parties, as directed by the Nebraska Department of Education.
Upon entering a building, all visitors will be required to perform a self-check for COVID-19 symptoms. If they are symptomatic, they will not be allowed to enter.
Physical distancing will be maximized to the greatest extent possible, while considering the educational needs of the students.
The district will comply with the privacy laws and the recommended protocols for quarantine and isolation of either the Two Rivers Public Health Department or the Nebraska Department of Health and Human Services.
Students and staff who show symptoms of COVID-19 will be encouraged to stay home. The district will refer students and staff having symptoms to community diagnostic testing locations. If this type of testing is recommended and becomes available in schools, the district will use its facilities to assist with testing.
The rate of community transmission will be monitored to determine whether asymptomatic screening is warranted.
Lexington Public Schools will start out the year under the "Unelevated Risk" category.
The board granted Superintendent Hakonson the authority to implement the "Elevated Risk" plan based on exigent circumstances concerning COVID-19.
Under the "Elevated Risk," plan, masks will be required for all students and staff.
If the wearing of masks is a rule adopted by the school board, similar to any other health and safety or dress code rules, students who refuse to wear masks will face consequences consistent with the district's student discipline policies
Parents may provide an approved face covering for their children, but the district will have them available at no cost to the student.
Unnecessary traffic into buildings by visitors, vendors, etc. will be eliminated. Visitors shall be required to wear masks in school buildings and parents will need to schedule appointments to meet with school staff to reduce the risk of transmission, according to the "Elevated Risk" plan.
Under the elevated plan, physical distancing will be maximized to the greatest extent possible, ideally achieving 3 feet of distance between students while seated in classrooms. In large population environments, students may be required to maintain 6 feet of distance from one another if possible.
Hakonson said the district will work with Lexington Regional Health Center and Plum Creek Medical Group to monitor COVID-19 admissions and local positivity rates.
Time was allotted to receive public comment on the proposed use of Elementary and Secondary School Emergency Relief Funds, ESSER III. Hakonson said they included as many items as they could in the list. The board will approve the final list of uses at the Sept. 13 board meeting, the grand application is due shortly after.
More comments were received online, with staff members and parents commenting about technology improvements, building improvements, new curriculum, staffing, new positions, etc.
The board approved changes to the Lexington Academy handbook, the after-school program for the elementary schools.
The hours have been returned to their traditional 3:25 p.m. to 5:50 p.m. There will also be four family events held this year.
The board approved their five year goals that were discussed during a planning session held on July 14. The goals include:
Develop strategies and interventions to assist students in recovery of learning loss from the 2019-
2020 COVID pandemic as reflected on criterion-referenced, norm-referenced, and state assessments.
Obtain stakeholder input on the use of ESSER III funding that best assist students in recovery of learning loss, and develop an expenditure plan for these funds.
Maintain or increase high school graduation rates.
Continue efforts to fulfill preK-12 college and career readiness standards utilizing high quality instruction and materials.
Develop methods for monitoring and supporting the mental health needs of students and staff.
Professional Development:
Continue consistent and deep implementation of best practices and research-based instructional models across the district.
Develop strategies to improve teacher preparation in serving LPS's unique populations including English Learners, High Ability Learners, and Special Education students.
Maintain an annual average cash reserve of at least three months of expenditures in the general fund to address cash flow fluctuations and to hedge against future funding shortfalls.
Study competitiveness in marketplaces for coaches, sponsors, and selected classified positions.
Identify, prioritize, and consider approval of additions to district facilities to "de-densify" classrooms pursuant to ESSER III provisions.
Install synthetic turf on the football field to accommodate needs of football, soccer, band, and PE programs.
Continue efforts to advocate for the school district at the state and federal levels.
The board approved a three-year custodial services agreement with ServiceMaster for the cleaning of all the district buildings, the Orthman Community YMCA and the Majestic Theatre.
Hakonson noted ServiceMaster is facing hiring challenges, as are many other businesses, and had to slightly raise their rates to compensate.
The district building safety and security plans were approved, the district safety committee met on Aug. 4 to discuss the plans as required by Rule 10.
The board approved closing district English Learner, EL, special education and alternative education programs to option enrollment students for the 2021-2022 school year. Hakonson said all of the programs are filled to capacity, for the third year in a row.
Two out-of-state travel requests were presented, one from Sam Jilka to take the cross country runners to Rim Rock in Kansas and another from Tim Potter to take qualifying students to the national FFA Convention in Indianapolis. The board approved both requests.
During the reports period, Director of Buildings, Grounds and Transportation Bo Berry said the new adaptive playgrounds have been installed at Sandoz and Morton Elementary.
These playgrounds allow for students with special needs to better access the equipment, Student Services Director Angie Kovarik thanked the board for their support of the playgrounds.
Athletic Director Phil Truax said Monday was the official start to fall sports and the number of participants in activities has either held steady or grown, none have decreased.
Truax said they are working to hire a boy's head soccer coach after Jess McHarge retired from the position. He said they have narrowed down their decision to three candidates; two are district staff members and another who lives in Lexington. They should announce their hire by the end of the week.
Hakonson presented a LHS summer school report, 152 students earned credit during the early session, 134 students during the later session.
The members of the school board wished the staff members luck as they began a new school year.