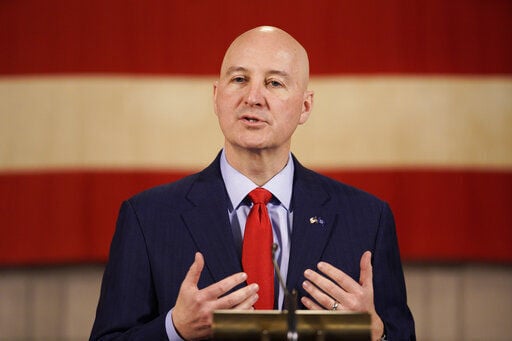 NEBRASKA — Amid the growing COVID-19 cases across Nebraska, Governor Pete Ricketts has reimposed some of the public health restrictions which will take effect on Oct. 21, 2020.
The changes to the directed health measures affect four categories,
Hospitals must maintain at least 10 percent of their staffed general and ICU beds as reserve capacity for COVID-19 patients. They must also continue to accept and treat COVID-19 patients and must not transfer these patients to create capacity for elective procedures.
Patrons to these establishments will again be required to be seated while on the premise unless they are placing an order, using the restroom or playing games, but 100 percent occupancy continues. Parties of up to eight people are allowed, but any larger than this must split between multiple tables.
Indoor gatherings are now limited from 75 percent rated occupancy, to 50 percent. Outdoor gatherings will remain at 100 percent capacity, but they are not to exceed, 10,000. Groups will be limited to eight people. Any plans for reopening or expanding capacity must be submitted to the local health department and approve for all indoor and outdoor locations which hold 500 people or more.
While 100 percent occupancy continues, groups will be limited to eight individuals and dances or other social events requiring guests to gather outside of their respective tables will be limited.
These changes to the directed health measures are scheduled to remain in effect through Nov. 30.
Gov. Ricketts also encouraged Nebraskans to avoid the, "Three C's," to help slow the spread of COVID-19. These include crowded spaces, close contact and confined spaces.
The State's Chief Medical Officer, Dr. Gary Anthone, announced the State of Nebraska is allocating up to $40 million of CARES Act funding to support hospital capacity.
In mid-September, Ricketts announced that all of Nebraska would enter into phase four of the directed health measures, citing hospital bed, ICU and ventilator availability in the state as a reason for entering into a phase which moved most of the public health restrictions to only guidance.
Dr. James Lawler, a director at the University of Nebraska Medical Center's Global Center for Health Security, said, "We have entered a dangerous phase of the pandemic in Nebraska."
While in the spring, viral outbreaks were focused on urban areas and counties with meatpacking plants, such as Dawson, Hall and Dakota, but now Lawler said the epidemic has spread across the state.
Some rural counties are reporting a daily average of COVID-19 cases in excess of 70 per 100,000 people per day, Lawler said. That is well above the rates New York City was experiencing at the peak of its COVID-19 cases.
Be the first to know
Get local news delivered to your inbox!