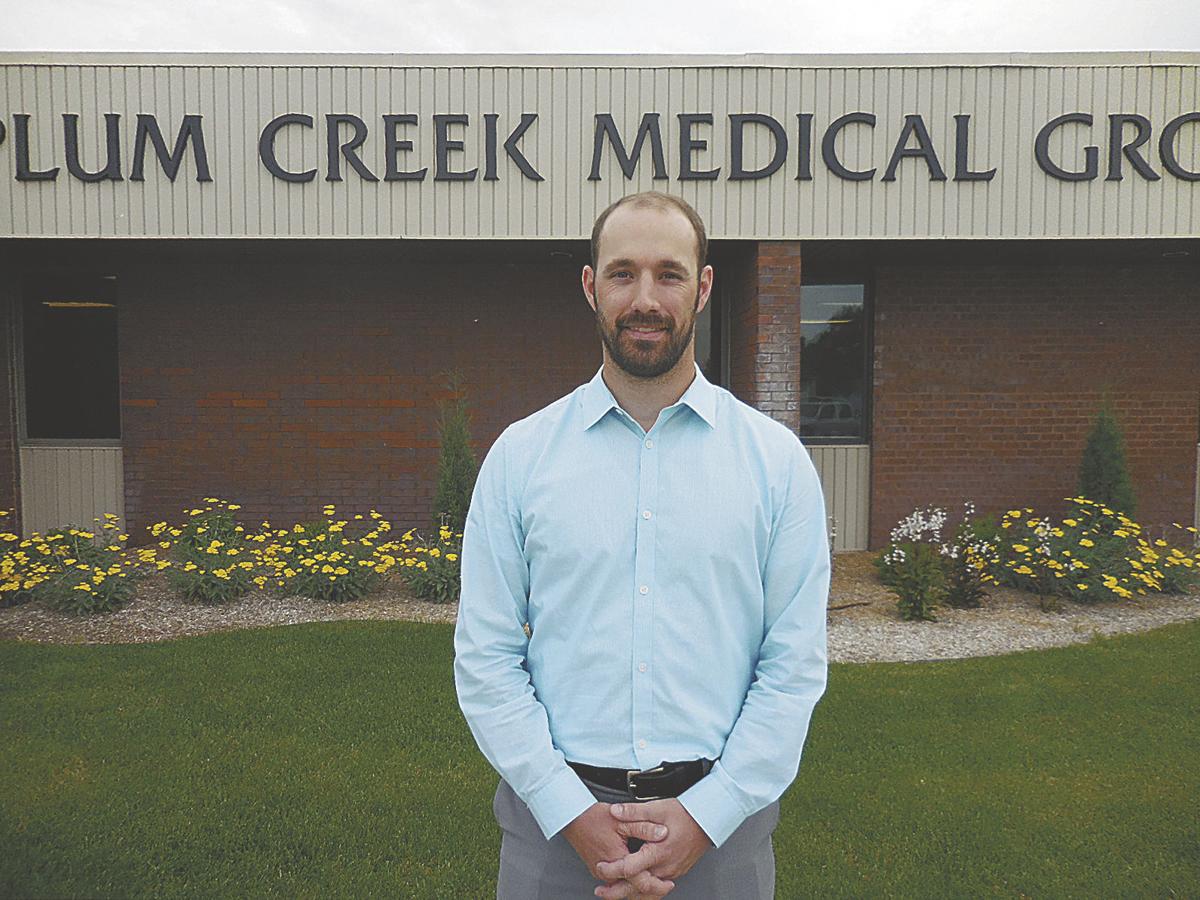 LEXINGTON — Mental health services including counseling and substance abuse therapy are available at Plum Creek Medical Group through a new health care provider.
Jason Dillard, who recently received a Masters of Science in Education degree through the University of Nebraska-Kearney's Clinical Mental Health Counseling program, began working at Plum Creek Medical Group June 1. He is a provisionally licensed mental health practitioner and a provisionally licensed alcohol and drug counselor.
He said the term "provisional" means he is at the first level of experience, but also means there is someone to oversee his work.
Dillard is trained to address mental health, behavior health, adjustment disorders, drug and alcohol issues, ADHD (attention deficit hyperactivity disorder), LGBT (lesbian, gay, bisexual and transgender) and matters related to couples, families and kids.
Dillard is not entirely new to the clinic. He completed a 10-month internship at PCMG, prior to his official employment.
Going further back in Dillard's life, he was delivered by Dr. Joe Miller, and grew up in Lexington, graduating from Lexington High School in 2006.
Dillard said he reconnected with Miller, who has long been influential in his life, during his wedding reception in 2015 and talk about life and career led Miller to comment, "I've always wanted to have a counselor in the clinic."
The following spring, Dillard approached Miller with an internship proposal. They talked back and forth and figured out a plan, which included Sue Kloch, an experienced counselor, as a supervisor. Dillard presented his proposal before PCMG's board of providers for approval.
"The hardest part was getting this room cleaned out," said Dillard of readying the office space he occupies.
"I saw a client the first day I started," said Dillard of the unpaid internship. He was at the clinic two days a week and logged in over 600 hours of counseling. "At the busiest I was seeing 14 clients a week in those two days," he said.
Dillard said his internship also served as a trial to see if having an on-site mental health counselor would be a good fit for the clinic. "You don't have a lot of counselors in doctors' offices," he said.
"It was a way for us to have 10 months to figure out how to make this work," said Dillard. It was agreed ahead of time that if it didn't work, they could each go their separate ways with no hard feelings.
Because Dillard had previous experience working at Richard Young in Kearney, he knew that was also a possibility, but he said he wanted to try something different, especially because that facility only offers acute or short term care.
Dillard said 60 percent of mental health disorders are diagnosed in the family health setting. If a loved one passed away, a person lost their job or a family member was deported the topics might come up during a medical visit. A doctor encountering patients in those situations could walk with the person down the hall to introduce the patient to Dillard. If they don't talk immediately, they could at least set up an appointment. One of the hardest parts, the initial introduction, would have already taken place.
Dillard said many times when a primary care physician makes a mental health referral the patient neglects to set up the appointment and there may be lag in follow up to see if a visit happens.
Dillard said being in a doctor's office removes some of the stigma of seeking mental health care. When people come to the clinic to be treated, those who see them do not know why they are there and which medical provider they intend to see.
"It frees the doctors and I get to help someone in my area of expertise," said Dillard. "What goes on doesn't go past this clinic," he said.
Dillard said he feel this model of health care is something that will become more prevalent in the future. "I feel like the future of health care is beyond family practice, that the model will be to create a place with all specialists under one roof for a whole health facility."
Dillard said a University of Nebraska Medical Center study indicates that one in five people have a mental health disorder.
Dillard said the majority of what he sees is depression and anxiety, along with substance abuse. "I really enjoy working with not only those who struggle with substance abuse disorders, but also the probation aspect of it," said Dillard.
He said studies suggest that 50 percent of people who are schizophrenic or bi-polar also have a substance abuse disorder. Because of that it makes sense to see someone who is licensed in both areas, instead of only dealing with one part of the problem or trying to see two separate counselors.
A person doesn't have to doctor at PCMG to see Dillard, but should be aware that a physician or physician assistant will sign off on the visit.
When it comes to insurance, Medicaid and Blue Cross Blue Shield cover the services of someone who is provisionally licensed, said Dillard. He helped create the forms used to track services, which are also used for billing purposes.
Although Dillard cannot prescribe medicine, doctors at the clinic can, which is another reason it makes sense to have a mental health counselor linked with the medical clinic said Dillard.
Dillard graduated from Lexington High School in 2006 and went on to attend the University of Nebraska-Lincoln where he studied sociology and philosophy as double majors. He graduated in 2010.
Next, Dillard worked at Richard Young in Kearney for 13 months as a recovery specialist in the acute psychiatry unit. It is a place where individuals who are a danger to self or others are hospitalized short term. His duties included making rounds to see patients every 15 minutes, leading groups and meeting needs, including verbal de-escalation. 
"It was a very good experience," he said.
Dillard's next position was managing a group home for Development Services in Kearney. Dillard said he worked with seven individuals ranging in age from 12 to 65 who had autism, developmental delays, behavioral issues or traumatic brain injury.
This job gave Dillard the push to go back to school as it had too much stress and too many hours with an inconsistent schedule.
"I loved the individuals," Dillard said, noting that he took it hard when one of the people he worked with unexpectedly passed away.
Dillard said UNK was an excellent school for his training. "Almost all of my professors have an active practice. They are not only teaching, but practicing almost daily," said Dillard. He said that knowledge that comes from working in the field was helpful.
UNK is one of only two programs in Nebraska nationally accredited by the Council for Accreditation of Counseling and Related Educational Programs, also known as CACREP. Dillard said the program required 60 hours of coursework and was thorough in diagnosis and assessment and how to use the information to treat a client/patient.
"There's something about Lexington. I love the diversity," said Dillard of why he is glad to be working in his hometown. He said can see patients who speak other languages through the aid of an interpreter.
Dillard is married to Megan Thomas, whose parents also reside in Lexington, and they have a four-month-old child.