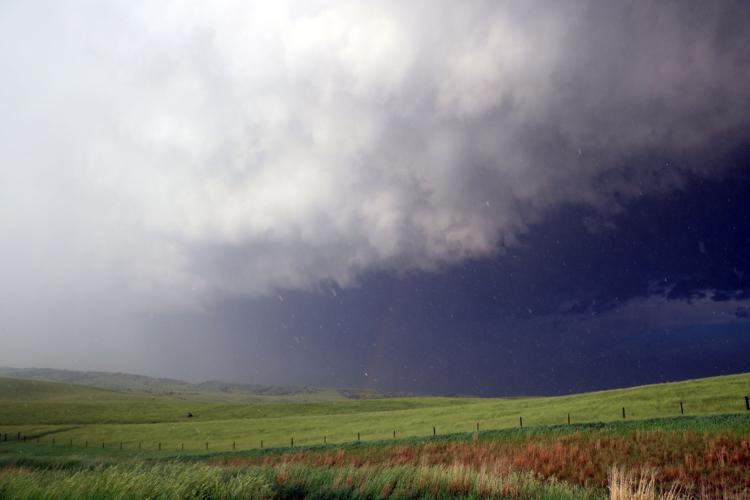 LEXINGTON — I have been interested in severe weather ever since I was a young. I remember always sitting down with my Dad when he had the Weather Channel on and being engrossed in what I saw on the screen.
My Mom helped foster this by buying me every book which had a scary looking cloud or a tornado on it. I read these religiously and was morbidly fascinated by large tornado disasters like Jerrell, Texas in 1997. The fact that nothing more than wind and moisture could cause so much damage has always filled me with questions. The first PG-13 movie I saw as a child was Twister; I devoured any media which had to do with large storms or tornadoes.
Originally when I was younger I wanted to be a meteorologist, but realizing how much math was involved, (and how poor I am with numbers,) made me change my mind. I was also fascinated by the people who would go out and purposefully chase storms. The pictures and videos they took were stunning and I wondered what compelled these people to get so close to these dangerous storms. Part of me always wished I could do it myself.
It was during the summer of 2003 when I saw my first tornado. I recall the day being extremely humid and hot. As the late afternoon approached the sky began to darken and telltale mammatus clouds began to form, even at that point I remember thinking they signified severe weather. Another thing that got my attention was the change in the wind. It had been blowing out of one direction nearly all day, when suddenly it went dead still for several minutes. Without warning the wind picked up rapidly from the opposite direction.
 After this we had packed up in the truck to head for home. I remember sitting in the back seat occasionally glancing back. I remember seeing what I originally thought was smoke. I assumed lightning had hit the ground and caused a fire. I glanced back a few moments later to see a rising column of dust and dirt. It was clearly rotating. I recall the exact words to my mother, "Mom, there is something black and swirling back here."
 My mother sounded like she didn't believe me until she looked back as well, until she saw what I was talking about, and floored it. I remember being very frightened at the time, thinking this tornado was going to bear down as though it was hunting us. I vowed to myself after the fact that I would never be so scared again, I wanted to understand these storms better. All my siblings and I ran down into the basement of our home and got under the stairs, like I had read to do during a tornado.
What stunned me and my parents and I was the fact that there was no mention of tornadoes on the news and no watches or warnings had been issued. In reality, the tornado was most likely a land spout tornado, fairly weak and not spawned by the storms which produce the most damaging tornadoes, supercells. They are also extremely hard to predict where and when they will touch down.
When I went off to college at the University of Nebraska at Kearney, my major was in history. Military history was another interest which has been present in my life. However, anytime the clouds started looking ugly I would always keep one eye on the sky.
It was in 2017 when I was finishing college that my interest in severe weather spiked again. I had discovered resources on the internet which allowed me to learn in depth about severe weather. I looked up storm spotter training videos which were created by the National Weather Service and watched storm chaser footage as they roamed the High Plains looking for tornadoes.
I remember coming across one video I have watched many time over. It was a breakdown of the 2013 El Reno, Okla., tornado. This tornado was the widest on record at 2.6 miles. It is also infamous for being the first tornado to directly kill storm chasers who were following it. Tim Samarus, Paul Samarus and Carl Young were killed when the tornado overtook their vehicle. Tim Samarus was one of the most experienced storm chasers in the field.  The fact he and his crew were the first killed directly by a tornado shook the storm chasing community to its core. This was another storm I have become morbidly fascinated by, if only to learn from the deadly results of that day.
I finally decided to get serious about storm chasing in 2018. After I was brought onto Lexington Clipper-Herald as a reporter, I finally had some disposable income to chase storms, which involves driving a lot of miles. It was not feasible for me before, as a broke college student I could hardly justify driving hundreds of miles when I was on a shoestring budget. I was also pleased to learn that my manager and publisher at the paper, Heather Heinemann, approved of the interest and would welcome any storm pictures I took to be used for the paper or the paper's website.
I learned a weather spotter training hosted by the NWS Hastings was being done in March. The National Weather Service holds these in preparation for the severe weather season which runs mainly through May and June for Nebraska. It was encouraging to find out I had covered the storm chasing basics with my previous research when I listened to the presentation.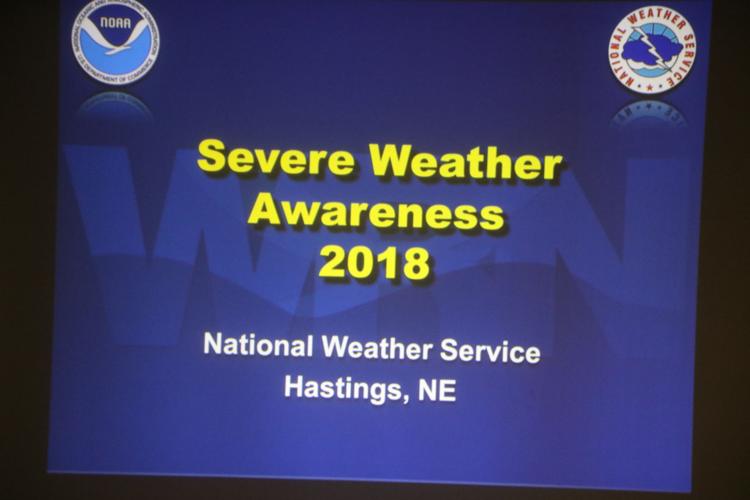 Not long after this I was allowed to visit the NWS Hastings itself and got to see the work place of these meteorologists I had looked up to for so many years.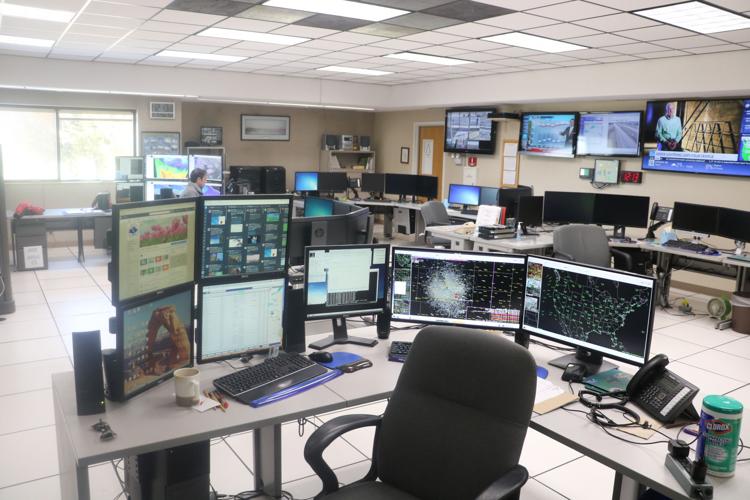 They went above and beyond for me that day, I was taken to the Doppler radar near Blue Hill, which provides the NWS Hastings with the information used to issue watches and warnings, as well as observe the local weather. Seeing the office and the radar was a memorable experience, and I could hardly believe that my work allowed me to do something like this.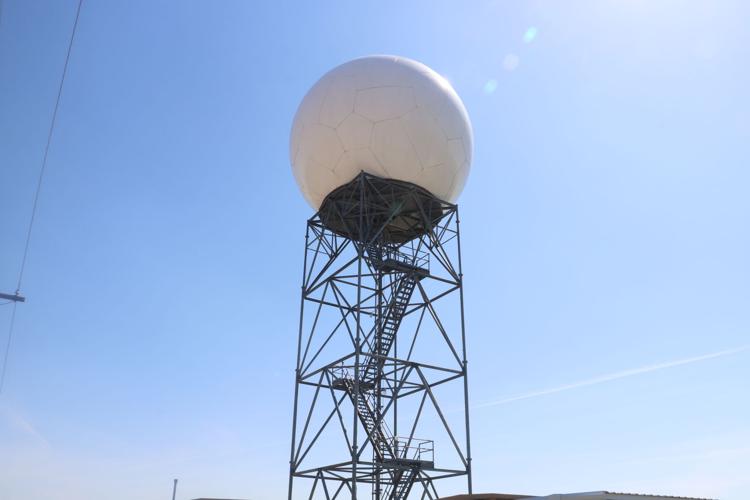 It was on April 30 that I would be out storm chasing for the first time, and get to put all of the knowledge I had accumulated to the test. Storms were expected to fire along a line from Gothenburg to Broken Bow. The tornado threat was low but I was not going to pass up the chance to observe severe weather.
I remember watching convection begin as I left work that day and I began driving north out of Lexington to get a better view of the storms forming. I realized the storms were not firing in my area and I turned west toward Cozad to catch up with the storms which were quickly moving north.
Once the storms started coming into view I was elated to find out I could identify the different parts of the storm structure. I could see the rain free updraft base, the flanking line feeding the storm, the downdraft where the rain was contained, and the forming anvil on top of the storm as the updraft flattened out. I was pleased all my obsessive research had paid off. I traveled on to Gothenburg as storms strengthened north of town.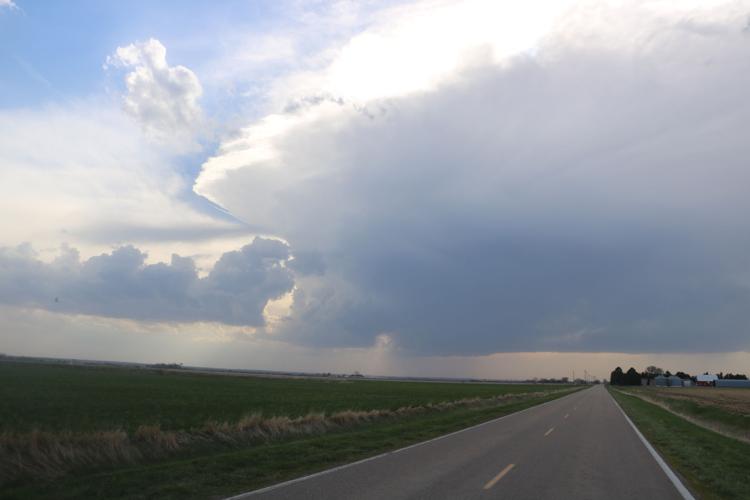 I traveled farther north trying to catch up with these storms when I realized I had committed a cardinal sin while storm chasing; not making sure the car had a full tank of gas. Embarrassed, I decided to press north to Arnold to fuel up and doubled back. Storms were moving northeast over the Broken Bow area at this time, dropping two inch hail. I decided to play it safe and come back down the highway I had come up on. I stopped along the way to get pictures of the back end of the storm as it was moving away. The flanking line was nearly above me with a fat tail of inflow feeding into storm.
Several other cars passed by me with meteorological equipment and marked as storm chasing cars. I thought I must be in the right place if these people were around. I disengaged from the chase and headed back to Lexington on Highway 30, getting my last shots, before the light faded, of a fully realized supercell over the Broken Bow area. I began keeping a log of my chases and the lessons that I had learned. I told myself not to chase storms I did not stand a good chance of catching up with and to trust more storms would form.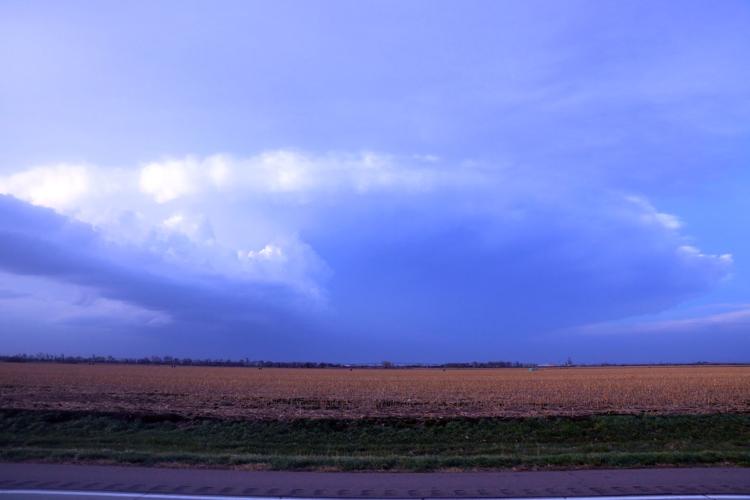 June 1, 2018 will always be a mixed chase for me. On one hand I got some of my favorite storm pictures of the season, but the favorable tornado parameters that day never panned out. I remember watching throughout the day, with my eyes glued on the computer screen, looking at several different sites, all saying severe weather would strike the area and the growing tornado potential. At 2:56 p.m. the NWS North Platte conducted a special sounding, revealing an extremely unstable atmosphere which was favorable for tornadoes. A tornado watch for nearly all of central and northern Nebraska was issued at 3:55 p.m.  What concerned me was that storms would not develop far south enough into the most favorable areas for tornadoes. Storms had already formed in northern Nebraska and were unzipping south.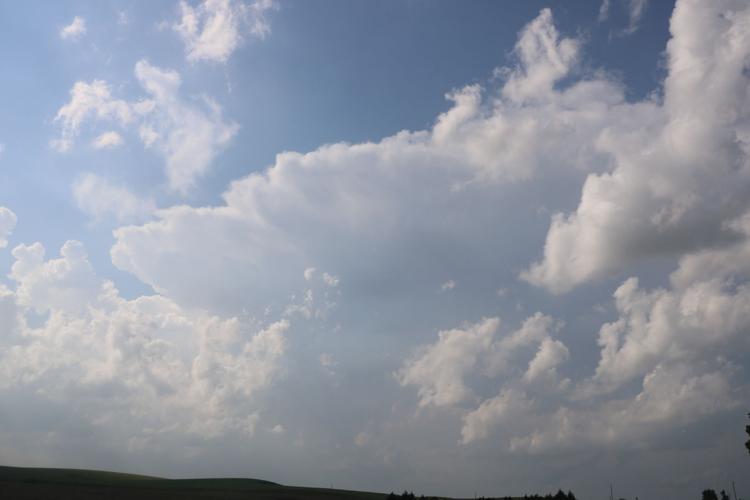 I left Lexington around 5 p.m. as storms were forming in Custer County. Minor convection was trying to fire all over the place as I waited on the Dawson and Custer County border, hoping the storms would come to me. I realized that I would not be so lucky and the cell I was closest to was headed northeast. I traveled north into Broken Bow and drove several miles north of town until I found myself in the Broken Bow II wind farm.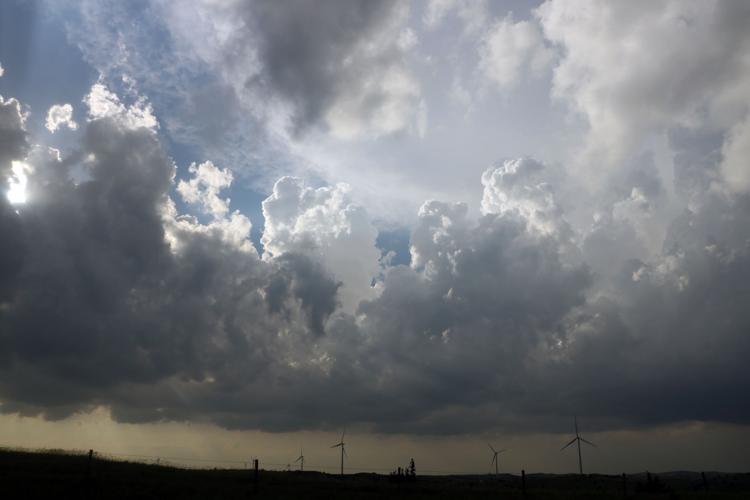 I realized my single storm cell was going to join a line of other storms and lose its best chance to form a tornado. I stopped on the side of the road and decided if I wasn't going to get a twister, I'd at least get some good photos of the windmills with the storm as a background.
The storm and clouds provided an excellent backdrop as I spent roughly 20 minutes taking different shots, hoping they would turn out well. I remember feeling disappointed as I turned my car south, wondering what went wrong as I traveled home.
 I was nearing Oconto when the cloud formations started to catch my attention. A cell was appearing to strengthen right over Callaway and was showing all the signs it was organizing. I pulled over on Ash Creek Canyon Road to watch.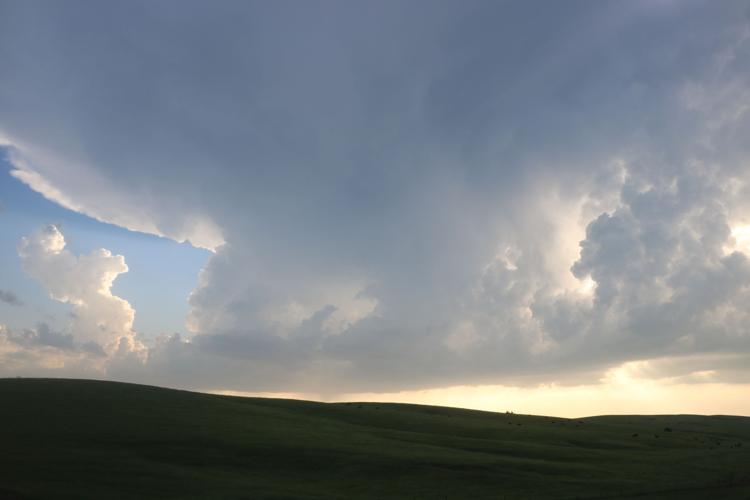 The cell's updraft was growing more robust as the anvil began to spread out directly over my head. Thunder was growling in the heart of the developing storm as I snapped more pictures. The roiling texture of the clouds in the updraft was unlike anything I had ever seen before.
Moments later two cars pulled onto the road next to me. Several college age students piled out and began looking at the storm. I introduced myself and they told me they were all metrological students from the University of Milwaukee. One of the students who spoke with me said, "The cap is killing us today."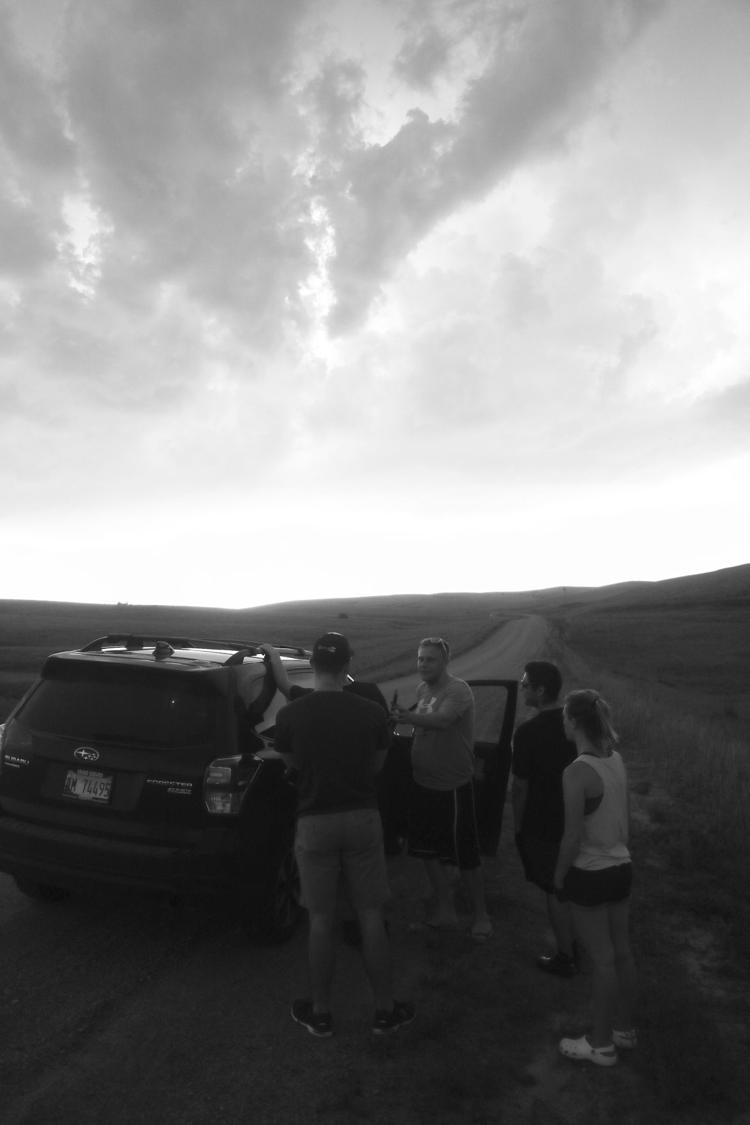 He was referring to the stable layer of air which prevents thunderstorm development throughout the day. It hadn't broken fully and storms couldn't form where there were enough favorable parameters to produce a tornado. I have heard storm chasers describe an updraft "choking" on the cap, which effectively kills it.
We watched this developing cell as a small wall cloud began to form on the bottom of the updraft base. I thought for a couple moments I might just have my tornado after all. A weak tail of inflow was feeding into the base, as if pointing to the area where we should pay attention. However it was not enough and the storm began to cycle.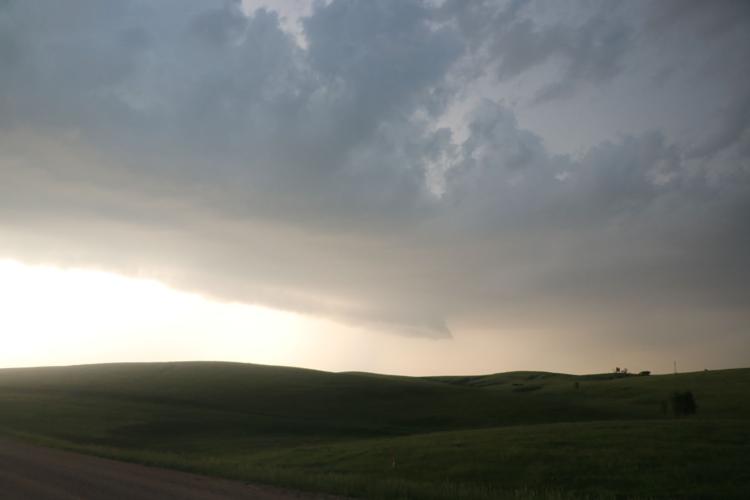 It wasn't for nothing though. The sun had set to a point where it was just below the base clouds and it illuminated the road and updraft base in a gorgeous way. It still is one of my favorite shots I have from my 2018 season.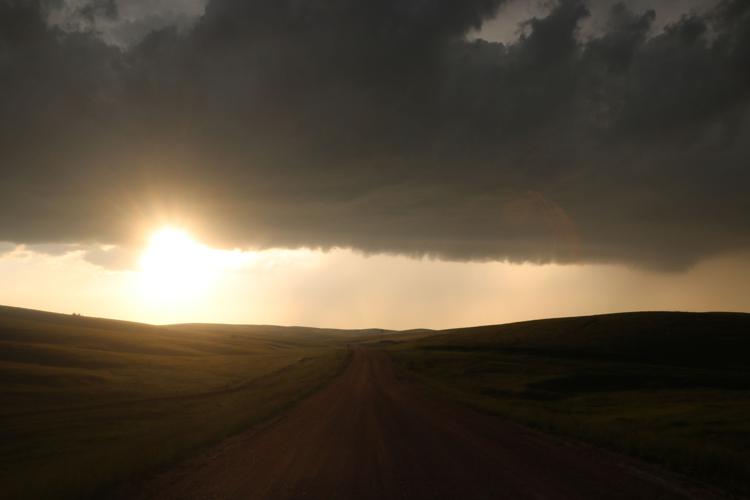 The college students decided to head north to keep up with the storm as it continued to develop. I waited a couple moments to do the same. It's an unwritten rule that chasers forecast, position and chase on their own. Following someone without permission is considered dangerous.
 I drove a few miles north as the rain began to fall. I found a good place to pull over when I heard something hit my car's hood. Hail was beginning to fall and for a second I thought I might have made a horrible mistake. I have the funds to chase, not replace all my car's windows. Luckily the hail never got larger than ping pong sized.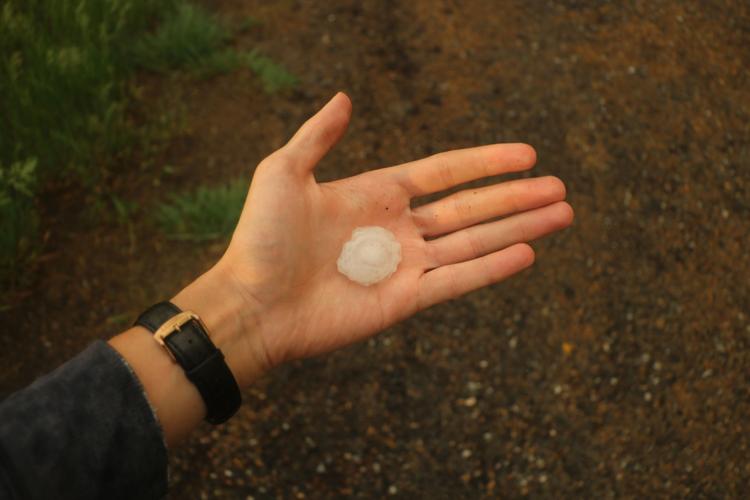 I was getting soaked by the rain as I got several shots of the storms base exposed to the sun. Rainbows appear amongst the clouds making for picturesque shots. The clouds were reaching perilously low to the ground, but there was little rotation. I never did get my tornado that day. However, I got some of my favorite storm pictures of the season. In all it was an interesting day that did not quite live up to expectations.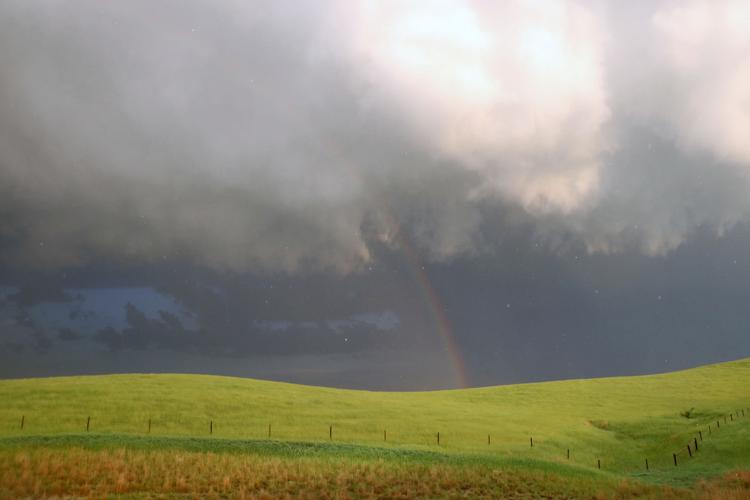 June 19 was a chance for me to avenge myself from the disappointment on June 1. Although in my eagerness I put myself in a less than ideal position. The set up for the day would be a new one for me.
Storms were expected to form south of Lexington and move northeast. When trying to view tornados the safest place to do so is south of the storms which are producing them. I would have to travel south through these storms to get an eye on any tornados. As they day progressed tornado parameters were looking best over Gosper County.
At 3:20 p.m. storms started to fire over McCook and west of Oxford. This was earlier than I anticipated and I was on the road at 4:15 p.m. I drove south through Elwood and realizing the cores of the storms were east of Arapahoe, so I continued south.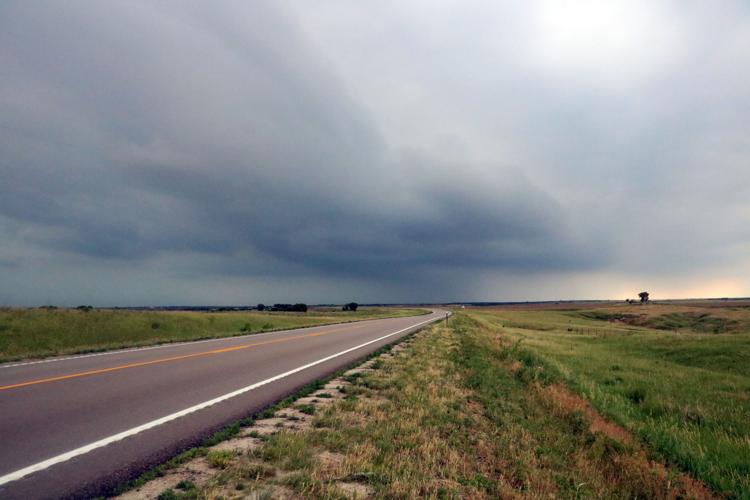 Not long after this one of the cells received a tornado warning for radar indicated rotation. This means a thunderstorm is showing all signs on radar a tornado could be ongoing. Law enforcement, weather spotters, and storm chasers are the ones who relay information back to the weather service and report if there is a tornado or not.
I grew a little too excited and drove straight of the area which was marked. The rain began to fall heavily and slowed down my progress. I was traveling east of Arapahoe as the rain kept falling.  It dawned on me I could be driving straight into the back of a tornado wrapped in rain and I would never see it. The tornado warning was allowed to expire though. At one point my visibility dropped to a dangerous level and I pulled my car over to the side of the road in an attempt to wait out the rain. Small hail stones began hitting my car and I decided to brave the rain, once again, which had not let up.
I began my slow drive to Atlanta and north to Holdrege. More tornado warned cells were appearing in Harlan County and I entertained the thought of attempting to reach them. However, given how bad the rain had slowed me down, and how bad my nerves were shot, I decided to call off my chase. This was the one time in the season I had been truly nervous for my safety.
Statistically the tornado season for Nebraska is thought to end around July 4. The jet stream migrates farther north and the wind shear needed for tornadoes is not present. July 2018 would provide some surprises though.
 On July 18 a fully developed supercell rumbled through the Buffalo County area producing hail up to three inches and damaging crops and vehicles. I had obligations which kept me in Lexington but watching this storm which dominated the eastern sky was awe inspiring.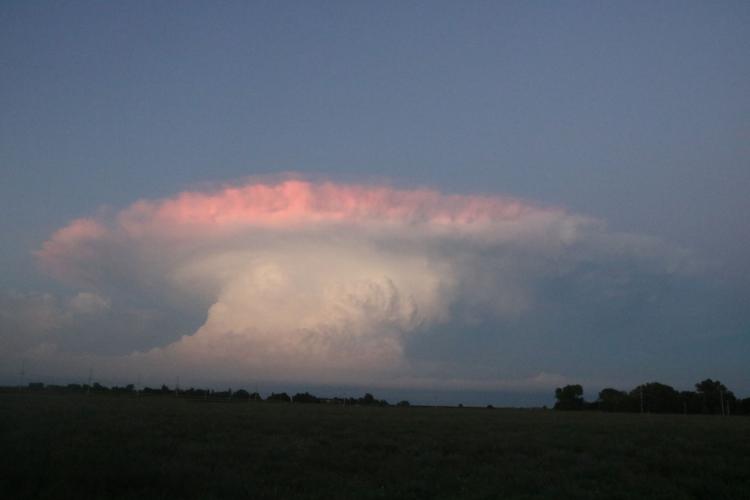 The next day, July 19, two isolated cells developed near Overton and Oconto respectively. I was able to follow these storms into Overton and get some of the most photogenic shots of a storm in town I had up to this point.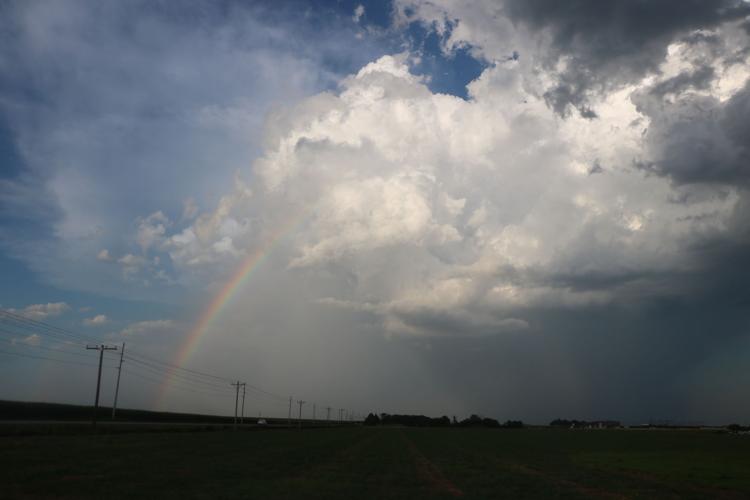 After my first storm chasing season I've had time to reflect on what I've learned from being out in the field. I've also had time to learn what information I lacked to properly forecast and position myself. It was gratifying to be able to storm chase, it's a goal I've had since I was young and not many long term goals are able to come true.
It's unknown what the 2019 severe storm season will bring but I hope to be out there, right in the middle of it.