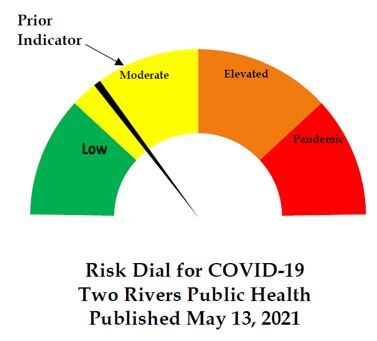 LEXINGTON — The COVID-19 risk dial for the Two Rivers Public Health Department district was lowered to a point not yet reached since the dial was introduced.
According to Two Rivers, test positivity rates for all tests conducted outside of residential facilities dropped below five percent for the first time last week since mid-July 2020. Testing utilization has also dropped around the district.
Residents mainly access testing through clinical settings, but eight percent of the tests conducted by TestNebraska in the past week were positive.
There were only seven new cases of the virus reported last Wednesday and Thursday, on May 12, three in Buffalo County and May 13, one in Buffalo County and one in Dawson County. Due to continued decline in positive cases, starting Monday, May 17, Two Rivers will only report on cases once a week on Fridays.
No new COVID-19 cases were reported in long term care facilities in the district over the past week; over 80 percent of residents 65 and older have been fully vaccinated.
As of May 10, 42.4 percent of the district's eligible population was fully vaccinated, however, only 18 percent of those aged 16-29 are fully vaccinated, residents younger than 40 are the most likely to have seen a positive COVID-19 test in the past month.
As of May 5, 40.6 percent of Dawson County's eligible population and 40.2 percent of Gosper County's population have been fully vaccinated.
Two Rivers is offering several vaccination clinics across the area, on May 20 at 10 a.m. at El Tropico in Lexington, May 21 at 11:30 a.m. at Peterson Grocery Store in Gothenburg and May 27, 1 p.m. at El Tropico.
COVID-19 bed occupancy has fluctuated between three and seven percent for the past month and about half of the ICU beds in the district are currently available.
Due to these reasons, the risk dial was lowered further down in the 'moderate' level, approach the 'low' level. This was due to steady hospital metrics over the past month, vaccination rates reaching 50 percent and dropping positivity rates.
To date, Two Rivers has reported 10,599 total cases, 10,277 of which are no longer symptomatic and 120 deaths.
For the first time since July 11, active COVID-19 hospitalizations across Nebraska fell below 100, as of Monday morning there were 97 active hospitalizations. Hospitalizations are down by seven percent over the past two weeks.
On Friday, May 14, there were only 39 total cases reported across the state, case numbers are down 35 percent compared to two weeks ago.
According to the Nebraska Department of Health and Human Services, 52 percent of Nebraska's eligible population has been fully vaccinated.
To date, Nebraska has reported 222,512 total cases and 2,266 deaths.
According to the New York Times COVID-19 tracker, Reports of new cases are at their lowest levels since September, and deaths are at their lowest since July. While the pace of vaccination has slowed, the approval of the Pfizer vaccine for use in 12-15 year olds means millions more Americans are now eligible.