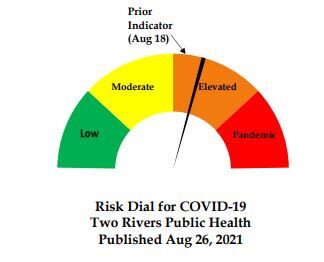 LEXINGTON — There were 225 new cases of COVID-19 reported by the Two Rivers Public Health Department during the week of Aug. 20-26, the risk dial has been increased back into the orange 'elevated' level.
7-day rolling averages for this week include:
Buffalo County – 44 daily cases per 100,000 residents
Dawson County – 31.5 daily cases per 100,000 residents
Franklin County – 43.2 daily cases per 100,000 residents
Gosper County-- 28.7 daily cases per 100,000 residents
Harlan County – 12.7 daily cases per 100,000 residents
Kearney County – 37.4 daily cases per 100,000 residents
Phelps County – 26.9 daily cases per 100,000 residents
This represents a 67 percent increase in cases from the previous week, according to Two Rivers, weekly test positivity rates conducted among minors, 0-17 years, is over 12 percent, the highest weekly rate this year. In the past minors accounted for 14 percent of all tests and 16 percent for all positive results.
"Last November, all age groups were impacted but significantly, most were over the age of 60," Aravind Menon, Two Rivers epidemiologist, told the Kearney Hub. "Now it seems to be younger people who are unvaccinated, and children aged 0-17. That gap has never happened before. Children have never accounted for most cases."
COVID-19 related hospitalizations account for 11 percent of medical and surgery bed occupancy, less than a third of all ICU beds in the district are available.
Contact tracing interviews are restricted by personnel shortages and changed strategy.
"Currently, every positive case is contacted at least twice and a detailed case investigation is conducted. However, tracing of contacts and notification of potential exposures has been discontinued. Limited public access to testing in the district creates additional barriers to effective case identification," according to Two Rivers.
As of Aug. 24, 41 percent of the district's total population and 52 percent of the adult population, 18 and older, have been fully vaccinated.
As of Aug. 23, 51.4 percent of Dawson County and 48 percent of Gosper County's total populations have been fully vaccinated.
"In light of rising incidence rates connected to the newer delta variant, Two Rivers strongly urges all unvaccinated vaccine-eligible residents to avail of the COVID vaccination through their healthcare provider, pharmacy or www.trphd.org," according to Two Rivers.
For these reasons, the risk dial is further raised this week. Risk in the district is assessed to be 'elevated'. The raised dial level reflects the dramatic increase in cases, rising hospitalization rates, truncated contact tracing efforts and the steady rate of COVID-19 related hospitalizations in the district.
According to the Nebraska Department of Health and Human Services, COVID-19 cases statewide are up 4,953 from the prior week and hospitalizations are up by 37 from the prior week.
DHHS reported, 2,957 variants of concern were identified among Nebraska residents, up 167 from the prior week.
In the past week, Lincoln-Lancaster County Health Department reinstated its indoor mask mandate due to the recent surge of COVID-19 cases. The department was able to do so due to a quirk in the law, as the department was founded before the statewide system of local health departments was founded across the state.
Governor Pete Ricketts recently denied the Douglas County health director's request to reinstate a mask mandate.
"Governor Ricketts and DHHS have not supported a mask mandate and continue to encourage Nebraskans to exercise personal responsibility when it comes to masking and vaccination," a DHHS letter stated.
"A summer that began with COVID-19 seeming to fade into the national background has been upended by the coronavirus's relentless spread. The Delta variant continues to drive up new case totals across the United States," according to the New York Times COVID-19 map, "More than 90,000 coronavirus patients were in hospitals nationwide, more than in any previous surge except last winter's. Deaths have risen to an average of more than 1,000 a day for the first time since March."