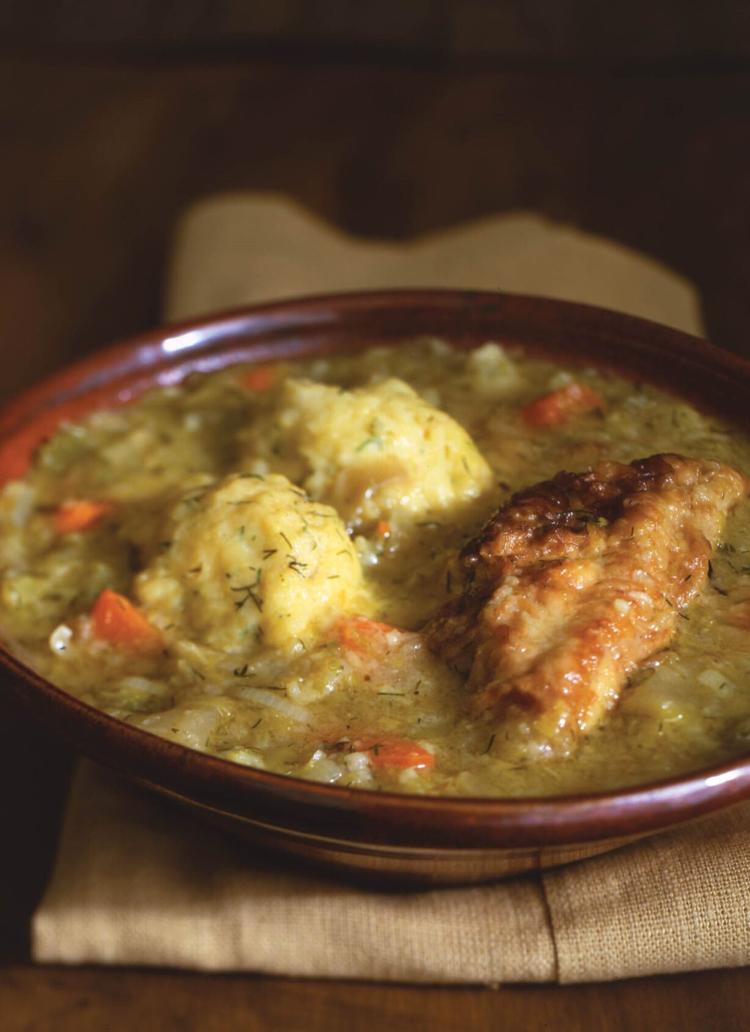 Comforting food means different things to each of us. If you've had a bad day, nothing seems to hit the spot better than a bowl of steaming chicken soup with noodles or a meal of braised short ribs with a rich tomato wine sauce and creamy mashed potatoes.
Are these dishes simply a fond memory of our childhood or is it because they contain creamy, rustic, flavors and textures that make us feel comforted? Whatever the ultimate reason we find particular foods comforting, they always have a degree of familiarity, which triggers warm feelings of calming contentment. And we all can use that now.
The following take on an old-fashioned recipe is lighter since the sauce is thickened and enriched with apples, not heavy cream. The fluffy dumplings are delicious with a touch of dill weed and cornmeal added for extra texture. Dill is added to both the sauce in the chicken and the dumplings that give this chicken stew a fresh herb flavor.
Serve this meal in shallow bowls for a pretty presentation. All that is needed to complete the dish is a simple green salad. A fruity Gewürztraminer would be my choice for a wine accompaniment or hard apple cider. Since there is fruit in the chicken, why not put out a platter of chocolate chip cookie or brownie squares for a satisfying old-fashioned dessert?
Use an ice cream scoop or a large tablespoon for spooning the dough onto the braised chicken.
Use a large Dutch oven or casserole to have enough space to fit all of the dumplings on top.
This is best made just before serving.
Chicken Apple Stew with Cornmeal Dill Dumplings
1/4 cup all-purpose flour
Salt
Freshly ground black pepper
3 pounds chicken parts, legs and thighs
1/4 cup olive oil
4 leeks, cleaned, light green and white part only, thinly sliced
2 medium onions, thinly sliced
6 carrots, peeled and sliced
4 celery ribs, sliced
2 medium red apples, peeled, cored and sliced
2 tablespoons finely chopped fresh dill weed
3 cups chicken broth
1 cup apple juice
1 1/4 cups all-purpose flour
1/3 cup cornmeal
2 teaspoons baking powder
1/2 salt
1 tablespoon finely chopped fresh dill weed
3 tablespoons chilled vegetable shortening
1 cup milk
1. In a large plastic bag combine the flour, salt and pepper. Dredge the chicken parts in the flour. In a large Dutch oven heat 3 tablespoons of oil on medium-high heat. Working in batches to avoid overcrowding, brown the chicken pieces for about 5 minutes on a side or until nicely browned. Remove to a side bowl.
2. Add the remaining tablespoon of oil, lower the heat to medium and then add the leeks and onion and saute for about 5 to 7 minutes or until lightly browned, scraping up the brown bits. Add the carrots, celery and apple slices and cook another 3 to 5 minutes or until slightly softened. Add the dill weed, broth and apple juice and bring to a simmer. Return the chicken pieces to the pan and cook about 15 more minutes, covered.
3. While the chicken is cooking make the dumpling batter. In a bowl combine the flour, cornmeal, baking powder, salt and dill weed. Using a pastry blender or two knives, cut in the shortening and then add the milk, stirring with a fork to just blend the dough together. It should resemble a rough mass.
4. With an ice cream scooper or large tablespoon, scoop out the dumplings over the chicken pieces (there should be about 6 to 8 dumplings) and cook on a low simmer for about 15 to 18 minutes, covered. Carefully spoon some cooking juices over the dumplings once or twice. The dumplings are done when a skewer inserted in the center comes out clean. Serve the chicken pieces with a dumpling or two and some sauce.
(Diane Rossen Worthington is an authority on new American cooking. She is the author of 18 cookbooks, including "Seriously Simple Parties," and a James Beard Award-winning radio show host. You can contact her at www.seriouslysimple.com.)