For Phil Hallstedt, that three-word phrase is enough to explain why the entire geographic region he calls home has, for generations, anchored a significant portion of its identity and commerce to this little stone fruit. Cherries, he reasons, take people back to their fondest summertime memories — perhaps more than any other food.
Phil is speaking from personal experience: He and his wife, Sarah, own a cherry farm in northern Michigan called Hallstedt Homestead Cherries. Although their farm is based in Northport, a small town located at the tip of Michigan's Leelanau Peninsula, the Hallstedts are also part of the broader Traverse City community — a five-county region that, all by itself, produces some 40% of the annual tart cherry crop for the entire United States.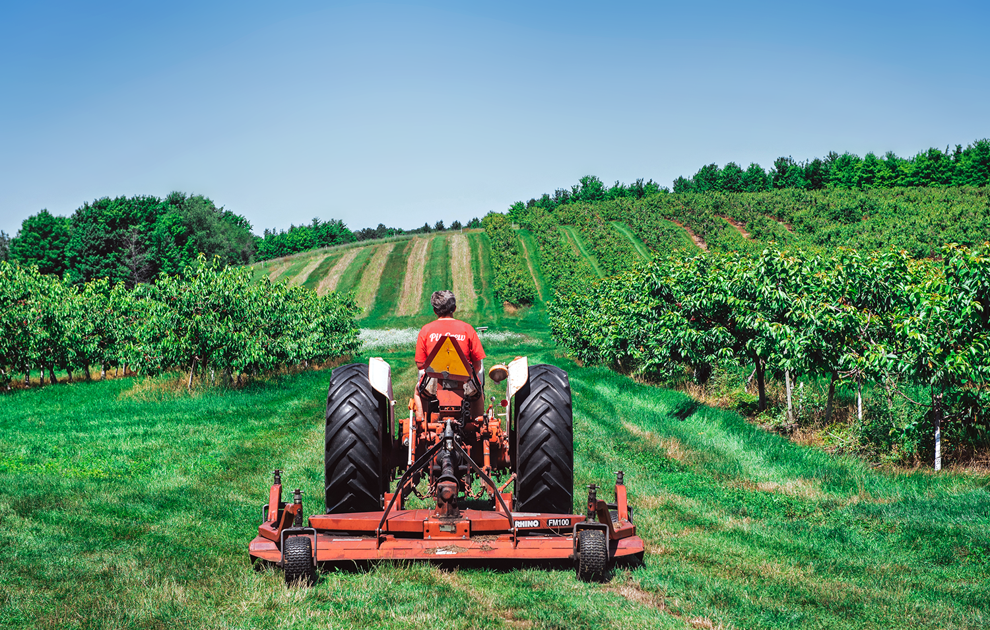 ---
A cherry-growing mecca
Although Traverse City started as a lumber town, it was arguably the cherry crops that put it on the map. Fast forward to today, and the area is a major vacation destination, frequently cited on lists highlighting the most beautiful places in America or the country's best small towns.
As a beach town situated right on the shores of Grand Traverse Bay — itself part of Lake Michigan — Traverse City is especially popular in the summer months, seeing huge influxes of tourists from early spring through late fall. It's also a thriving hub of craft breweries, wineries, agriculture, manufacturing and even tech startups. But even with this impressive resume, Traverse City's identity always comes back around to its nickname: The Cherry Capital of the World.
One needn't spend much time in Traverse City to see how much pride the community has in that particular designation. The airport is called "Cherry Capital Airport." The area's chief biking and running paths, called "TART Trails," includes an acronym "Traverse Area Recreational Transportation" that pays tribute to the region's status as a tart cherry mecca. Driving one local road you'll glimpse the world's largest cherry pie tin, a 17-feet by 6-inch behemoth that dates back to 1987. 
Perhaps most notably, Traverse City's biggest annual tourist draw is the National Cherry Festival, a celebration of the local cherry economy that that brings approximately 500,000 people to Traverse City each July.
The cherry farming part of the equation, meanwhile, is much quieter than a massive festival or a busy airport. Although Traverse City might be the focal point of northern Michigan's cherry industry, most of the actual agriculture occurs well outside of city limits, on a pair of peninsulas that bracket the town and the Grand Traverse Bay.
To the east, you'll find Old Mission Peninsula, a narrow spur of land jutting out into Lake Michigan and dotted with orchards, wineries and quaint residential communities. To the west is Leelanau Peninsula, a bigger peninsula that shares many of Old Mission's hallmarks but spreads them out across longer spans of wide-open space. 
---
A hidden treasure
It's on Leelanau that you'll find Hallstedt Homestead Cherries, far away from the hustle and bustle of downtown Traverse City. The trek to the farm from town is an approximate 40-minute, 27-mile drive. It's a journey, but it might be the most gorgeous drive you'll take in your life. Busy roads around town give way to a long span of highway right along the water, which in turn leads to spacious farmland and, eventually, dirt roads.
The destination itself is picturesque and secluded: a house at the top of a hill surrounded by cherry trees as pretty as a postcard, with little noise to distract from the beauty save the whoosh of a pleasant summer breeze. "I could get used to this," you'll say to yourself.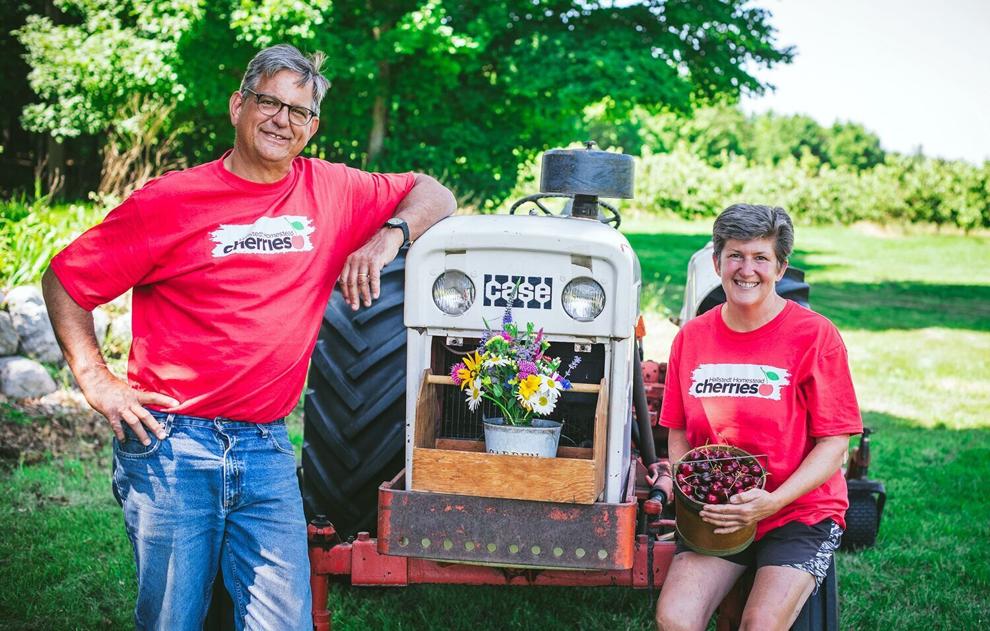 A visit to Hallstedt Homestead Cherries feels like an escape to a different time, when the speed of life was a little bit more leisurely. You could say the Hallstedts meant it this way: The couple chose Northport and cherry farming as their own personal escape after Phil's career in the pharmaceutical industry ended unceremoniously with a Great Recession-era "downsizing." Rather than take another corporate job in Indianapolis, where the Hallstedts lived at the time, Phil and his wife took a leap of faith.
"We had always prioritized salary and career," Phil explains. "What happens if we did something different? What happens if we said, going forward, 'What's the next season of life going to look like? What do we want to do? Where do we want to be?'"
Those questions led to northern Michigan, a place where the Hallstedts had deep family roots. The challenge? The desirability of life in and around Traverse City — given the water and all of the natural beauty waiting just out the front door — made for expensive property prospects, especially for a couple looking to retire in the midst of a recession.
So, Phil and Sarah decided on a compromise: a working retirement, on a 53-acre farm in Northport, tending a sweet cherry orchard in a part of the country widely renowned for its cherry crops.
And just like that, a new adventure began.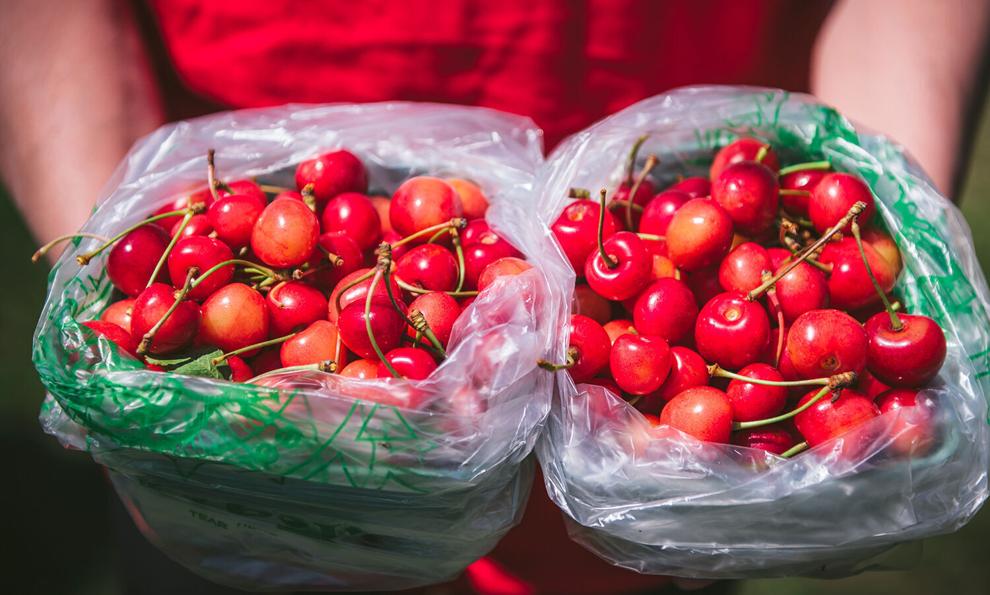 ---
A perfect place for cherries
What exactly makes northern Michigan such an ideal place to grow cherries? As it turns out, the peninsulas on either side of Traverse City offer three main elements that allow for prime cherry tree cultivation.
The first factor is Lake Michigan, which functions as a sort of temperature moderator for nearby crops. As water temperatures fluctuate throughout the year, they also have a drastic impact on inland climate. For instance, the lake slows temperature warm-ups during the spring, which helps delay cherry blooms. This delay is crucial, as it helps prevent situations where cold overnight temperatures or other remnants of winter weather damage the vulnerable blossoms.
The lake also helps ensure that temperatures don't get too hot in the summertime, which can scorch cherry crops, nor too cold in the autumn, which can damage trees with early frosts.
The second factor is the soil, which is dry, light and sandy. Phil says cherry trees "do not like wet feet," which make it hard to grow cherries in areas with clay soils. Sandy dirt, which can deliver water to the cherry trees but still drains much more quickly than heavier soils, keeps the roots from getting saturated.
The third and final factor is topography. The rolling hills of northern Michigan's two peninsulas keep the cold air closer to sea level and allow for warmer temperatures at higher elevations. Cherry crops thrive at the top of these hills where more temperate climates reign supreme.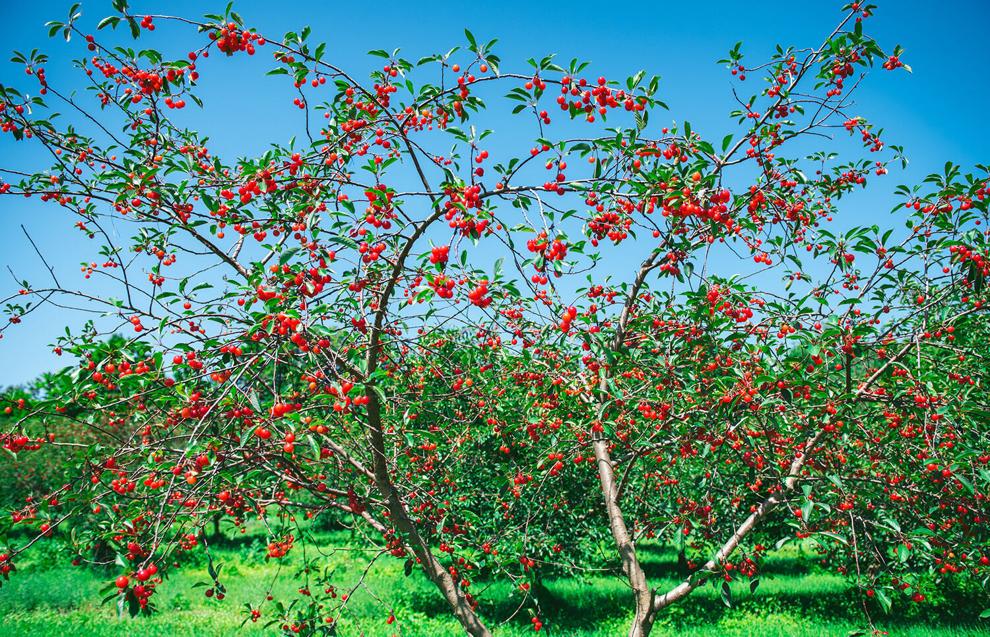 ---
An embattled industry
Even with these superb growing conditions, it hasn't always been smooth sailing for the Hallstedts. The couple's initial plan was to break into the wholesale cherry market, but that business model quickly proved unsustainable. From day one, the many challenges facing the Michigan cherry industry — competition from foreign cherries growers, low industry pricing for cherries, climate change and its effects on the cherry growing cycle — have refused to spare Hallstedt Homestead Cherries. And that's without even getting into a conversation about northern Michigan's ever-rising real estate values. An aging farming industry combined with declining profits for agriculture businesses are driving a trend where local cherry farmland is being sold off en masse, divided and repurposed.
The result, the Hallstedts say, is a crossroads moment for this corner of Michigan. One path leads to the preservation of agricultural land — by any means necessary. Phil and Sarah have done their part on that front by embracing a business model focused on agritourism offering U-pick experiences, and even looking into a new concept that would allow for camping and lodging on the Hallstedt Homestead property.
The second path, though, could lead to a significant, potentially permanent, decline in northern Michigan cherry farming — in turn sending reverberations through the domestic cherry supply. As more and more cherry farmers throw in the towel and sell off their properties, the Hallstedts fear that a walk down this path is already underway.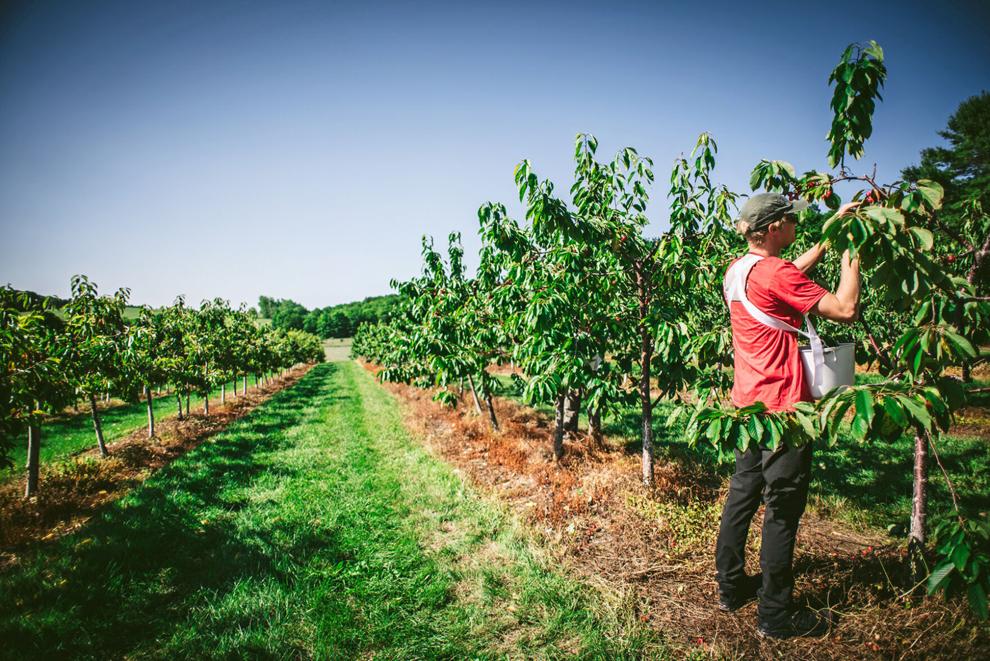 "The large [farming] parcels up here, a lot of them date back to post-Civil War," Phil says. "After the Civil War, they didn't have the money to pay the Union officers, so they gave them land grants. Some of our farmers up here, their land goes back to those farm grants. Well, now those large grants are getting broken up and sold, and people are building houses on them. You could put five houses on our homestead, one house per 10 acres. You could also put those same five houses on 50 acres in the middle of Michigan. But the thing is, you cannot grow cherries in the middle of Michigan."
"This is such a unique area for farming," Sarah adds. "The climate, the soil, the water and everything else. Once it gets subdivided, that special farmland is gone for all of us, and you'll never get it back."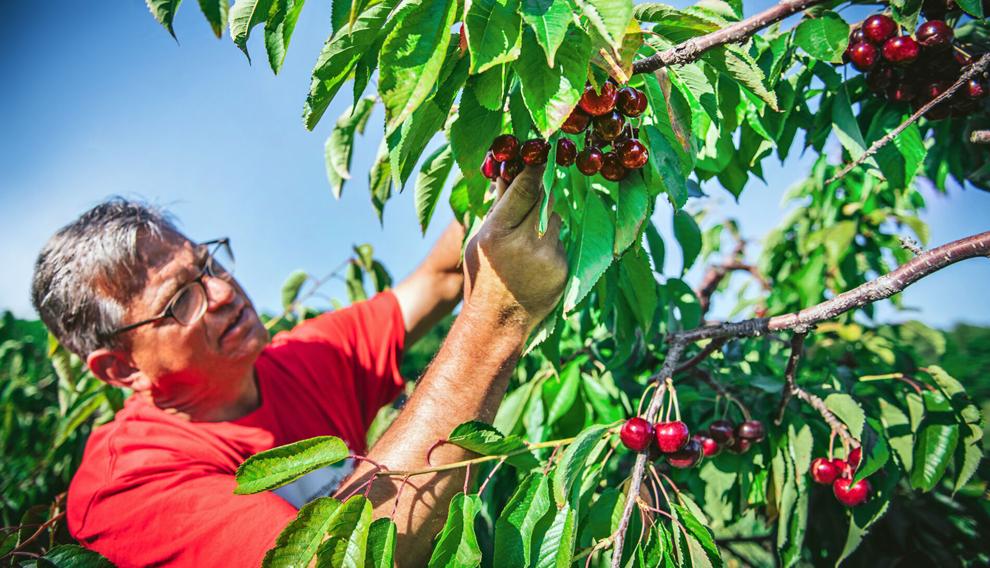 ---
Fighting on
As far as they see it, the Hallstedts are fighting the good fight to keep their land in agriculture for as long as possible — not just so they can make a living, but for the purpose of keeping northern Michigan's most iconic industry alive. It's a mission that's come with lots of hard days and sacrifice. Phil works a day job to support the farm and keep it solvent, something that Sarah says some 70% of farmers on Leelanau Peninsula have to do as well.
But for Phil, it's all worth it at the end of the day. Again, as he says, "Cherries are summer," and at Hallstedt Homestead Cherries, summer is all about experiencing cherries all over again — with every guest who comes to pick them off the trees.
"Our tagline is 'One fruit, many memories,'" Phil laughs. "I did some qualitative market research [before we started the farm], and even in small focus groups, it was clear there was this emotional connection that people had between cherries and what summers were when they were kids. [With U-pick], we can celebrate that by emphasizing what we love to do, which is bring people here, educate them about cherries and embrace them."
Part of that education is about bringing cherry-agnostic people into the fold. With eight varieties of sweet cherries on the farm — ranging from the White Gold (a yellow cherry specked with red and pink and bearing a "super sweet" flavor) to the Regina (a massive plum-sized cherry with a sweet-tart taste) — Hallstedt Homestead Cherries is well-equipped to challenge what people think they know about cherries. The Hallstedts are exploring adding tart cherries to their offerings, but sweet cherries will always be their bread-and-butter.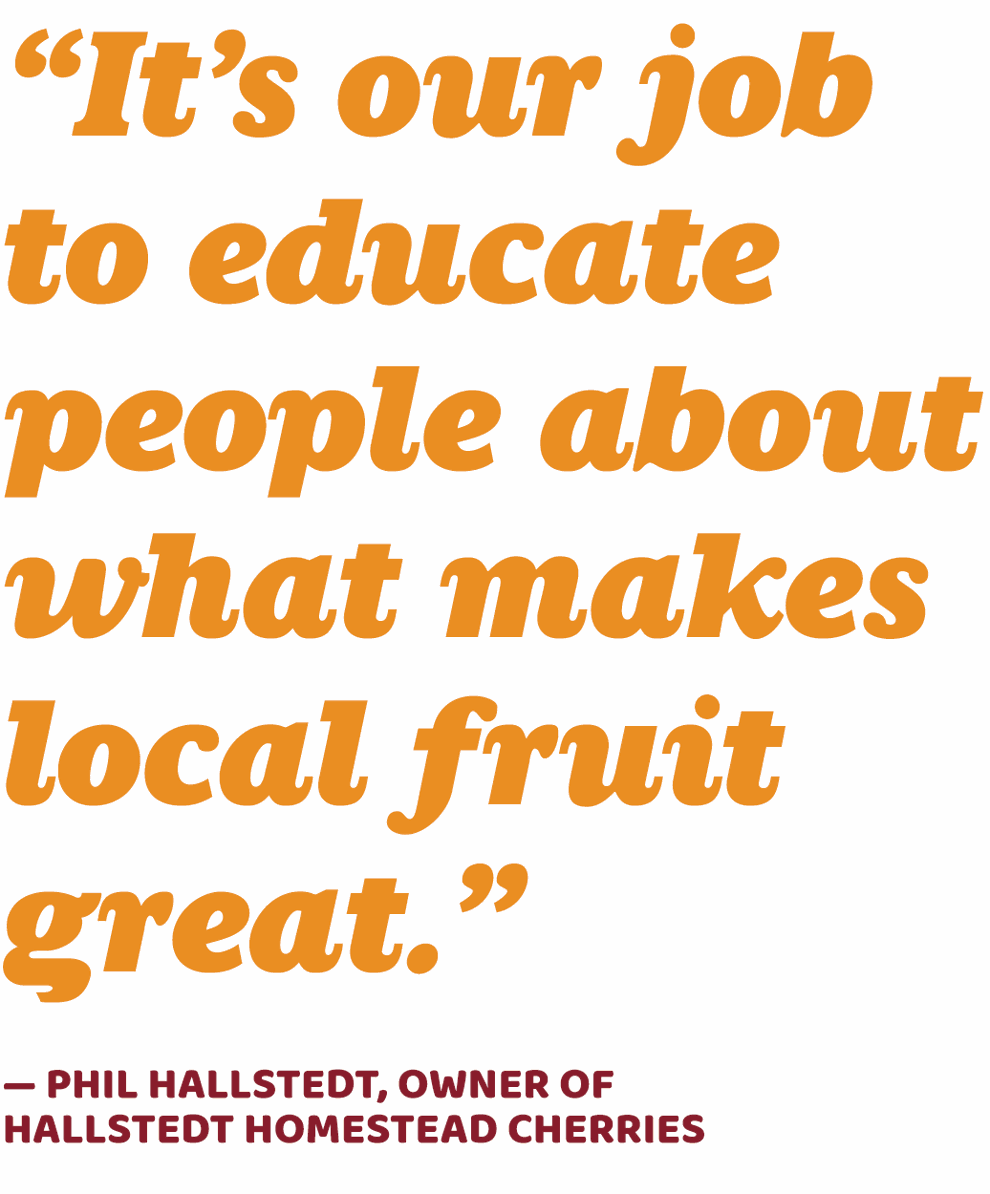 "We've had people come here and say, 'Oh, I don't like cherries,'" Sarah says. "Maybe the husband will be waiting while the wife and the kids are picking. And I'll ask, 'Well, have you ever had one right off the tree? Try this one.' And the response is always just, 'Wow!' Because it's a totally different flavor."
"I'm a fresh fruit snob," Phil adds. "Because what happens is people taste something and they say, 'I don't like cherries.' And I think, 'Well, of course you don't. You ate cherries in December from Chile, over 5,000 miles away. You ate cherries that came in from California and are three weeks old.' So, it's our job to educate people about what makes local fruit great."