OMAHA — With robots, chutes and conveyors running every which way, the new Amazon fulfillment center in Papillion is an engineer's dream.
On Thursday, reporters got a peek inside the facility, where employees work alongside robots to pick, pack and ship customer orders such as books, toys and housewares.
The 700,000-square-foot center — Amazon's first in Nebraska and a marvel of automation with 14.5 miles of conveyors and 4,500 robots — is "literally on the cutting edge of the technology," general manager Aaron Schmidt said.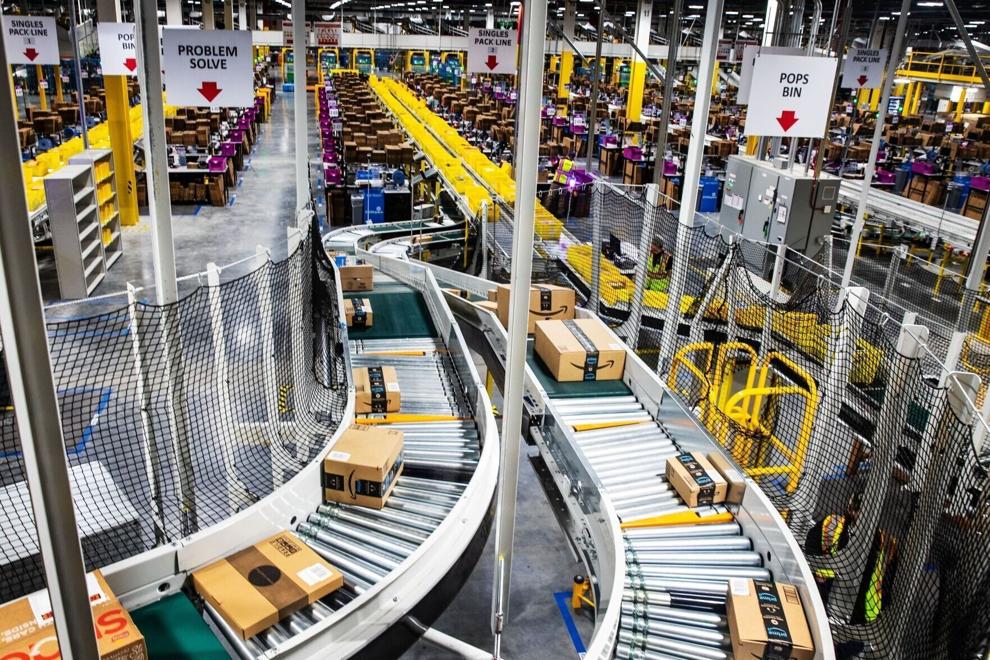 The center will provide more than 1,000 jobs and "absolutely" speed up package delivery once the facility ramps up to full capacity, Schmidt said. Since opening in January, Amazon has hired 700 associates to work there, and officials are eager to hire more people, he said.
"Right now, we have actively on site about 6.2 million units of inventory," he said. "We have the capacity to hold approximately 40 million units of inventory."
With multiple floors, the building contains more than 1 million square feet of storage space, the equivalent of about 20 football fields.
Once the building fills with products, shipping times should be shorter for a customer in the local market who orders one of those products, he said.
How much quicker will customers get their packages?
"I don't have that exact number," Schmidt said. "Obviously we're still standing the building up. But as it continues to scale, that will absolutely happen."
And for western Nebraskans who order from Amazon?
"It will continue to be a faster delivery option than what they might have experienced before, depending on how far they were from that next-closest fulfillment center," he said.
Once the new center is fully up and running, it will fill an average of 700,000 customer orders a day, officials said.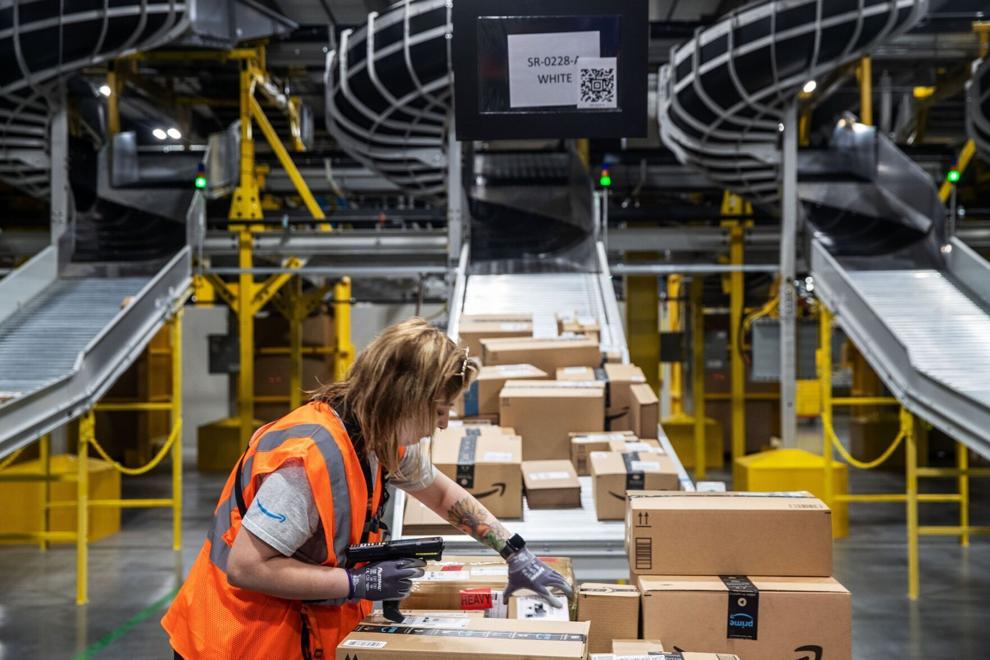 Schmidt led reporters on a tour of the massive building on the northeast corner of Nebraska 370 and Nebraska 50.
The robots are not human-like, looking instead like an oversized version of those disk-shaped carpet-sweeping robots — except these carry up to 1,050 pounds of merchandise. Blue with black wheels, the robots motor around the facility, avoiding one another, guided by markings on the floor. They pull up to stations, where humans draw out the merchandise from a rack on top that resembles a portable clothes closet.
Bright yellow plastic bins — 7.8 million of them — help transport customer orders and products throughout the building.
The center handles fairly large items, but nothing as big as a lawn mower, Schmidt said.
In one part of the center, workers pack items in the familiar brown Amazon cardboard boxes with the smiley arrow logo. Workers add the cushioning air pillows, tape the boxes shut and put them on a conveyor belt.
The building is the newest generation of Amazon fulfillment centers, Schmidt said.
The timing for reaching full capacity will depend on filling the building with products and hiring the necessary workers, he said.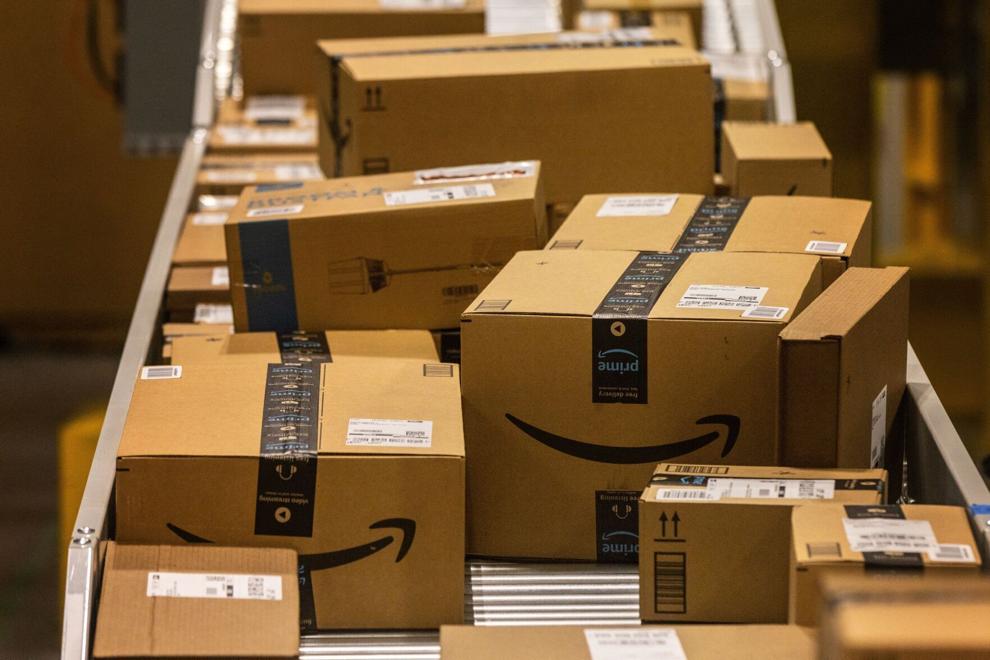 Schmidt said the starting wage is $16.50 an hour, with an opportunity to make more depending on the shift. Employees receive a comprehensive benefit package, he said. Workers must be at least 18 years old, he said.
The company will soon be offering a $3,000 signing bonus for a limited time, he said.
"We're bringing a lot of great jobs to Nebraska," he said.
The center operates 24 hours a day, seven days a week.
He said automation increases efficiency but also has some benefits for employee comfort and safety.
Robots, for instance, keep employees from having to retrieve items from shelves, he said.
"The old traditional facility — I myself walked 14 hours a day — you're going to feel soreness sometimes," Schmidt said. "We don't have many of those (facilities) operating at this point."
Another example, he said, would be cameras that scan bar codes so workers don't have to use a hand scanner.
Robots also create jobs for robot makers and the people who service the robots, he said.
Amazon has five operational locations in the Omaha market, in addition to a Whole Food Market location.
The facilities include the Papillion fulfillment center; a supplemental fulfillment center in Council Bluffs; two delivery stations in Papillion and Omaha; and an Amazon Air Gateway at Eppley Airfield.