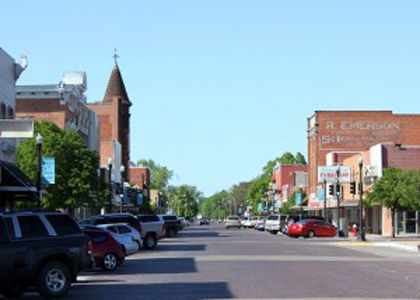 The AroundTown section of the Clipper-Herald is to notify the public of upcoming events and to publicize pertinent information from individuals, groups or organizations that are not for profit.
The family of Dwayne Margritz is suggesting a card shower for him as he is hospitalized recovering from severe burns. Cards may be sent c/o 75590 Rd 438, Lexington, NE 68850.
The family of Marge Fagot is requesting a card shower for Marge while she is at Madonna in Lincoln for rehabilitation. Family and friends may send cards to her at Madonna, 5401 South St., Room 208, Lincoln, NE 68506.
The family of Larry Grayek is requesting a card shower to help him celebrate his 75th birthday May 4. Cards may be sent to him at 1912 Polk Street, Lexington, NE 68850.
Miller Dances:  All Dances start at 7 p.m. Bring finger food and snacks. Questions? Call 308-325-2909. May 6: Ray Mullen, May 13: "Diamonds and Dust," May 20: Curt Pfeil and friends, May 27: "Country Flair"
2017 Nebraska Passports are available now at the Lexington Clipper-Herald office, located at 114 W. Fifth Street.
Presbyterian Women of First Presbyterian Church  invite all women to attend their May Breakfast on Thursday, May 4, at 9:00 a.m. at First Presbyterian Church, 8th and Lincoln, Lexington.  The speaker is Kim Ziegler, who will speak about the NICU Angel Gowns program.  All women are welcome! Free will offering.  Please RSVP to the church office at 324-5507, by May 1.
Dawson Public Power Business After Hours celebrating the 80th Anniversary of DPPD, will be held Thrusday, May 4 from 4 to 7 p.m. Event will be held at DPPD Headquarters, 75191 Road 433. Open to public.
A National Day of Prayer event with Guest Speaker: Jim Miller, Director of Press On Youth Center in Kearney,  will be held at the Lexington Evangelical Free Church, 810 S Washington Street, Lexington,  on Thursday, May 4 at 6:30 a.m., sponsored by the Lexington Ministerial. The public is invited to come and pray for our nation. There will be a light breakfast served and a free will offering to cover expenses.  The National Day of Prayer  is held every first Thursday in May. Come and unite to pray for our Country.
The Dawson County Historical Museum's "April Showers bring May Flowers Coffee with Carol" in May will be Friday, May 5 10:00 a.m. – noon.  Open to the public,
The World Vision 6K Walk/Run will be held at Camp Comeca, Cozad on May 6 at 10 a.m. For more information go to www.worldvision6k.org and join team "Water for Hope," a world wide walk to help provide clean water.
Bonneville Chapter DAR will meet May 9, 2017 in the Benthack Room at Lexington Public Library. There will be a 6:00 p.m. social time and the 6:30 program will be "Financial Planning," given by Garth Mins.
Lexington Blood Drive on Tuesday, May 9 from 8:30 a.m. to 2:30 p.m. at First United Methodist Church. Please call Pat Jones at 308-325-4596 to make an appointment.
The Overton Alumni Association will hold its 118th meeting with a banquet Sunday, May 28, 2017 at the Overton School gym at 6:00 p.m. Tickets are available April 15 at Security First Bank in Overton or by calling 308-987-2280 or 308-987-2205l Cost is $20.00. Honored will be graduates from 1937, 1947, 1957, 1967, 1977, 1987, 1997, 2007 and this year's graduates. The Alumni Association has given scholarships to eligible students in the graduating classes since 1995, totaling at least $20,000.
Lexington Rotary Golf Tournament will be held Friday, June 23 at Cozad Country Club. Cost is $240 per team. Proceeds from event go to support Dawson County Hero Flight. For more information or to register call 308-325-0069.
The 5th Annual "Take a Swing at Cancer" Softball Tournament will be held July 8 - 9 at the Lexington Optimist Field. Cost is $125 per team. Deadline is July 1. For more information contact Randy Reinertson at 308-320-1970.
2017 Plum Creek Rodeo is June 9 - 10 at 7:30 p.m. both nights. To sign up as volunteer gate workers call the Lexington Chamber at 308-324-5504. 
Griefshare, a grief support group, for help and encouragement after the death of a spouse, child, family member or friend. The 13-week series meets every Thursday starting April 20 at 6:30- p.m. in the Life Skills Room at the YMCA, 1207 N. Grant. For more information call 308-324-5310 or visit www.GriefShare.org. Cost is $20 for workbook. Please join us and find that you are not alone in your journey from mourning to joy.
WIC Clinics for Dawson County for April, May and June are scheduled as follows:
In Lexington, MNCA Building, 931 West 7th, Tuesday through Thursday the first full weeks for each month. Call 308-324-6212 for appointment.
In Cozad, Parkview Building, 120 E. 9th, Monday, May 8, June 12.
In Gothenburg, American Lutheran Church, 1512 Ave. G, Monday,  May 1, Thursday, June 1.
Events at the Lexington Grand Generation Center - Public Bingo on Mondays at 7 p.m. Must be 18 to play. For questions call 308-324-2498. Homemade Pretzel Baking on the first and third Tuesday of each month at 1 p.m. Cost to purchase pretzels is .50/pretzel, $6.00/dozen. Purchase and/or come help roll!
Love in Action Outreach, 907 West 8th St., Lexington, is open Monday through Thursday, 12:30 – 4 p.m. For assistance go to 909 West 8th St. Donations of clothes, furniture and other items any time back of store or contact 308-651-0925 for further assistance. Monetary donations are accepted as well.
Are you a person with compassion and good listening skills? Parent-Child Center would like to give you the opportunity to put those feelings and abilities into practice. The Parent-Child Center needs volunteers to answer our lines after office hours. If you are interested please call for more information at 308-324-2336.
If you visit the grave of a veteran and the flag holder is missing or damaged, please notify the Dawson County Veteran Service Office by calling 308-324-3041.
Volunteers needed for Adult Education ESL and GED classes offered through Central Community College. To volunteer contact Marge Bader, volunteer coordinator at 308-785-2111 or 324-8483 or email mbader57@msn.com.
Lexington Area Parkinson's Disease Support Group Meetings are held the second Thursday each month at 2 p.m. in the education room at the Community Health & Fitness Center (1600 W. 13th, Lexington)  For more information contact Dixie Menke at 308-325-5350 or 308-784-4022 or Brenda Bierman at 308-324-2523 or 308-325-9216.
RYDE Transit - Public Transportation is available Monday through Friday, 8 a.m. to 5 p.m. To schedule a ride in Dawson County or Lexington call 308-324-3670. Public Transportation is easy to ride and open to everyone.
American Legion in Lexington meets the first Tuesday of the month at 7 p.m. at Heartland Museum of Military Vehicles.
Bingo Night at Lexington Regional Health Center will be held Thursday evenings from 6 - 7:30 p.m. at The Corner Café (LRHC dining room). Come and enjoy FREE soup and an evening of BINGO.
Survivors of Suicide Support Group meets every second Monday of the month from 7 to 8:30 p.m. at First Baptist Church, 1616 W. 39th St., in Kearney. For more information contact Carol Rowedder at 308-237-2635.
Check out our new "Can't wait to read it" display in the new book section.  The display shows book covers of books the library is waiting to receive.  You can place a hold on these titles at the circulation desk.
 Novel Stitchers meets on Tuesdays at 3:00 p.m.  If you enjoy stitching--knitting, crocheting, quilting, cross stitch, needlepoint, or have another portable stitching project--join us at the library for two hours of stitching and visiting. 
The Lexington Public Library will host Story Time each Wednesday this spring at 10:30 a.m.  Pre-readers and their caregivers are invited to join us for stories, songs, and activities.  Make time in your week for this fun and educational pre-school activity.
Exercise room is open Monday through Friday, 8 a.m. until 5 p.m.
Center available for rent
12:45 p.m. -  I've Got It
3 p.m. - Strength Training
9:30 a.m. - Coffee/Crafts
9:30 a.m. - Pool T. - Holdrege
2:30 - 3:30 p.m. - Hot Cookies
3 p.m. - Strength Training
Homemade bread everyday. Choice of skim, 2% or chocolate milk. No reservations needed except for large groups. Serving time: 11:30 a.m.
Mushroom steak, potato cakes, buttered cabbage, plums
Pork cutlets, buttered noodles, 3-bean casserole, roasted brussel sprouts, peaches/pineapple
Baked chicken, baby bakers, butter beans, orange slices, tapioca pudding
AA/NA: open meeting Friday nights at 7 p.m. at Plum Creek Mall at Two Bridges Counseling, 513 N. Grant St., Suite 3a, Lexington.
Westside Group: AA/NA open meeting on Monday and Wednesday nights at separate locations at 8 p.m. Monday night meetings at First Christian Church, 1206 N. Erie St. in Lexington. Wednesday nights at Community Health Center (west of hospital) 1600 W. 13th St. in Lexington.
AA Elwood: at 8 p.m. on Sundays at United Methodist Church, 601 Rush in Elwood. Contact: 785-3567 (Tom).
Alcoholics Anonymous (AA) meetings, non-smoking: at noon on Mondays, Wednesdays and Fridays at St. Ann's Catholic Church basement, 301 E. Sixth St. Contact: 308-651-0143.
Alcoholics Anonymous (AA) meetings, non-smoking - Smithfield: At 8 p.m. on Thursdays at Hope Lutheran Church, 74098 Road 436 in Smithfield. Call 785-3567 or 472-3376.
Celebrate Recovery: a 12-step, anonymous program helping participants overcome any hurts, habits, addictions or hang-ups. Meets twice: 1) at 7 p.m. on Thursdays at Lexington Evangelical Free Church, 810 S. Washington Street. Contact: 308-324-3825 or 308-238-1298. 2) at 6:30 p.m. on Fridays at Parkview Baptist Church's Y.A.C., 1105 Park St.. Contact: 308-324-4410.
The Compassionate Friends, Lexington Area Chapter (a support group for parents who have lost a child), meets the third Monday of each month at 7:30 p.m., at the Great Western Drive-In bank meeting room, corner of 6th and Lincoln. For more information call 308-320-1483.
Community Action Partnership of Mid-Nebraska  Public Immunization Clinic, 1st & 3rd Mondays every month: Open 10 a.m.-noon and 2-4 p.m. by appointment at 931 West 7th St., Lexington. Clinics serve ages 2 months - 18 years. Children must be accompanied by an adult, previous vaccination records required. Contact 308-865-1352 ext. 143.
Dawson/Gosper County CASA: seeking Volunteers. CASA Volunteers are everyday people from all walks of life, who advocate through the court system in the interests of children. Contact 324-7364 for more information.
Grupo Lexington AA (Spanish Speaking) open meeting Saturday nights at 8 p.m. and Sunday at 11 p.m., at 114 West 6th St. in Lexington.
Lexington Area Grief Support Group: meets at 4:30 p.m. on the first Mondays of each month at Fitness Center, 1600 W. 13th Street. Open to anyone experiencing the death of a loved one. Contact Lexington Regional Health Center Home Health office, 324-8300.
Lexington Optimist Club: meets at noon on Thursdays at Kirk's Restaurant. 
Lexington Rotary Club: meets the first and third Wednesday of the month at Lexington Public Library from 12 to 1 p.m. For more information contact Kirsten Faessler at 308-324-8333.
Love In Action Outreach Ministry: Located at 907 W. 8th Street in Lexington, is in need of men's clothing, all sizes and styles; pots pans, serving dishes and utensils; bedding, crib sheets, twin size, reg. size, queen and king size, pillows, blankets, beds; winter coats and jackets. Bring to 907 W. 8th during our regular operating hours, Monday through Friday, 1 - 4 p.m. Monday to Friday we have bag sales, small bag $10.00 and large bag $15.00 dollars. Closed Saturdays, Sundays & all Federal Holidays.