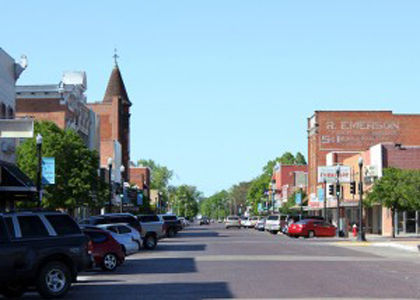 The AroundTown section of the Clipper-Herald is to notify the public of upcoming events and to publicize pertinent information from individuals, groups or organizations that are not for profit.
The family of Dwayne Margritz is suggesting a card shower for him as he is hospitalized recovering from severe burns. Cards may be sent c/o 75590 Rd 438, Lexington, NE 68850.
Carolyn Clark of Sumner will celebrate her 80th birthday on April 15. Birthday wishes, cards, letters, photos or stories of days gone by may be sent to Carolyn Clark, 29975 Apache Road, Sumner, NE 68878.
The family of John LiaKos is suggesting a card shower to honor him for his 90th birthday April 15, 2017. Cards may be sent to John LiaKos, P. O. Box 198, Oconto, NE 68860.
The family of Pauline White would like to request a card shower to celebrate her 90th birthday on April 17. Cards may be sent to Pauline White, 1203 Buffalo Bend, Apt. #6, Lexington, NE 68850.
The annual Hagan family reunion will be held this year in Bertrand at the Community Building on April 30. There will be a pot-luck dinner at noon.
Miller Dances:  All Dances start at 7 p.m. Bring finger food and snacks. Questions? Call 308-325-2909.  April 15: No Dance - Happy Easter!, April 22: "Sundowners," April 29: "Top Shelf Country."
Lexington Regional Health Center Auxiliary Easter Bake Sale will be Thursday, April 13, 9 a.m. to 1 p.m. in the hospital lobby. Also available is Easter and Spring décor and jewelry in the Gift Shop.
Brookdale Lexington will host an Easter Egg Hunt on April 14 at 10 a.m. for ages 1- 3 and 4- 6. Easter bunny will be available for pictures at the courtyard. Brookdale is located at 1811 Ridgeway Drive.
A "Know Your Rights" for immigrants informational talk will be held on Saturday, April 15 from 10 a.m. to 1 p.m. at Lexington Public Library, 907 N. Washington St. The talk will be provided in English and Spanish. Free admission, open to the public.
Relay For Life Easter Bake Sale on Saturday, April 15 at Plum Creek Market Place, South Plum Creek Parkway, from 9 a.m. to 1 p.m. Cookies, cakes, brownies and breads will be sold. All proceeds go to the American Cancer Society Relay For Life of Dawson County. Sponsored by the W.C.S.G. Garden of Hope Team.
Lexington Area Christian Women's Connection Luncheon will be held Tuesday, April 18 at 12 p.m. at Kirk's Restaurant. Cost is $6.75 inclusive. Speaker will be Lori Mayer, an LPN who has worked with special needs children. Music by Ivey Zimmerman. Call Sheri Biesbrecht at 308-320-0952 or Teresa Lanman at 308-324-8386 to register.
Lexington Regional Health Center Auxiliary will meet April 19 at 2 p.m. at the Community Health and Fitness Center. the program will be "Peace, Love and Lavender, by Cyndi Smith.
Keep Lexington Beautiful and Trius Federal Credit Union is hosting a Community Shred day on April 19 from 10:00am till noon! Located at Trius parking lot (115 Cattlemen's Dr.), this is for our those who have a larger amount of sensitive documents that they can dispose of safely. Please remove all paper clips and hanging file folders with metal strips, staples are ok. Donations to Keep Lexington Beautiful will be accepted.
Trinity Lutheran LWML announces its' annual Spring Salad Luncheon will be Thursday, April 20 from 11 - 1 p.m. in the church fellowship hall at 205 E. Seventh St. Theme for 2017 is F.R.O.G. – Fully Rely On God. Proceeds from the luncheon will benefit mission work and local causes. Matching funds have been provided by Thrivent Financial.
The annual Relay for Life Garage Sale will be Friday, April 21, 4 - 7 and Saturday, April 22, 9 a.m. until close at the 4-H Café Building at the Dawson County Fairgrounds. All proceeds benefit the American Cancer Society.
Bonneville Chapter DAR will meet April 22, 2017 at Meadowlark Pointe, 2300 Ave. O., Cozad.  There will be a social time at 6 p.m. with the program, given by Judy Andres, at 6:30 p.m.
Tickets for the 9th Annual Red & Wild benefit, Thursday, April 27, 5-8 p.m. at the Holiday Inn Express in Lexington are now available at the Clipper-Herald, Barmore's and Madeline's, cash or check only. Tickets are $7.00 in advance and will be $8.00 at the door. For more ways to donate or help, contact the Lexington Clipper-Herald at 308-324-5511.
A Spaghetti Feed will be held on April 30 at 11:00 a.m. at Chipper Hall in Cozad to Benefit  Paw Prints in Dawson County. Spaghetti chef will be Gene Libal.  The OK Sisters will be providing musicial entertainment. The public is welcome.
An Information Meeting will be held May 2 at 7 p.m. at the Heartland Museum of Military Vechicles in Lexington to discuss fundraising for the Central Nebraska Veterans Home. Speakers will be Dick Pierce and Bob Harpst with Nebraska Veterans First. EVent is open to the public.
Lexington Blood Drive on Tuesday, May 9 from 8:30 a.m. to 2:30 p.m. at First United Methodist Church. Please call Pat Jones at 308-325-4596 to make an appointment.
Griefshare, a grief support group, for help and encouragement after the death of a spouse, child, family member or friend. The 13-week series meets every Thursday starting April 20 at 6:30- p.m. in the Life Skills Room at the YMCA, 1207 N. Grant. For more information call 308-324-5310 or visit www.GriefShare.org. Cost is $20 for workbook. Please join us and find that you are not alone in your journey from mourning to joy.
WIC Clinics for Dawson County for April, May and June are scheduled as follows:
In Lexington, MNCA Building, 931 West 7th, Tuesday through Thursday the first full weeks for each month. Call 308-324-6212 for appointment.
In Cozad, Parkview Building, 120 E. 9th, Monday, April 3, May 8, June 12.
In Gothenburg, American Lutheran Church, 1512 Ave. G, Monday, April 3, May 1, Thursday, June 1.
Events at the Lexington Grand Generation Center - Public Bingo on Mondays at 7 p.m. Must be 18 to play. For questions call 308-324-2498. Homemade Pretzel Baking on the first and third Tuesday of each month at 1 p.m. Cost to purchase pretzels is .50/pretzel, $6.00/dozen. Purchase and/or come help roll!
Love in Action Outreach, 907 West 8th St., Lexington, is open Monday through Thursday, 12:30 – 4 p.m. For assistance go to 909 West 8th St. Donations of clothes, furniture and other items any time back of store or contact 308-651-0925 for further assistance. Monetary donations are accepted as well.
Are you a person with compassion and good listening skills? Parent-Child Center would like to give you the opportunity to put those feelings and abilities into practice. The Parent-Child Center needs volunteers to answer our lines after office hours. If you are interested please call for more information at 308-324-2336.
If you visit the grave of a veteran and the flag holder is missing or damaged, please notify the Dawson County Veteran Service Office by calling 308-324-3041.
Volunteers needed for Adult Education ESL and GED classes offered through Central Community College. To volunteer contact Marge Bader, volunteer coordinator at 308-785-2111 or 324-8483 or email mbader57@msn.com.
Lexington Area Parkinson's Disease Support Group Meetings are held the second Thursday each month at 2 p.m. in the education room at the Community Health & Fitness Center (1600 W. 13th, Lexington)  For more information contact Dixie Menke at 308-325-5350 or 308-784-4022 or Brenda Bierman at 308-324-2523 or 208-325-9216.
RYDE Transit - Public Transportation is available Monday through Friday, 8 a.m. to 5 p.m. To schedule a ride in Dawson County or Lexington call 308-324-3670. Public Transportation is easy to ride and open to everyone.
A Downtown Runaround 5K Run/Walk and One Mile Walk will be held on April 15 at 11 a.m. in Cozad. The event is sponsored by Cozad Community Health System and Cozad Jaycees. To register go to Eventbrite.com
Youth Outdoor Soccer:  starts April 11
Women's Self Defense:  starts April 3
Camp Arrowhead 5K Run/walk:  April 22
Sign up online or 308-324-1970
American Legion in Lexington meets the first Tuesday of the month at 7 p.m. at Heartland Musuem of Military Vehicles.
Bingo Night at Lexington Regional Health Center will be held Thursday evenings from 6 - 7:30 p.m. at The Corner Café (LRHC dining room). Come and enjoy FREE soup and an evening of BINGO.
Survivors of Suicide Support Group meets every second Monday of the month from 7 to 8:30 p.m. at First Baptist Church, 1616 W. 39th St., in Kearney. For more information contact Carol Rowedder at 308-237-2635.
Check out our new "Can't wait to read it" display in the new book section.  The display shows book covers of books the library is waiting to receive.  You can place a hold on these titles at the circulation desk.
The public is invited to join us at the Lexington Public Library on Sunday, March 12 at 2:00 p.m. for music with "Chuck, Job, and Peter."  Spend an hour enjoying light rock and pop from the 1960's and 1970's at this live concert for all ages.  This program is sponsored by the Lexington Public Library Memorial Fund and the Lexington Community Foundation. 
The next "Booked for Lunch" program at the Lexington Public Library is Thursday, March 30.  This month Barbara Eymann Mohrman, author of "Four Blue Stars in the Window," will present her book about an Oakdale family during the Great Depression and the sacrifices they made during World War II when four sons went to war.  A soup and salad luncheon will be served from 11:30 to 12:00 noon followed by Mohrman's presentation.  Reserve your space by calling (308) 324-2151 or by visiting the library.  This program is sponsored by the Lexington Public Library Memorial Fund and the Lexington Community Foundation.
It's the FINAL MARKDOWN at the Lexington Public Library's "Paperback Book Sale!"   We have a variety of books available for you to choose from.  Paperback books are now $0.10 each or 13 for $1.00.  Shop for yourself, for your family and friends—and support the Lexington Public Library.  All proceeds go to the Library Memorial Fund and are used to support Library programs.
Novel Stitchers meets on Tuesdays at 3:00 p.m.  If you enjoy stitching--knitting, crocheting, quilting, cross stitch, needlepoint, or have another portable stitching project--join us at the library for two hours of stitching and visiting.  We will meet on Tuesdays, March 14, 21, and 28 from 3:00 to 5:00 p.m. in the Lexington Public Library Board Room.  We would love to have you join us.
The Lexington Public Library will host Story Time each Wednesday this spring at 10:30 a.m.  Pre-readers and their caregivers are invited to join us for stories, songs, and activities.  Make time in your week for this fun and educational pre-school activity.
Exercise room is open Monday through Friday, 8 a.m. until 5 p.m.
Center available for rent
12:45 p.m. -  I've Got It
3 p.m. - Strength Training
9:30 a.m. - Coffee/Crafts
9:30 a.m. - Pool T. - Holdrege
2:30 - 3:30 p.m. - Hot Cookies
3 p.m. - Strength Training
Homemade bread everyday. Choice of skim, 2% or chocolate milk. No reservations needed except for large groups. Serving time: 11:30 a.m.
Mushroom steak, potato cakes, buttered cabbage, plums
Pork cutlets, buttered noodles, 3-bean casserole, roasted brussel sprouts, peaches/pineapple
Baked chicken, baby bakers, butter beans, orange slices, tapioca pudding
AA/NA: open meeting Friday nights at 7 p.m. at Plum Creek Mall at Two Bridges Counseling, 513 N. Grant St., Suite 3a, Lexington.
Westside Group: AA/NA open meeting on Monday and Wednesday nights at separate locations at 8 p.m. Monday night meetings at First Christian Church, 1206 N. Erie St. in Lexington. Wednesday nights at Community Health Center (west of hospital) 1600 W. 13th St. in Lexington.
AA Elwood: at 8 p.m. on Sundays at United Methodist Church, 601 Rush in Elwood. Contact: 785-3567 (Tom).
Alcoholics Anonymous (AA) meetings, non-smoking: at noon on Mondays, Wednesdays and Fridays at St. Ann's Catholic Church basement, 301 E. Sixth St. Contact: 308-651-0143.
Alcoholics Anonymous (AA) meetings, non-smoking - Smithfield: At 8 p.m. on Thursdays at Hope Lutheran Church, 74098 Road 436 in Smithfield. Call 785-3567 or 472-3376.
Celebrate Recovery: a 12-step, anonymous program helping participants overcome any hurts, habits, addictions or hang-ups. Meets twice: 1) at 7 p.m. on Thursdays at Lexington Evangelical Free Church, 810 S. Washington Street. Contact: 308-324-3825 or 308-238-1298. 2) at 6:30 p.m. on Fridays at Parkview Baptist Church's Y.A.C., 1105 Park St.. Contact: 308-324-4410.
The Compassionate Friends, Lexington Area Chapter (a support group for parents who have lost a child), meets the third Monday of each month at 7:30 p.m., at the Great Western Drive-In bank meeting room, corner of 6th and Lincoln. For more information call 308-320-1483.
Community Action Partnership of Mid-Nebraska  Public Immunization Clinic, 1st & 3rd Mondays every month: Open 10 a.m.-noon and 2-4 p.m. by appointment at 931 West 7th St., Lexington. Clinics serve ages 2 months - 18 years. Children must be accompanied by an adult, previous vaccination records required. Contact 308-865-1352 ext. 143.
Dawson/Gosper County CASA: seeking Volunteers. CASA Volunteers are everyday people from all walks of life, who advocate through the court system in the interests of children. Contact 324-7364 for more information.
Grupo Lexington AA (Spanish Speaking) open meeting Saturday nights at 8 p.m. and Sunday at 11 p.m., at 114 West 6th St. in Lexington.
n Lexington Area Grief Support Group: meets at 4:30 p.m. on the first Mondays of each month at Fitness Center, 1600 W. 13th Street. Open to anyone experiencing the death of a loved one. Contact Lexington Regional Health Center Home Health office, 324-8300.
Lexington Optimist Club: meets at noon on Thursdays at Kirk's Restaurant. 
Lexington Rotary Club: meets the first and third Wednesday of the month at Lexington Public Library from 12 to 1 p.m. For more information contact Kirsten Faessler at 308-324-8333.
Love In Action Outreach Ministry: Located at 907 W. 8th Street in Lexington, is in need of men's clothing, all sizes and styles; pots pans, serving dishes and utensils; bedding, crib sheets, twin size, reg. size, queen and king size, pillows, blankets, beds; winter coats and jackets. Bring to 907 W. 8th during our regular operating hours, Monday through Friday, 1 - 4 p.m. Monday to Friday we have bag sales, small bag $10.00 and large bag $15.00 dollars. Closed Saturdays, Sundays & all Federal Holidays.
Narcotics Anonymous: open meeting on Sundays at 12 p.m. at Two Bridges Counseling, 513 N. Grant St. Suite 3a in Lexington.