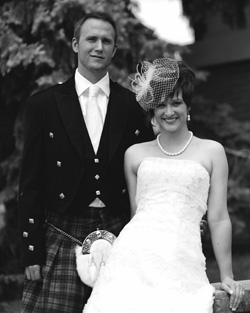 Breann Korrin Easterday and Shane Patrick Roberts, both of Lexington, were married at 3:45 p.m. in a double-ring ceremony Saturday, June 1, 2013 at the First United Methodist Church in Lexington.
Breann is the daughter of Rodney and Kim Easterday of Eustis. Her grandparents are June Easterday of Eustis and Glenda Fleischmann of Eustis.
Shane is the son of Eva Roberts of Lexington. His grandparents are Bob and Jean Roberts of Axtell and Jerome Kolbet of Hastings.
Breann's Matron of Honor was her mother, Kim LaRae Easterday. Her bridesmaids were Jaimee Easterday, Elisha Cain and Kayelon Schurr, all sisters of the bride; Kelsey Kolbet, cousin of the groom and Michelle Allen and Lori Lauby, both friends of the couple.
The flower girl was Coralee Schurr, niece to the bride.
Best man for Shane was Justin Harmon of Grand Island, a friend of the groom. The groomsmen and groomsmaids were Philip Baughman, Dante Gonzalez, both friends of the groom; Mike Zarate, Jessica Anderson, Lauren Rennolds, friends of the couple and Melissa Zier, friend of the groom.
After the ceremony a reception was held for the couple at Kirk's Nebraskaland Restaurant.
Breann is a dental assistant for Dr. Jerrold Remmenga and is also a group exercise instructor at the YMCA of Lexington.